Benham Brothers Finish Renovating Homes Despite Being Fired by HGTV for Conservative Views on Marriage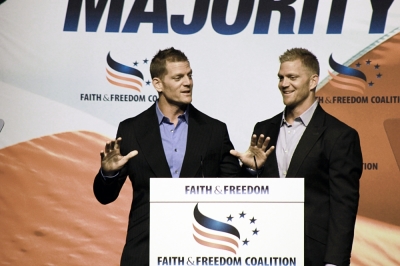 The Benham Brothers have announced that despite their planned show "Flip it Forward" being cancelled by HGTV because of their conservative views on marriage, they have finished renovating the homes they promised to do.
"The people most affected by HGTV's decision to cancel the show were the families that stepped out in faith to flip a house for the show," David Benham said on Tuesday, according to The Daily Caller.
Jason Benham added that the brothers' work is more than just TV material.
"These are great family homes that were professionally renovated, and we want to do all we can to help find buyers for these owners who trusted us to teach them the art of house flipping," Jason said.
The Benhams noted that according to REAL Trends, a site ranking real estate agents, Jason has been listed as number seven in a list of the Top Ten Real Estate Professionals in America.
The brothers were already filming episodes for the reality show in May when HGTV announced they were cancelling the show. The decision followed online postings from website Right Wing Watch that showed that the Benhams held traditional Christian views of marriage, sexuality and abortion.
The Benhams have defended their views, and said that when Christians are willing to lose what they have, they can speak boldly about their faith.
"Freedom isn't the ability to do get what you want, it's the willingness to let go of what you have," Jason Benham told The Christian Post in June at the Faith & Freedom Coalition's Road to Majority conference in Washington, D.C.
"When you are willing to release that back to God, what God has so graciously given to you, and you give it back to Him, then you have been set free. And on the foundation of freedom, you can be as bold as a lion."
David Benham added that Christians need to be willing to lose TV shows, book deals and endorsements and not back down on such issues.
"We have to be willing to let go of what we have, whether it's a job, an elected position, a big 'ole church, whatever it may be," he said. "We have to be willing to let it go, and when that happens, then absolutely we're back on the right track in America."
Benham Real Estate has put up the renovated homes that were to be featured on "Flip it Forward" for sale, and one was already sold last week.