Benjamin Watson, NFL Players Meet With Dominican Vice Pres. to Discuss Fight Against Sex Trafficking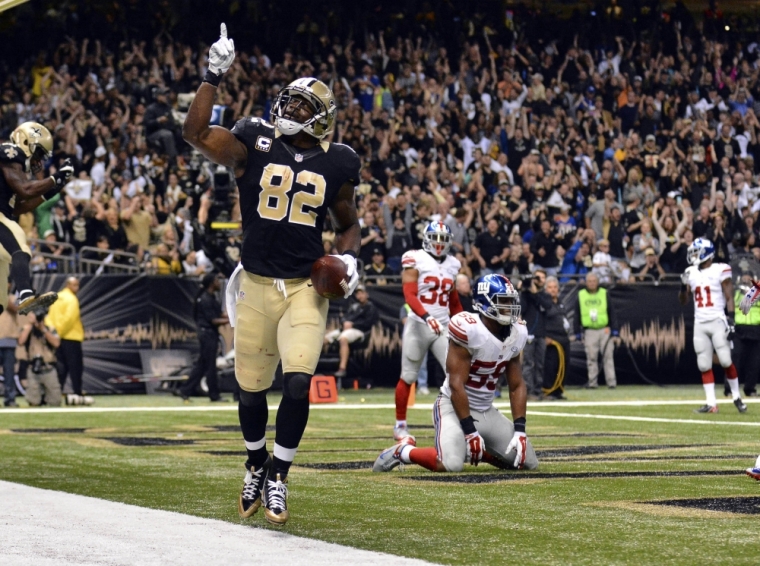 New Orleans Saints tight end Benjamin Watson, a devout Christian, led a group of NFL players in meeting with the Dominican Republic's Vice President Margarita Cedeño de Fernández on behalf of the world's largest anti-sex trafficking organization, International Justice Mission.
Watson, who is visiting the Caribbean nation with IJM for the third time, took to his Instagram account Tuesday to share a picture of him and other NFL standouts posing with Fernández, who assumed office in August 2012.
"Honored to meet with Dominican Republic VP @margaritacdf on behalf of @ijm," he wrote in the post. "Thankful for her commitment to use her platform to combat sex trafficking and provide aftercare services for survivors. Thank you for your hospitality and for raising your voice for the vulnerable!"
The photo shared by Watson was initially posted by Fernández on her official Instagram account.
"This group of @nfl players has a heart as big as the energy they have to play," Fernández wrote in Spanish. "It was a great pleasure to know the great interest they have in supporting a world where the poorest have access to justice, through the International Justice Mission. I congratulate this initiative and you can count on me."
Watson, a father of five and a 15-year veteran of the league, has once again joined the Saints after playing for the Baltimore Ravens for the last two seasons. He rejoined the Saints on a one-year deal in March after playing for the Saints from 2013-'15.
As there are over 2 million children caught up in the sex trafficking industry throughout the world, Watson and his wife, Kirsten, have gotten increasingly involved in IJM's efforts over the last few years.
According to the Saints' website, the Watsons were joined by Saints teammate Austin Carr, his wife, Erica, and as many as six NFL players and their wives on the trip to the Dominican Republic this week that spans from Monday to Thursday.
The athletes made the trip as part of IJM's "Team Freedom" project, which seeks to get professional athletes involved in combating sex trafficking and raising money and awareness for IJM's efforts. This is the second-year in a row that Watson has taken a group of players with him to see IJM's work in combating sex trafficking of minors in the Dominican Republic.
"Really, over the last two, almost three years, we decided to really get more involved, donating and supporting them financially but also, learning about the work that they're doing," Watson told NewOrleansSaints.com. "Over the last year, we just had this feeling that we wanted to be involved with the justice issue, not only domestically but internationally. And this organization goes into places around the world, including the United States, and erects and rehabilitates justice systems that are either not there, where perpetrators operate with impunity, or they train the local law enforcement to recognize and understand how to deal with human trafficking, sex trafficking, labor trafficking — all those sorts of things."
Watson said that whenever he and Kirsten are involved in an effort like this, they want to be "hands on" and "see the work being done firsthand."
"That's really an eye-opening experience, just really being able to see the way that the justice systems have transformed over the last five years," Watson told the NFL Network last Wednesday. He added that improvements in the justice system have led to more convictions in the republic.
Other prominent athletes who have been involved in IJM's "Team Freedom" program in some fashion include Minnesota Vikings Quarterback Kirk Cousins, future baseball hall-of-famer Albert Pujols, Los Angeles Dodgers pitcher Clayton Kershaw, Baltimore Orioles first baseman Chris Davis and Washington Nationals Pitcher Stephen Strasburg.
The Dominican Republic is not the only place that Watson has traveled to help and advocate for those in need.
Last year, Watson joined seven pastors in traveling to Lebanon with the evangelical humanitarian group World Vision to visit with Syrian refugees who fled from the war-torn nation.
"I had a chance to sit in some of the tents and talk to the families and just hear their stories about what happened – their houses being bombed, traveling all night long and coming into Lebanon with nothing," Watson told BaltimoreRavens.com at the time. "I like to try to solve things. I want to find a solution for the whole conflict. But we live in a world where this stuff happens all over the place. It's so sad."
The Watsons also runs the One More Foundation, which every year hosts a Christmas shopping spree to help underserved parents buy presents for their children. Last December, the Watsons hosted an event at a Baltimore-area Walmart in which over two dozen parents were given $325 gift cards to shop for their children.
Watson, the author of the popular 2015 book Under Our Skin: Getting Real about Race. Getting Free from the Fears and Frustrations that Divide Us, is also a frequent commenter on current events and racial issues. He has also spoken at prominent pro-life gatherings such as the March for Life and Evangelicals for Life.