Beth Moore Warns of Allegiance to Political Party Instead of Jesus After Trump Mean Tweets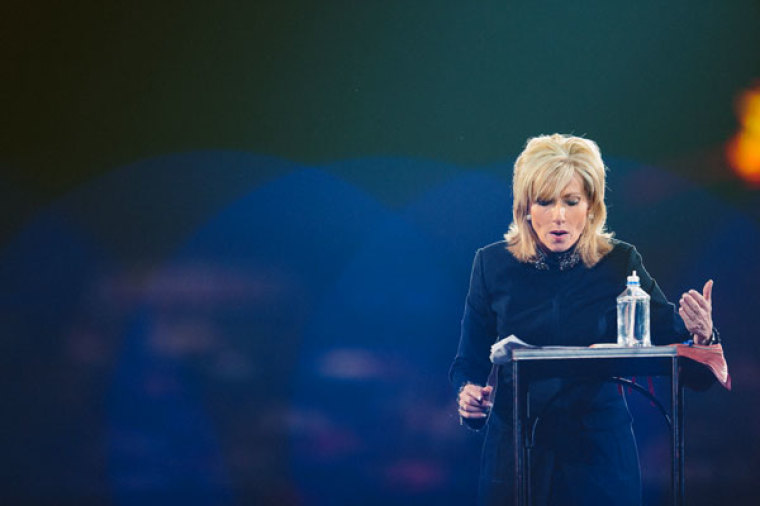 In the wake of controversial and insulting tweets posted by President Donald Trump last week as he feuded with liberal media outlets, popular evangelist Beth Moore took to her Twitter to warn Christians not to take sides when they should be pledging their allegiance to Christ over a political party. 
The latest wave of Twitter controversy for the president involves his feud with liberal news organizations like CNN and MSNBC — more specifically, his insulting tweets aimed at MSNBC's "Morning Joe" co-host Mika Brzezinski.
On Thursday, Trump wrote in a pair of tweets: "I heard poorly rated @Morning_Joe speaks badly of me (don't watch anymore). Then how come low I.Q. Crazy Mika, along with Psycho Joe, came .... to Mar-a-Lago 3 nights in a row around New Year's Eve, and insisted on joining me. She was bleeding badly from a face-lift. I said no!"
Trump received widespread criticism, even from House lawmakers like Speaker Paul Ryan, R-Wis., who said that Trump's tweets don't help the cause of trying to improve "the civility of the debate."
"Please just stop. This isn't normal and it's beneath the dignity of your office," United States Sen. Ben Sasse, R-Neb., who co-authored the 2004 book "Here We Stand!: A Call From Confessing Evangelicals For A Modern Reformation," tweeted on Thursday.
Trump defied critics and posted another tweet at 9:20 a.m Saturday, calling Brzezinski "dumb as a rock."
About an hour later, Moore, the the founder of Living Proof Ministries based in Houston, Texas, posted a tweet that, although doesn't mentioned Trump's name, is probably a response to Trump's behavior. "The consistent casting off of restraint of any leader who wields considerable power — 1st & foremost in the house of God — ought to terrify us," Moore tweeted.
Later on Saturday, Moore issued another tweet explaining that an earlier tweet in which she said "we're idiots if we think it's still time for taking sides."
"There are issues & times when we must land on 1 side or the other," she wrote. "This tweet is about going past party lines in allegiance to Jesus alone."
On Sunday in the midst of a Twitter tirade against the so-called "fraud news" outlet CNN, Trump again drew headlines when he tweeted out a questionable video on his personal Twitter account and then retweeted from his presidential account.
The video was old footage from when he participated in a World Wrestling Entertainment scene in which Trump can be seen sneak assaulting WWE Chairman Vince McMahon while he was watching a match at ringside. But in the video Trump shared, the person's face was replaced with the CNN logo.
Considering that Trump has been accused in the past of instigating his followers' acts of violence against campaign protesters and even other candidate's acts of violence against journalists, many were quick to accuse the president of promoting violence against journalists.
Trump's Sunday tweet came after he used his speech at a Kennedy Center event on Saturday hosted by First Baptist Dallas in honor of the veterans to bash the media.
"The fake media tried to stop us from going to the White House, but I'm president and they're not. We won, and they lost," Trump said at the event. "The dishonest media will never keep us from accomplishing our [objectives] on behalf of our great American people. It will never happen. Their agenda is not your agenda, you've been saying it."
On Sunday morning, Sasse was interviewed by CNN and suggested that Trump is "weaponizing distrust."
"We have a risk of getting to a place where we don't have shared facts. A republic will not work if we do not have shared facts," Sasse said. "I am the third most conservative guy in the Senate by voting record, but I sit in Daniel Patrick Moynihan's desk on the floor of the U.S. Senate on purpose. Because he is the author of that famous quote, 'You're entitled to your own opinions but you are not entitled to your own facts.'"
"The only way the republic can work is if we come together and we defend each other's rights to say things that we differ about," he added. "We defend each other's rights to publish journalism and pieces and things that we then want to argue about."
Sasse added that Americans need to "re-teach" their kids what the First Amendment is really about and added that "it is not helpful to call the press, the enemy of the American people."