Bethany Hamilton Praises God for Birth of Second Child; 'Soul Surfer' Director Praises 'Awesome Mom'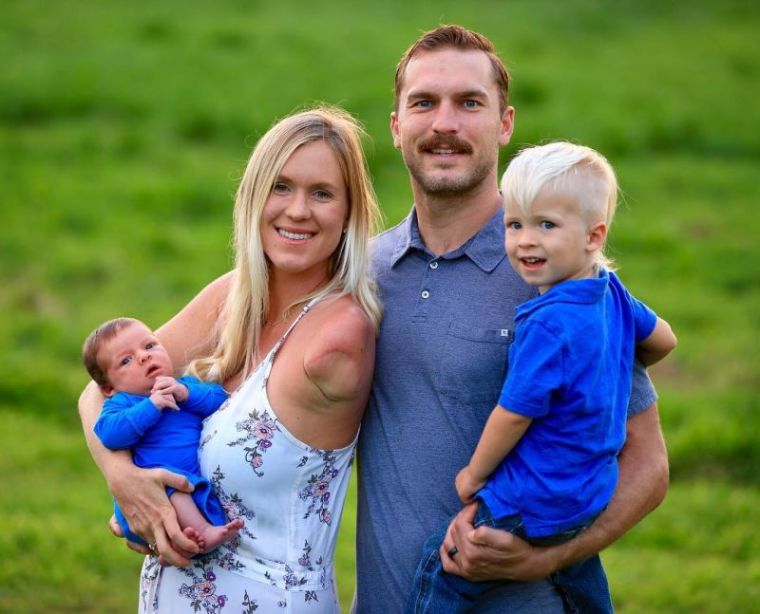 Professional surfer Bethany Hamilton announced the birth of her second child, Wesley Phillip Dirks, and thanked God for giving her another healthy baby. 
The popular shark attack survivor behind the blockbuster film "Soul Surfer" took to social media on Tuesday to announce the exciting news.
"We are overjoyed to welcome our son Wesley Phillip Dirks into the world! It's been a beautiful time getting life started with the four of us! We are thankful to God for our two lil guys!!!" she captioned a photo of her family.
The 28-year-old athlete, who married Adam Dirks, a Christian youth minister and fellow surfer, in 2013, announced her second pregnancy on October 8. In several photos shared on social media, she is seen celebrating alongside her husband and 2-year-old son, Tobias.
"Adam and I are so so sooo excited!!! And Tobias seems to get excited too; he gives baby kisses everyday!" she wrote on her website. "We are thankful we can grow our family and add even more joy to life. Becoming parents to Tobias has been such a beautiful journey. We love the joy and also the challenges he brings to our life; and he is sure ready for a sibling."
Sean McNamara, the director behind the 2011 film "Soul Surfer," based on Hamilton's autobiography, celebrated the news during a recent interview with The Christian Post.
"Bethany is an awesome mom," he said, adding that Hamilton recently sent him a picture of her newborn son. "I've got a picture right here," he said, gesturing to his phone. "I'm so excited for them."
Hamilton, who lost her arm in a horrific shark attack in 2003, is a world-class surfing champion and has some television and film appearances, including competing as a contestant in season 25 of 'The Amazing Race" and playing herself in the feature film "Dolphin Tale 2." Earlier this year, she released another documentary titled "Bethany Hamilton: Unstoppable."
In addition to welcoming her newest addition, Hamilton is gearing up for the release of her books "Be Unstoppable: The Art of Never Giving Up" and "Unstoppable Me" on June 5.
The outspoken Christian athlete surfed throughout most of her pregnancy and previously said that parenting with one arm hasn't held her back.
"I often forget that I have one arm. But when I think about it — like a squirming baby and changing the diaper — and just me and this squirming baby could be really challenging," she said. "But I think how I live life now. I just adjust and adapt to different things, especially things that are a lot easier with two arms, and I think there's going to be things that are going to be very challenging with one arm but I'll just have to find my own way to take care of the baby."