'Better Together': TBN's first all-women Christian talk show where leaders get personal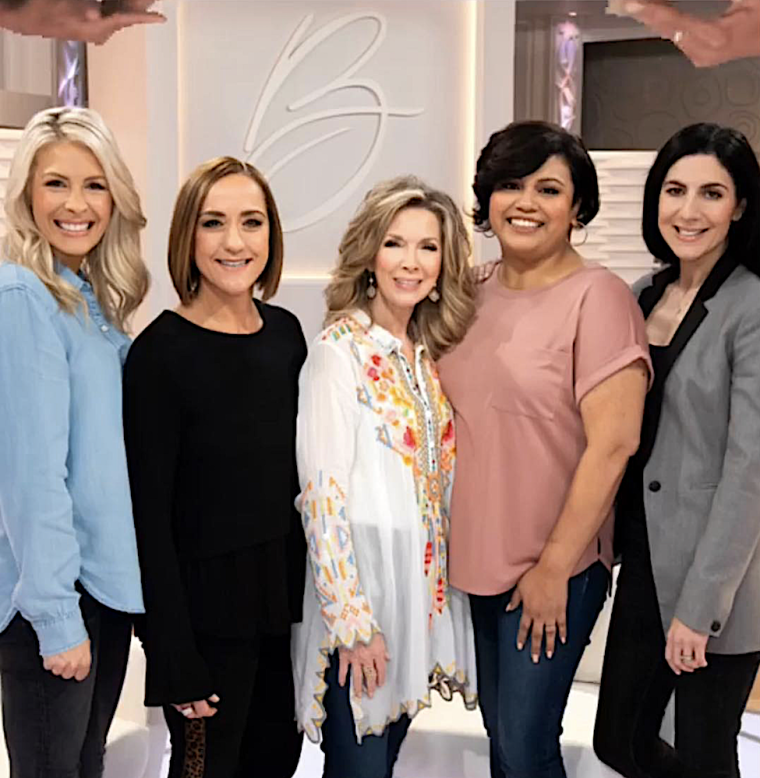 Laurie Crouch, host of TBN's first-ever women's interest talk show, "Better Together" — where many of the best-known female Christian celebrities and ministers share their personal struggles and biblical advice — says the show isn't for sharing fashion advice or talking against other women.  
Crouch, who also co-hosts "Praise" alongside her husband, TBN Chairman Matt Crouch, explained in an interview with The Christian Post that her purpose for the show is to "build a community of edification, encouragement," not tear other people down, which happens daily on secular talk shows. 
The daily half-hour program, birthed from advice given by the late Jan Crouch, first aired on April 22. Each show features Crouch, alongside a rotating cast of four prominent Christian women who also recap their feelings in a Q&A with producers after the show. Some of the featured guests on "Better Together" have included Christine Caine, Lisa Harper, Mandisa, and Hosanna Wong.
The following is an edited transcript of The Christian Post's interview with host Laurie Crouch and Alex Seeley, who co-pastors The Belonging Co. church alongside her husband, Henry, in Nashville, Tennessee. 
CP: How did the idea come about to have like an all women daytime TV show?
Crouch:  I'll start at the beginning. My mother love, Jan Crouch, my last visit with her while she was alive she looked at me and she said, "Baby, it's time for you to step up.
Here on Trinity Broadcasting Network we wake up to hope and grace every morning with Joel Osteen and Joseph Prince and she said, 'Where's the love for the women, the women of the world?" And I thought, "OK, we'll get on that." And here we are three years later, we're doing it. I just thought, "Well, I can't do anything really by myself. I need my friends because we are better together. I'm just thrilled to be about it. 
CP: How's the show similar or different from mainstream daytime TV shows "The View," "The Real," and "The Talk"? 
Crouch: I think it's different because we talk about matters of the heart and I think that's so important. It's different because we're actually for each other in a way that you might not see on other shows.
We all have a foundation and that foundation is Jesus and the Word of God. We all have different personalities, but we have one focus. So I think we're able to minister just kind of what we've gone through. We're doing life together and I think you see that. 
We have a beautiful set, and for the program, we tape five days and just a couple hours. So we start the conversation where the cameras drop in on a conversation. What we did is my husband said, "I see you all the time sitting at dinner with your friends. The ladies go to one side and all the men go to the other, and the women chat it up." And he said, "I want to protect that."
So he built this beautiful set. They designed this set for us where all the walls are closed and we have robotic cameras, and there's just the five of us sitting in there. It's five friends going to places where we've never been before in conversation together and you just drop in on that conversation.
Then we all go into our confessional booth and it's just you and the camera and your producer asking you questions about what happened out there on set. It's kind of a reality TV meets real conversation, and there's no script and we just go for it.
Seeley: I love the fact that it's real conversation but it's biblically based. So we're not just giving opinions, we're getting revelations through our experience.
You can hear the same scripture five times but people get five different revelations on that because the Word is alive and active. The thing I love about it is that you're sitting in and you're like, "Oh, I never heard it like that before." So you're not hearing opinions of such but experiences and encounters through what the Word of God has said to us and how we've applied it to our lives. So it's a journey of getting to see how life has been done and how to get through to the other side with the help of the Holy Spirit and Jesus, I up
CP: Christians get criticized for putting on the church face and not being real sometimes. How personal do you ladies get during these conversations?
Crouch: Well, I've gotten more personal than I ever dreamed of.
Seeley: It gets very real. Yesterday we did an episode about anxiety and depression, and [singer] Mandisa was open to share that she's currently walking through depression. She's not holding back and pretending to be a performer on a stage going, "I've got it all together and I just pray and I just worship my way out." She's actually physically walking through it.
The beauty of yesterday was the fact that she showed up. And that she presented her story in a way that wasn't in defeat but that she actually utilized the women who were on the set and took away life giving keys that in real time helped her, which in turn is going to help the viewer. That's how real it gets.
Crouch: You know, the Bible's messy. Jesus met the woman at the well and she had a mess, and life is messy for all of us. We know God is good. And I pray people know God is good because He is and He wants to do good things. So we all believe that. "But how did you get through this to that?" I think we all come to the table. We got young voices, we've got the older teaching the younger. We're gleaning off these young, beautiful women that are with us and we get to beef up the wealth of love and goodness that God has brought into their lives. 
We're talking about how we went through things. And if you're in a situation right now that I've been through and I'm on the other side, I'm gonna help shine the light. I'm going to help pull you in this direction just like Jesus. We're going to say, "Look, we're on the other side of this and this is the way we do it. Come on, you can make it, you can do it, come this way."
I just think that's a beautiful thing because I need that. That's why I have my friends and that's so valuable in my own life. Really like that. There's cool types of women represented in all age groups as well.   
CP: Will men be interested in this or is it strictly for women?
Crouch: They should be. I think it's valuable for men. I've got two boys, 25 and 29, and then my husband, so I live in a boy world. The other day when "Better Together" aired they were glued to the TV watching it. And to hear what they had to say afterwards makes my heart happy.
Seeley: I think it's very relevant and honestly, I think it's great for single men to learn what women want.
Crouch: Women need women just like men need men. We need women with friends because God puts into each male and female distinct things and the way we communicate and stuff is so different. Men communicate to get to the bottom line of things and women communicate to get emotionally attached. 
CP: Will this strictly be spiritual conversations or will there be conversations about other things women talk about, such as fashion, etc.?
Crouch: We're not here for a makeup tutorial or a fashion tutorial, we're here for a soul tutorial, matters of the heart, and that's what we talked about.
We don't do TV together, we do life together.
It doesn't matter what you're wearing. It doesn't matter what you look like. We need each other and no one is in competition sitting there. We all love each other, we're all for each other, and that's what we got to do.
You turn on the secular TV and the visceral things happening even with women, them speaking out against each other and stuff. We just want to build this community of edification, encouragement, shed light on what needs to be exposed and just be there for each other and encourage each other in the Lord. That's what I want this program absolutely full of.
I can turn that TV on and feel like dodo when I turn it off, or I can turn this one on and I can actually live real life with this and it will bring joy, and it'll bring peace, and it'll bring satisfaction because people need Jesus and that's the answer.
CP: What's new with TBN? 
Crouch: We're taking Bob and Larry to China. We own "Veggie Tales" now and we're making new episodes and China said, literally, "we need you to bring this big love to China." God just opened the front door and Bob and Larry's leading the way. It's just amazing. God has just done something so amazing and we're just all happy to be here. TBN has changed and I just think the focus is on women right now. My husband's very passionate about that. He's put a lot into this program. This is a program for women, by women. "Better Together" is a community and we're doing viewer choice programs now also.
Seeley: Everyone can watch full episodes of "Better Together" on the TBN app. That is like a revelation to me because I don't sit and watch TV because my kids are becoming YouTube fanatics. But I watched the TV app.
"Better Together" airs daily at 1:30 p.m. ET. For more information, click here.