Betty Deas Clark Out as First Woman Pastor at Emanuel AME Church After Spurning White House for Orlando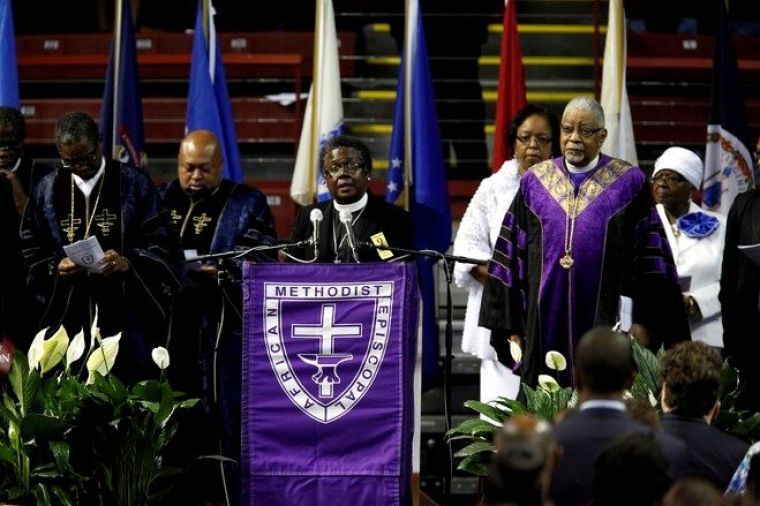 A week after she skipped the White House United States of Women summit to comfort survivors of the shooting in Orlando, Betty Deas Clark, the first woman pastor appointed to the historic Emanuel AME Church in Charleston, South Carolina, where nine people were gunned down last June, has been reassigned.
Multiple sources confirmed to The Post and Courier on Tuesday that Bishop Richard Franklin Norris, who assigned Clark to Emanuel AME on Jan. 23, reassigned her to Bethel AME Church in Georgetown earlier in the day after just five months on the job. The sources did not elaborate on why she was being moved.
Clark refused commenting on the reassignment to the Courier late Tuesday. On Friday, however, she noted on Twitter: "I want everything that #God has promised and not a thing that He didn't."
After she decided not to attend the White House summit last Tuesday that featured some of the most powerful women in America, including First Lady Michelle Obama and Oprah Winfrey, Clark also missed the one-year commemoration of those killed during a Bible study at Emanuel AME Church where nine parishioners were gunned down on June 17, 2015, by avowed white racist, Dylann Roof.
According to the Courier, the reassignment came in the middle of 12 days of events organized by Emanuel AME, with help from the city of Charleston, surrounding the June 17 massacre. Clark was set to co-lead Emanuel's Bible study on Wednesday night with the Rev. Anthony Thompson, a vicar in another denomination whose wife died in the shooting. Thompson told the publication he would teach the study by himself.
Clark told CNN that she felt ministering in Orlando was a higher calling.
"I gladly came here instead," she told the network outside the First Unitarian Church of Orlando, which has been offering free counseling to hurting residents.
"I came here instead because I know the result of people coming and showing their love," she said. "The privilege of coming and being with them (here) has touched my heart."
Last Monday, Clark attended a counseling session with 15 to 20 people traumatized by last Sunday's massacre at a gay nightclub called Pulse. She said she was honored to offer a prayer and receive a "hug from everyone in the room."
"I am here in Florida because I care," Clark also said on a call with other religious leaders calling for tougher gun control measures. "I am here in Florida because I know what support can mean when you are going through a tough time."
Clark, who previously led the historic Mount Pisgah AME Church in Sumter, according to WIAT, said she was a friend of the late state senator and Rev. Clementa Pinckney who was among those executed last June.
"I'm sure that to some of my parishioners it's like yesterday," Clark told WIAT in January.
She also alluded to her appointment at the time as "charting new waters."
"I know that we're doing things that we've never done before," she said. "But every morning you wake up, you see a day you've never seen before. And every step that you take is a step that you've never taken before. ... Today is just the beginning."
Bethel AME's pastor, the Rev. Eric Manning, will likely replace Clark at Emanuel, sources told the Post and Courier. Manning, a father of two, has been a pastor since 2004. He has served at several churches around South Carolina and has been at the historic Bethel since 2014.