Biden vows all US adults will be eligible for COVID-19 vaccine by May 1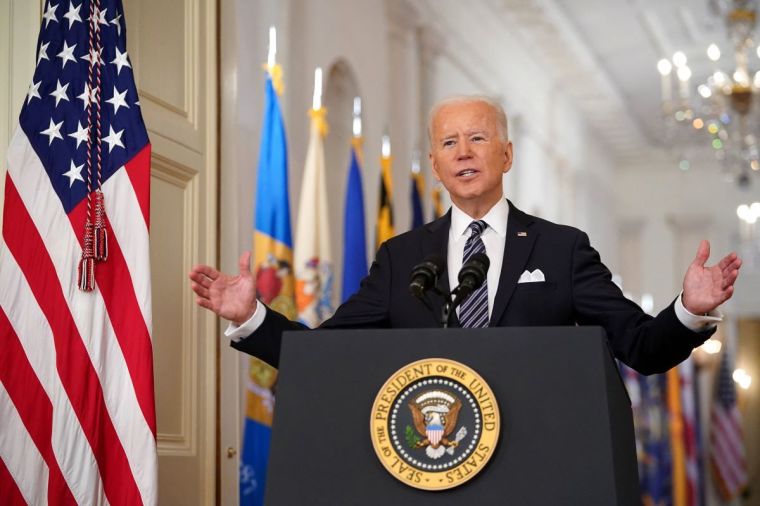 In his first prime-time speech Thursday night, President Joe Biden vowed to make all adults in the United States eligible for the three approved coronavirus vaccines by May 1.
On the first anniversary of the COVID-19 shutdowns, Biden spoke of the progress made in the effort to defeat the COVID-19 pandemic.
"Thank God we're making some real progress now," said the 78-year-old in the East Room of the White House. "Two months ago, this country didn't have nearly enough vaccines supplied to vaccinate all or near all of the American public, but soon we will."
"We've been working with vaccine manufacturers — Pfizer, Moderna, Johnson & Johnson — to manufacture and purchase hundreds of millions of doses of these three safe, effective vaccines."
He noted how thousands of people are being called up to distribute the vaccine, and a growing number of locations are being set up to distribute the vaccines to the general public.
Biden announced that he was "directing all states, tribes, and territories to make all adults, people 18 and over eligible to be vaccinated no later than May 1," claiming, "that's much earlier than expected."
"That doesn't mean everyone's going to have that shot immediately," the president clarified, "but it means you'll be able to get in line by May 1."
"To do this, we're going to go from a million shots a day that I promised in December, before I was sworn in, to beating our current pace of 2 million shots a day."
Biden also highlighted the need for "national unity" to defeat the pandemic. As an example, he stated that Johnson & Johnson is working alongside rival Merck to distribute the vaccine better.
"These two companies, competitors, have come together for the good of the nation, and they should be applauded for it," said Biden. "It's truly a national effort, just like we saw in World War II."
"We're also working with governors and mayors in red states and blue states to set up and support nearly 600 federally supported vaccination centers that administer hundreds of thousands of shots per day."
Biden said that if the general public keeps abiding by public health guidelines and gets vaccinated, small gatherings should be possible across the U.S. by Independence Day, July 4.
He also championed the $1.9 trillion American Rescue Plan, which he signed into law earlier on Thursday, labeling it a "historic piece of legislation" to help families in need. 
The president noted that he announced his intention yesterday for the U.S. government to buy an additional 100 million doses of the Johnson & Johnson vaccine as part of the efforts to fight COVID-19.
The Johnson & Johnson vaccine is not without controversy, as some religious groups have expressed concern over the extent to which aborted cells were used to develop the vaccine.
The Roman Catholic Archdiocese of New Orleans released a statement last month saying that the vaccine was "morally compromised" compared to the other two available vaccines.
"… though there was some lab testing that utilized the abortion-derived cell line, the two vaccines currently available from Pfizer and Moderna do not rely on cell lines from abortions in the manufacturing process and therefore can be morally acceptable for Catholics as the connection to abortion is extremely remote," stated the Archdiocese.
"We advise that if the Moderna or Pfizer vaccine is available, Catholics should choose to receive either of those vaccines rather than to receive the new Johnson & Johnson vaccine because of its extensive use of abortion-derived cell lines."
However, Archbishop Michael Jackels of Dubuque, Iowa said last week that Catholics can get the Johnson & Johnson vaccine if other vaccines are unavailable. 
Soon after Biden finished his speech, Republican National Committee Chairwoman Ronna McDaniel released a statement denouncing the COVID-19 relief package that Biden championed in his speech.
"Biden and Democrats in Congress chose to pass a partisan bill where only 9 percent of the money is targeted to fighting the pandemic, all while continuing to ignore the suffering of American families that are struggling while out of work and out of school," stated McDaniel in an email to supporters.  
"It's also an important reminder that one year ago today, President Trump announced an aggressive and comprehensive effort to confront the virus that ultimately resulted in the fastest creation of a vaccine in modern history through Operation Warp Speed."
U.S. Senate Minority Leader Mitch McConnell tweeted following Biden's speech that the pandemic recovery "will ride an already turning tide."
"Not because of a Democrats' latest partisan bill, but because of the resilience of our people," he wrote.
Pro-life advocates have criticized the COVID-19 relief package for its failure to include the Hyde Amendment, a longstanding federal policy that bars taxpayer funding of abortion on demand.