Biden, Karine Jean-Pierre claim trans community 'under attack' days after Christian school shooting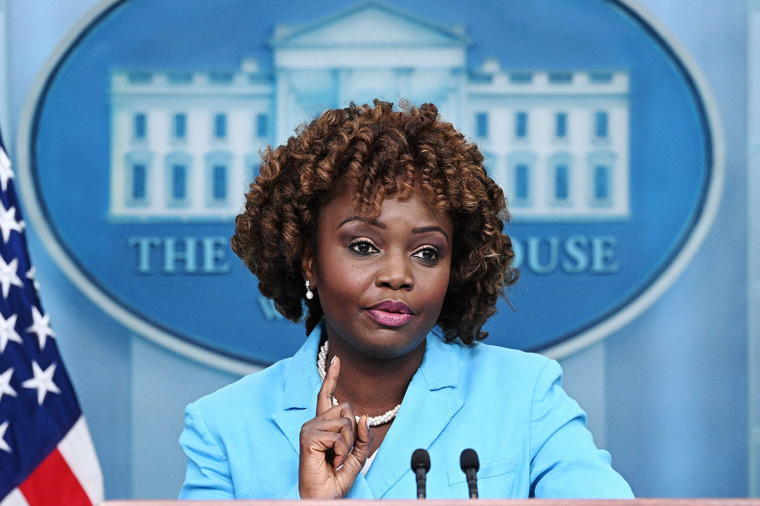 Days after a trans-identified shooter killed six people — including three children — at a Christian elementary school in Nashville, the Biden administration reiterated its support for the "transgender community." 
In a proclamation Thursday, President Joe Biden marked the "Transgender Day of Visibility" by calling on Americans to "work toward eliminating violence and discrimination against all transgender, gender nonconforming, and nonbinary people" as authorities continue to investigate a possible motive for the March 27 planned attack on The Covenant School, a ministry of Covenant Presbyterian Church (Presbyterian Church in America), in the Green Hills neighborhood of Nashville.
The shooter, later identified as Audrey Hale, 28, of Nashville, was a former student at the school and self-identified as trans, according to Metropolitan Nashville Police Chief John Drake.
She was fatally shot during the encounter with officers, police said.
Her victims were later identified as children Evelyn Dieckhaus, Hallie Scruggs and William Kinney, two of whom were 9 years old and one who was eight and soon to turn 9, and Cynthia Peak, 61, Katherine Koonce, 60, and Mike Hill, 61.
Stating that trans-identified people "shape our nation's soul," Biden warned of an "epidemic of violence against transgender women and girls [men and boys who identify as female]," and cited last year's Club Q shooting in Colorado, which police say was committed by a trans-identified gunman. 
Citing "discrimination, bullying, and harassment" against trans-identified kids, Biden also touted his administration's efforts in "pushing back against extreme laws that seek to ban" puberty-blocking drugs for children and body-mutilating sex-change surgeries for minors. 
"Together, we also have to keep challenging the hundreds of hateful state laws that have been introduced across the country, making sure every child knows that they are made in the image of God, that they are loved, and that we are standing up for them," he wrote.
The proclamation concluded with a pledge to "work toward eliminating violence and discrimination against all" trans-identified people.
Biden's proclamation did not include any mention of the deadly shooting at The Covenant School earlier this week.
During a Thursday White House press briefing, in response to a question about how the Biden administration is responding to legislative efforts to place age restrictions on sex-change surgeries for young people, White House Press Secretary Karine Jean-Pierre responded by saying trans people were "under attack." 
"What is the White House's message to these lawmakers that are passing these bills and to those who are taking to the streets to protest them?" the reporter asked.
"One of the things that we saw during the midterm election was that people don't want their freedoms to be taken, they want us to fight for their freedoms," said Jean-Pierre. "And so, it is shameful, it is disturbing, and our hearts go out to the trans community, as they are under attack right now."
Jean-Pierre did not make any specific mention of the Christian community in any official White House briefing in the wake of the shooting, instead opting to reiterate the president's call for an "assault weapons ban."
When asked by a reporter Tuesday whether he believed Christians were targeted in the Nashville Christian school shooting, Biden smiled and said, "I have no idea."
When the reporter noted that Sen. Josh Hawley, R-Mo., a staunch conservative and prominent critic of the president, believes Christians were targeted in the shooting, Biden replied, "Well, I probably don't then." After chuckling, he clarified that he was joking, reiterating, "I have no idea."
On Thursday, Attorney General Merrick Garland said federal investigators are not yet investigating the mass shooting at the Christian school as a hate crime, arguing that a motive has not been established yet.
During a U.S. Senate Appropriations Committee hearing on Tuesday, Republican Sen. John Kennedy of Louisiana asked Garland about how the shooting at The Covenant School, where a trans-identified shooter killed three children and three adults, was being investigated.
"I realize that the shooter is dead, but the shooter could have had collaborators," said Kennedy. "Do you plan on opening a hate crime investigation for the targeting of Christians?"
Garland responded that both the Federal Bureau of Investigation and the Bureau of Alcohol, Tobacco, Firearms and Explosives were "on the scene, working with the local police."
"As of now, motive hasn't been identified," said Garland. "We are certainly working full time with them to try to determine what the motive is, and of course motive is what determines whether it is a hate crime or not." 
The Covenant School was tied to a church affiliated with the Presbyterian Church in America, a denomination that holds theologically conservative views on marriage and sexuality.
Hawley sent a letter to FBI Director Christopher Wray and U.S. Department of Homeland Security Secretary Alejandro Mayorkas, calling for them to investigate the mass shooting as a hate crime.
"According to Nashville law enforcement, Hale's attack was both premeditated and 'targeted' against this Christian school, its students and employees," wrote Hawley. "I urge you to immediately open an investigation into this shooting as a federal hate crime."