Biden says country at 'inflection point,' must decide whether to choose 'love over hate'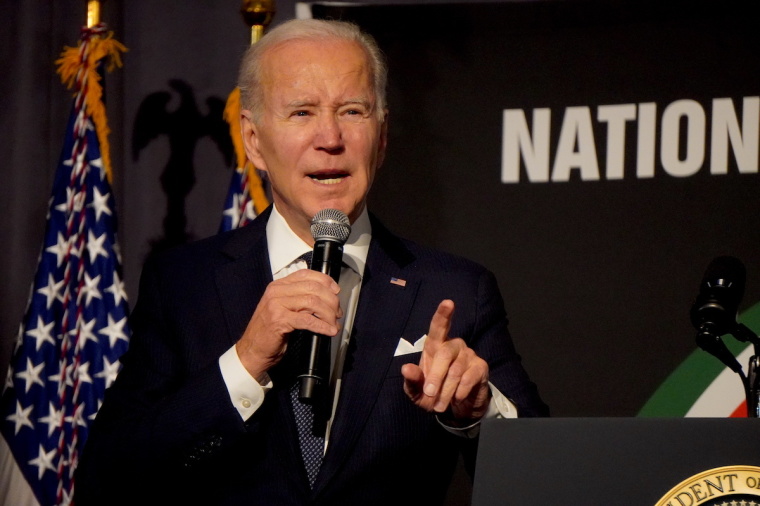 President Joe Biden said Monday that America faces another "inflection point" in its history, which he believes will determine how the country looks in the future, calling it a "time for choosing." 
Biden joined civil rights activist Rev. Al Sharpton and the National Action Network for an annual breakfast in Washington commemorating the legacy of Martin Luther King Jr. The event also honored former House Speaker Nancy Pelosi and "other national leaders who have kept Dr. King's mission alive."
During his speech, the president stated that it was a "time for choosing," and Americans must decide whether to choose "democracy over autocracy," "community over chaos," and "love over hate." 
"These are the questions of our time," Biden said. "Dr. King's legacy shows us the way forward. We've got to be prepared." 
The president stated that his administration has made "important progress," noting that the U.S. economy was "on its back" two years ago due to COVID-19. He emphasized how the pandemic "disproportionately" impacted African Americans and that his administration acted "decisively" to create a "resilient" economy and ensure minorities are not left behind.
Biden promised to combat housing discrimination, citing concerns about how developments built in predominantly white neighborhoods are valued more than homes built in a predominantly African-American community. He lamented that minorities living in predominantly black neighborhoods also pay for more insurance. 
"We are working with leaders to address the negative impacts of redlining," Biden said. 
In addition, Biden highlighted how his administration delivered nearly $6 billion in federal funding to historically black colleges and universities. The president promised to keep funding HBCUs and continue investing in "the next generation of black leaders."
The speech included criticism about what Biden referred to as "trickle-down economics," claiming that he has "never liked it." 
"I think the economy — the way it should grow in America — is from the bottom up and the middle out. That way, poor folks have a shot, middle-class people do well, and the wealthy still do very well. They still do very well. But they start to pay their fair share," Biden said.  
The president said he's "ready to work" with Republicans now that they've taken control of the U.S. House of Representatives while also condemning the party for passing a bill he claims benefits the wealthy. 
"Like many Americans, I was disappointed to see the very first bill that House Republicans are … bringing to the floor that would help the wealthy people and big corporations cheat on their taxes," he said, addressing Republicans' vote earlier this month on a bill to rescind funding to the Internal Revenue Service. 
Biden also criticized Republicans for passing a House bill barring oil sales from the Strategic Petroleum Reserve to China and a proposal for a national sales tax. He argued that Republicans want to increase taxes on the middle class and supplant the money lost through taxes to the millionaires and billionaires by imposing a sales tax on everyday items, including clothes, groceries and gasoline.
"That's how they're starting their new term," he said. "If any of these bills happen to reach my desk, I will veto them." 
He also claimed that he didn't "want to hear a word from the other side" about his plan to forgive student loan debt, accusing Republicans of accepting pandemic-related relief loans without complaint last year "to the tune of tens of millions of dollars." 
"And they're complaining about some kid being able to take away $20,000 of student debt that keeps him and his wife or his husband, her husband, from being able to buy a home or start a business or just get going?" he asked, expressing confidence that his plan would overcome the lawsuits against it.
The speech also included Biden's frequent promises to ban assault weapons, ensure that no one spends time in federal prison for marijuana-related charges and protect abortion access. 
The president concluded his speech by highlighting the need to pass the John Lewis Voting Rights Advancement Act, named after the civil rights leader, to revitalize the 1965 Voting Rights Act and protect minority voter access. 
"We have the most vibrant economy in the world right now. We're doing better than any other major nation in the world today," Biden said, encouraging members of the audience to be guided by Dr. King. 
"The path is clear to go forward. We need to go together," he said.

As The Christian Post reported, Biden spoke Sunday at the historic Ebenezer Baptist Church in Georgia, where King once served as a pastor. The president praised King as a "non-violent warrior for justice," urging everyone to commit to the civil rights leader's path.