Big Hair Baby That Looks Like 'Elvis' Is 'Closer to Jesus,' Family Says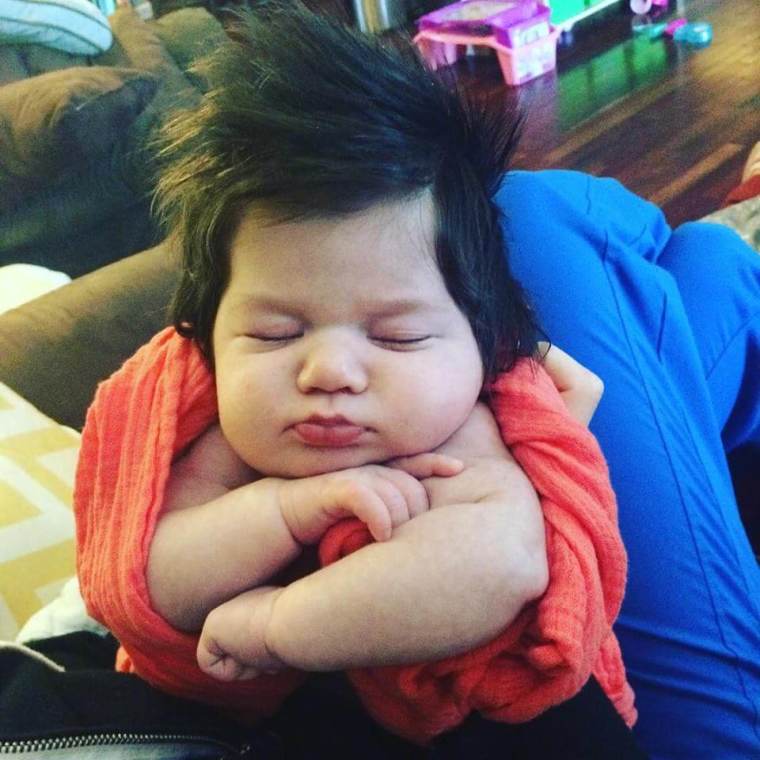 Two weeks after a baby born with an awe-inspiring mess of hair became a viral sensation when a photo of her locks hit the Internet, another baby is now turning heads with hair her family says brings her "closer to Jesus."
Brandy Adams Cox of Trinity, North Carolina, told Fox 8 Sunday that her daughter, Collyns Lorelei Cox, born last December with a full head of hair, has been getting a lot of attention from strangers who sometimes ask if her baby is wearing a wig. Others, according to Cox, have said her daughter looks like Elvis.
"We just embrace the crazy," she added. "The 'higher the hair, the closer to Jesus.' We used to brush it and try and fix it and it always wound back up like this. She's all natural."
Two weeks ago another baby named Isabelle, the daughter of Dave and Mackenzie Kaplan, was the toast of the Internet for her hair.
According to CNN, just over two weeks ago Mackenzie Kaplan innocently posted a selfie online posing with her 2-month-old daughter. The following day, friends and family began telling the San Francisco couple that other people were sharing the photo on various social media.
"My cousin Colin in Oregon texted me and said, 'I think I may have caused this,'" Dave Kaplan told CNN.
Apparently Isabelle's cousin posted the selfie on the social news networking site Reddit with the caption: "My baby cousin has hair that looks like a news anchorman." The photo quickly became popular, making it to Reddit's homepage. As of Monday it was viewed more than 3 million times.
Isabelle's hair also inspired a photoshop battle, which is a subreddit where users manipulate pictures and submit them to be voted on by other users.
A probable cause for baby Isabelle's thick hair is genetics, Jennifer Shu, a pediatrician and co-author of "Heading Home with Your Newborn" told CNN. And Dave Kaplan says the locks are from his side of the family.
"My mom said that at 3 months old my bangs were already going into my eyes," Kaplan said.
The couple say they found the photoshopped images of their daughter "hilarious" and found the creativity "amazing."
"It's just amazing how creative people are, and it was all in good fun so we got a kick out of it," Kaplan said.