Bill Nye Says He Hopes Ken Ham's Ark Encounter Project 'Goes Out of Business'
A day after Ken Ham, president and CEO of the creationist organization Answer in Genesis announced he would be moving forward with plans to build a life-sized replica of Noah's ark, Bill Nye, his former debate opponent, said he hopes "the Ark Encounter goes out of business."
On Thursday, Ham announced in a live web stream from the Kentucky-based Creation Museum that his organization has been able to come up with funding for the project, despite its financial viability being questioned last month.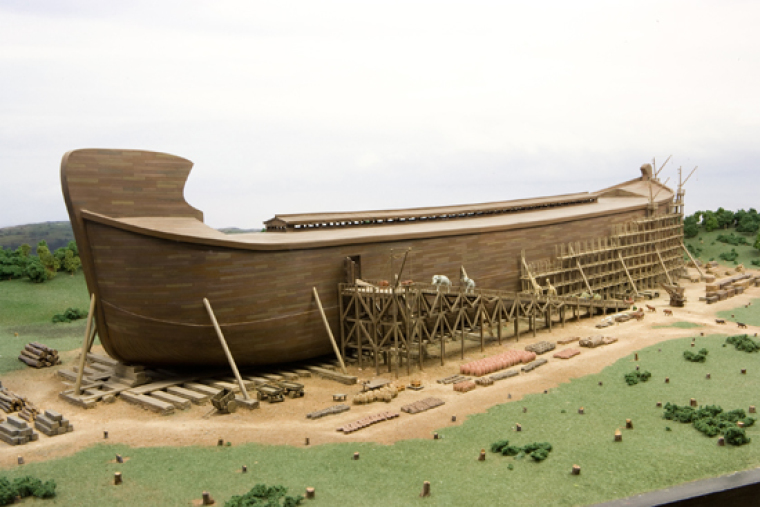 AiG said in a statement that it has raised the first $73 million for its project, which is expected to cost more than $120 million.
"Several million dollars in donations and Ark boarding passes (memberships) had been raised prior to the bond offering, and most of that amount has already been used to pay for the Ark's land, secure expensive permits and licenses, clear the property, draw architectural plans, design the exhibits, etc.," it stated.
The organization also said that it is still looking to raise an additional $15 million in donations in order to "provide additional attractions, like the special high-tech and interactive exhibits that guests have come to appreciate at our museum."
In 2013, Williamstown, the city where the park will be located, offered $62 million in municipal bonds, a debt which AiG would repay through park revenue. AiG's statement did not say how much the organization had raised through the bond selling, however, news coverage from last month said that the organization had to sell $29 million in unrated municipal bonds by Feb. 6 to avoid triggering the redemption of the $26.5 million of bonds that have already been sold.
A Bloomberg report from January suggested that concerns about repayment might have been one of the reasons why investors had been slow to buy. It noted that not only are the AiG "industrial-development bonds…considered the riskiest municipal debt, but because the city "issued the bonds without a rating…prospect of repayment [are] even less clear."
The report also stated that offering documents "cite at least 39 risks to buyers, including that AiG has no obligation to back the debt. Bondholders' sole revenue stream would come from money spent by visitors."
According to a Kentucky Courier-Journal story, "State development studies have predicted that Ark Encounter would draw hundreds of thousands of visitors and bring in a net fiscal impact of $119 million over 10 years, including sales and income taxes."
The article also noted that Kentucky has lucrative financial incentives for projects geared toward increasing tourism.
"In 2011, the Kentucky Tourism Development Finance Authority granted approval for up to $43.1 million in sales tax rebates over 10 years. State tourism law allows developers to recover up to 25 percent of a project's cost through a return of the sales tax paid by visitors on admission tickets, food, souvenirs and other expenses," it stated.
Ham took to his blog on Friday to defend AiG against "bloggers [who] are trying to claim that my recent debate with Bill Nye 'the Science Guy' is what brought in the necessary bond amounts."
"Actually, that's not true at all. The registration for bonds had already closed for people wanting to purchase them before the Nye debate. No new bond registrations could have occurred after the debate," wrote Ham.
He also quoted an Associated Press article that had asked Nye's opinion about the project. Ham's debate opponent was quoted as saying that he hoped the project "goes out of business."
"If he builds that ark, it's my strong opinion, it's bad for the commonwealth of Kentucky and bad for scientists based in Kentucky and bad for the U.S. And I'm not joking, bad for the world," said Nye.
"I have a message for Bill Nye: 'You can't stop something God is doing!'" wrote Ham, who added that Nye's reaction had reminded him of Acts 5:38-39.
"And now I say to you, keep away from these men and let them alone; for if this plan or this work is of men, it will come to nothing; but if it is of God, you cannot overthrow it—lest you even be found to fight against God."
Ham has unapologetically interpreted many of the Ark Encounter's fundraising difficulties through a lens of spiritual warfare. In a fundraising letter last month, he called their financial woes "an indication of the immense spiritual battle we are in."
"Please be aware that the associated complications and struggles have been beyond our control," Ham wrote.
Park construction is expected to start in May.