Billy Graham: 3 Ways to Strengthen Your Bond With God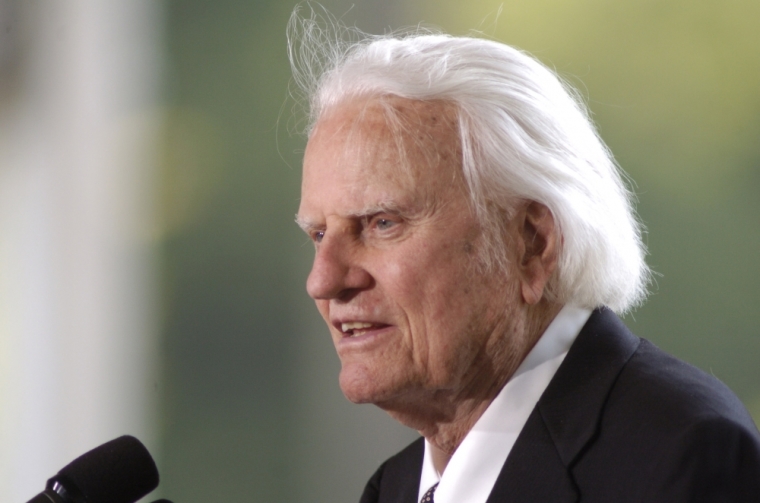 There are many ways for Christians to strengthen their bond with God, the Rev. Billy Graham said in a recent message.
Responding to a question posted to the "My Answers" portion of the Billy Graham Evangelistic Association's website, the evangelical leader wrote that although some Christians may feel they are on a "rollercoaster" of ups and downs in their spiritual life, "God wants our faith to be stable, and even grow stronger every day."
There are several ways in which Christians can ensure their faith remains secure and strong, Graham continues, comparing one's relationship with God to a marriage by explaining that like marriage, Christians share an unbreakable, everlasting bond with their Savior.
"When we commit our lives to Him, we become part of His family forever. He loves you; He died for you; He rose again from the dead for you; He adopted you into His family; He lives within you by His Spirit. Make sure you have committed your life to Christ — and then remind yourself of these truths every day," Graham says.
Graham adds that along with remembering the reason for your faith, Christians must also work on their relationship with God every day.
"[…] a strong marriage also involves the present — spending time with each other, communicating with each other, enjoying each other. The same is true with Christ," the Baptist minister writes, encouraging Christians to "take time every day to read from God's Word, the Bible, and to pray."
"In addition, become part of a vital church where God's Word is preached and practiced," Graham adds.
The evangelical leader has spoken on the importance of forming a personal relationship with Christ before, writing in April 2015 that Christians can believe in God's existence and also grow to know him personally.
"We can believe that He exists (and we should, because He has given us all the evidence we need to believe in Him). But we also can come to know Him personally — and when we do, we know He is with us all the time, and we can talk to Him in prayer and listen to Him speaking to us through His Word, the Bible," the 97-year-old writes.
"How can you know God personally? Only one thing keeps us from Him, and that is our sin. But Christ came to erase our sins by His death on the cross, and as we open our hearts to Him, He comes to live within us. By faith ask Christ to take away your sins and come into your life today — and He will," Graham adds.
In a December 2015 post, Graham wrote that forming a relationship with God brings freedom.
While lacking a relationship with God brings "emptiness" to one's life, Graham writes that all people have the ability to "discover the lasting joy and peace that only come from knowing Christ. God loves you; He loves you so much that He sent His only Son, Jesus Christ, into the world to free you from your sins. You'll never be the same once you discover this truth."