Billy Graham: Treat the Bible as a Blessing, Not a Burden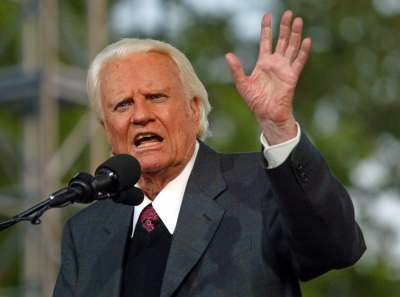 Christians should read their Bible with enthusiasm, seeing it as an opportunity to become closer to God, the Rev. Billy Graham wrote.
Graham was responding to a question on the Kansas City Star blog, calling on believers to approach their Bible reading as a blessing, rather than a curse.
The evangelist admits that while the Bible can be a dauntingly large book to tackle, it is also full of infinite wisdom and meaning.
"[…] [J]ust because we can't understand everything about it doesn't mean we can't understand something. Set aside time every day to pray and read your Bible, even if it's only a few verses," the preacher writes.
Graham suggests that a beginner Bible reader start with reading Psalms, Proverbs or the Gospels, as these sections are easily applied to life.
Along with reading the Bible, Christians can pursue other routes for learning more about the Word of God, including attending church, listening to Christian radio stations and studying the Holy Book with friends.
Most importantly, Christians need to ask God to help them apply the Bible to their life.
"The Bible is God's written Word, and through it we come to know Christ and his will for our lives. Don't be content with a second-hand faith, but make certain of your commitment to Jesus Christ," the evangelical leader writes.
Graham concludes his message with 2 Peter 3:18: "But grow in the grace and knowledge of our Lord and Savior Jesus Christ."
The 97-year-old evangelical leader has spoken on the importance of reading the Bible to strengthen your faith before, writing in March 2015 that to fully enjoy the Bible, Christians need to read the Holy Book with an open mind and an open heart.
There are some helpful, logical questions Christians can ask themselves when reading Scripture that will help them become better engaged, including: "What is happening in this passage? What does it tell me about God, or Jesus, or my spiritual needs? What does it say about how I should live, or what I should believe? What difference should this passage make in my life?"
Along with approaching the Bible with an open heart and an open mind, Christians must also approach the Scriptures with an open will, because "God wants to change us, and He'll use the Bible to do this."
In another post from December 2014, Graham writes that Christians can best understand the Bible through careful reading, approaching it intelligently, prayerfully, and obediently.
As he stated in other posts, Graham stresses the importance of applying the Scripture to your daily life by asking yourself: "What difference should this passage make in my life? Does it urge me to commit my life to Christ? Does it point out a sin I need to confess, or a command I need to follow?"
When reading Scripture, Christians can keep James 1:22 in their mind, which encourages them to not only know the Scripture but to live it out.
"Do not merely listen to the word, and so deceive yourselves. Do what it says," the verse reads.