Billy Graham Called Kim Il-Sung 'God,' North Korea 'Greatest Heaven,' State Media Claims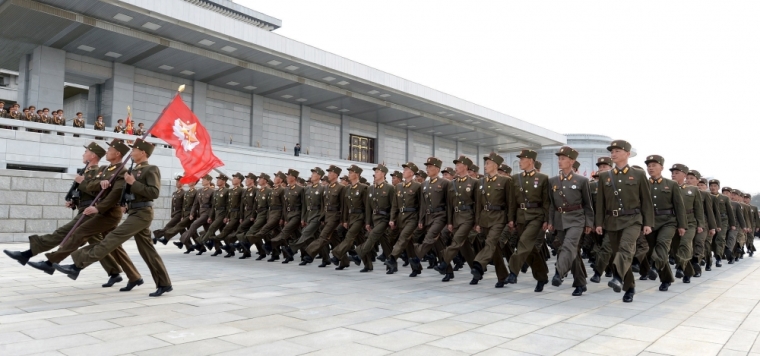 On the 104th birth anniversary of dictator Kim Il-sung, a North Korean state newspaper claimed that when American evangelist Billy Graham visited Pyongyang, he described the country's late founder as "God who exists in the world of human beings" and who "has created the greatest heaven on earth."
"The pastor said that he met the greatest among all human beings, who carried out the ultimate art of politics with high morality and being the saint of all saints," says a report published in Rodong Sinmun, a North Korean newspaper that is the official newspaper of the Central Committee of the Workers' Party of Korea.
"Not believing in God but believing in his people, Premier Kim Il Sung who governs the country in his own way made me think that he might be God," said Graham in 1992, the report went on to claim, according to NK News. "I admit that Premier Kim Il Sung is God who exists in the world of human beings … he, with his supreme political belief and method has created the greatest heaven on earth that even God might have not been able to do."
North Korea, which has been a brutal dictatorship, ruled by one party, the Korea Worker's Party, and led by one family, the Kims, since its formation in 1948, uses media for indoctrination.
Graham visited North Korea in 1992 and 1994.
"Franklin's father, Billy, visited the DPRK in 1992 and 1994, and his mother Ruth returned in 1997 after attending high school in Pyongyang in the 1930s," says a 2008 article on the website of Billy Graham Evangelistic Association.
"In 1992, Billy Graham became the first foreign religious leader to preach in Pyongyang. During that visit he gave a lecture at Kim Il Sung University, the nation's leading educational institution, and met with President Kim Il Sung.
"He visited again in 1994. Billy told reporters at a packed press conference he was welcomed 'very cordially' by the people and government leaders during his visit, which he termed 'unquestionably, one of the most memorable events of my life.'"
In 1997, BGEA and Samaritan's Purse partnered in sending a 747 cargo jet with $8 million in medical supplies and aid to assist the people of the DPRK following one of the worst floods in the nation's history.
"In spite of the political differences that divide our two countries, we need to do all we can to care for the people of the DPRK," the Rev. Franklin Graham said at a press conference before the airlift. "We are praying for the people and we pledge to do all we can in the Name of Jesus Christ to extend a hand of friendship and practical assistance to them during this time of suffering."
North Korea is among the world's worst persecutor of Christians. There are at least 100,000 Christians in that nation's harsh prison camps, where prisoners face torture, forced labor and possible execution, Christian groups say.
Persecution watchdog group Open Doors this year again listed North Korea as the greatest oppressor of Christians worldwide.
The North Korean government, now led by Kim Jong Un, was placed at the No. 1 position for the 14th consecutive year when Open Doors released it's 2016 World Watch List in January.
"Getting information out of North Korea is notoriously difficult," Open Doors CEO David Curry told The Christian Post in an interview at the time. "That is what makes the fact that it remains number one on the World Watch List even more amazing. We don't even know how many Christians have been martyred in North Korea. Yet, it remains at the top. That's because it uses all of the powers of its government to suppress Christian faith, to punish even the most basic of things such as owning a Bible."