Billy Graham: How Jesus' Second Coming Will Be Different From His Birth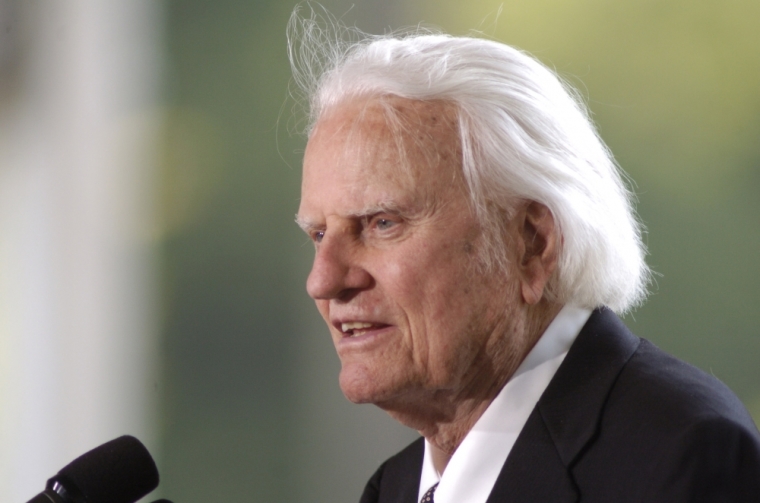 Jesus' Second Coming will be completely different than his birth on earth, the Rev. Billy Graham says.
Graham, a world renowned evangelist, said in a recent blog post for the Kansas City Star that while Jesus' birth here on earth took place in "humble and obscure" conditions, his Second Coming will be completely different.
During Jesus' return, he "[…] will come with power and glory to conquer evil and establish his kingdom of righteousness and justice," Graham says.
"He won't be born as a baby but will come instead in all of his fullness and majesty. That which was hidden during his first coming will now be revealed — and every person on Earth will see him," the evangelical leader continues, citing Mark 13:26: "At that time people will see the Son of Man coming in clouds with great power and glory."
The Baptist minister then stresses the importance of being prepared for Christ's Second Coming now, as we have no idea when it will actually happen.
"[The Second Coming] will happen only in God's timing — and tragically, most people will not be prepared," Graham writes.
"Although we are warned against speculating or trying to set exact dates, the Bible does tell us that certain events will indicate that his coming is imminent," the evangelical leader adds, pointing as evidence that the Second Coming is imminent in Matthew 24:14: "And this gospel of the kingdom will be preached in the whole world as a testimony to all nations, and then the end will come."
World evangelism, which is currently happening, is evidence that the Second Coming may be near, Graham says.
Anne Graham Lotz, Billy Graham's daughter, has also talked about the Second Coming in recent years, saying in an April interview with the Christian Broadcasting Network that as we face evidence of the End Times, America must repent to win back God's favor.
Lotz said major natural disasters are a prediction of the End Times: "So when something is record-breaking, which the earthquakes, the snowstorms, the floods — they are record-breaking — that's increasing in intensity [...] When they increase in frequency — so it's not just one historic flood this year, but now it's like this month, and now it's this week, and it's just — they're ratcheting up in frequency and in intensity."
She added that now is the time for America to turn from sin before facing God's judgment.
"Romans 1 describes the type of judgment where we sin, and we refuse to repent of our sin, then He backs away from us," Lotz said. "He removes Himself from us and He turns us over to ourselves. That's what I think I see in America. I believe we're entering into that phase of judgment, where God is backing away."
"Our nation [...] is in a mess [...] it's unraveling; we're imploding, and morally and spiritually, first and foremost. And I believe this is the time for God's people to humble themselves, pray, seek His face, turn from our sin, that He would hear our prayer, forgive our sin and bless America," Lotz added.