Billy Graham Set to Release Never-Before-Seen Video Message Called 'Heaven'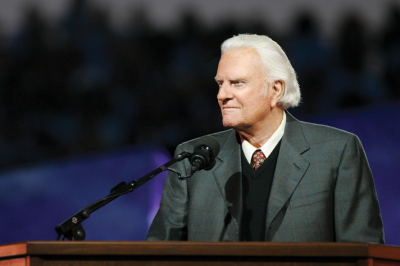 A new video message from Billy Graham is in production and is set to be released in honor of his 96th birthday on Nov. 7. The program, called "Heaven," is being released to churches as an evangelistic tool, in conjunction with the Billy Graham Evangelistic Association's My Hope 2014 with Billy Graham campaign.
"Evangelism is clearly the hardest activity of the Church, but it's also the one most closely tied to the health of the local church," said Steve Rhoads, vice president for My Hope. "We want to come alongside pastors and help them as they motivate their congregations to reach out in love. The local church holds a unique position of influence in our communities."
A recent Barna Group study found that while 73 percent of "born-again" Christians believe they have a personal responsibility to share their faith, only half (52 percent) have actually done so in the past year. Among "evangelicals" – the group which overwhelmingly believes they have a responsibility to share their faith – less than one-third (31 percent) have in the past 12 months.
My Hope 2014 puts the focus on partnering with local churches to present the Gospel. This fall, the new evangelistic program will be available, free of charge, for churches to use in offering a message of hope in their own communities. Graham's message on heaven was filmed from his home as part of last year's My Hope campaign. In addition to never-before-seen footage, this year's program will also feature real-life stories of faith interwoven throughout, in the same style as the impactful programs previously produced such as "The Cross."
Churches and individuals involved in My Hope 2014 are encouraged to pray and reach out to neighbors, family and friends, and invite them to a local event this November, using the newly produced video program in the setting that works best in the local church or community.
In 2013, more than 110,000 made commitments to Jesus Christ through My Hope with Billy Graham, according to BGEA. This past Easter, churches nationwide hosted events and showings of "The Cross," the acclaimed video message from Graham. My Hope staff heard reports of churches and individuals using the videos in church services, small groups, local movie theaters, prisons, rescue missions and more.
"No matter how an individual or church uses these My Hope resources, it begins with prayer," added Rhoads, who oversees the efforts for My Hope 2014 and My Hope UK with Billy Graham, a similar evangelistic effort taking place in the United Kingdom this year. "It starts as individuals begin to pray specifically for people they know who need the hope found in a relationship with Jesus Christ."
On the Web: www.MyHopewithBillyGraham.org
About My Hope
Beginning in 2002, My Hope has been implemented in 59 countries in Africa, Asia, Europe, the Americas, and the Middle East. More than 305,000 churches and 4 million homes have participated and more than 10 million salvation and rededication decisions for Jesus Christ have been recorded, according to BGEA.
About the Billy Graham Evangelistic Association
The Billy Graham Evangelistic Association proclaims the Gospel of Jesus Christ throughout the world by every effective means available. From its headquarters in Charlotte, N.C., the BGEA directs a wide range of domestic and international ministries.