Bishop TD Jakes to Celebrate 35th Anniversary at Star-Studded Gala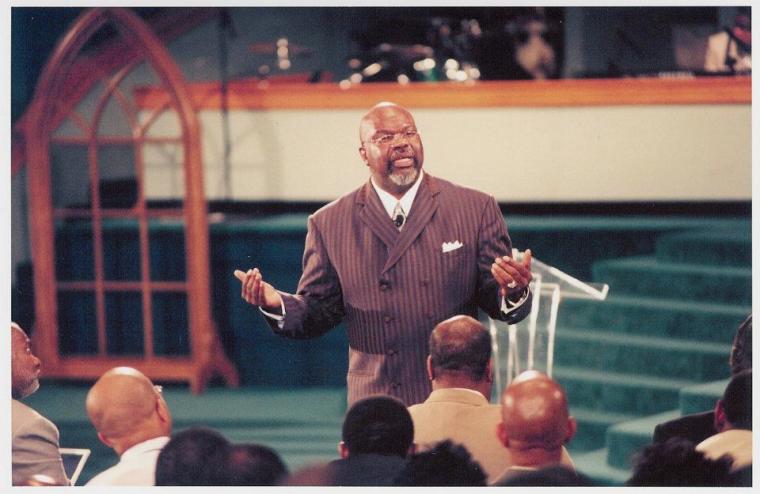 DALLAS – A black-tie gala featuring a surprise star-studded guest list will be held Friday night to celebrate Bishop T.D. Jakes' 35th anniversary of ministry service. The event titled "Triumphant Journey" will be held at the AT&T Winspear Opera House in Dallas, Texas.
The details of the event have been shrouded in secrecy as a surprise for Bishop Jakes, senior pastor of the megachurch The Potter's House and founder of the faith-based entertainment company TDJ Entreprises, which produced the hit 2011 movie "Jumping the Broom."
Organizers of the event told The Christian Post that the famed black preacher will have no idea of what to expect, including the list of speakers, presenters and performers. Naturally, all the special guests will be those who have worked with the pastor over the past three decades in the areas of church, humanitarian efforts and entertainment.
In addition to celebrating 35 years since he entered into ministry, Jakes will be marking several other milestones, including his 30th wedding anniversary to Serita Jakes, his 55th birthday, and 15th anniversary of The Potter's House of Dallas, Inc.
It was 35 years ago that Thomas Dexter Jakes accepted his call into ministry and preached his first sermon. He was told that he could never preach because of a bad lisp, but Jakes was determined when he felt God call him into ministry.
"I set out to preach a day, and a day became a week, and a week became a month, and a month became a year. And we're here," says Jakes. "I've learned that preaching is not something you do, it's something that you are. And to let that something that you are live and breathe on stage."
In 1980, he started his first church, Greater Emmanuel Temple of Faith, out of a storefront in Montgomery, W.V., with 10 members. By 1993, the church had moved three times, settling in Cross Lanes, and had grown to 1,000 members.
Jakes then relocated 50 families from Cross Lanes to Dallas, where he founded The Potter's House. Today, the congregation has grown to 30,000 members.
Time Magazine has named Bishop Jakes as one of the "25 Most Influential Evangelicals in America." Jakes has ministered to President Barack Obama, delivering the morning service before his presidential inauguration, and has dined with Obama during the National Prayer Breakfast in Washington, D.C.
Reflecting on his journey, Jakes says, "My prayer wasn't to be big. It wasn't, 'Lord make me big.' It was, 'Lord, make me better.' And it still is."
Bishop T.D. Jakes Takes His Responsibility Seriously - Oprah's Next Chapter - Oprah Winfrey Network