Black Pastors Say Trump's Atty. Gen Pick Jeff Sessions Is Not Racist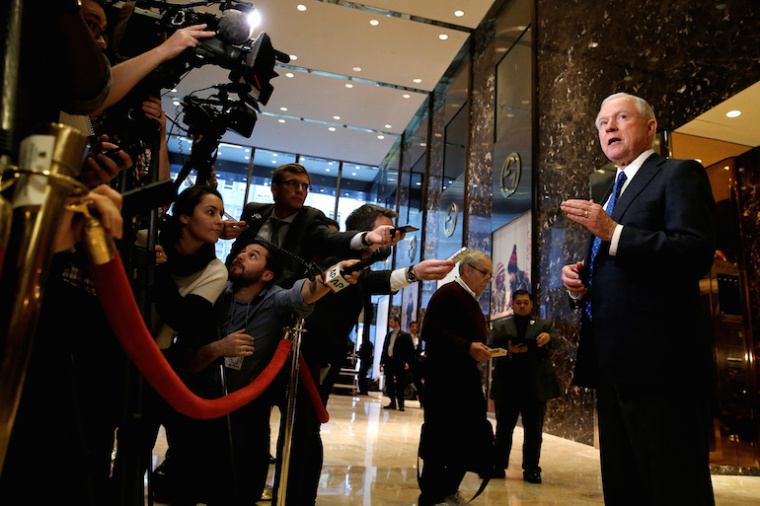 WASHINGTON — Black pastors have denounced "baseless" accusations that Sen. Jeff Sessions, R-Ala., who is President-elect Donald Trump's choice to be the next attorney general of the United States, is a racist.
"Americans are living in a toxic climate where the serious charge of racism is carelessly leveled against anyone with whom the Left disagrees," the Rev. Dean Nelson, board chairman of the Frederick Douglass Foundation and minister at Salem Baptist Church in Virginia, told the media Monday. "We are here today to make it perfectly clear that this against Senator Jeff Sessions is baseless and that he is more than qualified to be the next attorney general."
Some in the mainstream media have been accused of trying to paint Sessions as a racist, even before the announcement of 70-year-old Sessions as Trump's attorney general pick.
In November, the New York Times published a piece that pointed to a 30-year-old accusation that Sessions, who was blocked by the Senate in 1986 from being a federal judge, once called an African-American prosecutor "boy" and also once said that he thought the Klu Klux Klan was "O.K. until I found out they smoked pot."
Other mainstream media organizations like CNN also published racism claims against Sessions. One such headline reads, "Career Racist Jeff Sessions Is Donald Trump's Pick for Attorney General." 
On Monday, a group of black pastors from across the nation gathered on Capitol Hill to shoot down the allegations.
"We have understood that there is a legitimate dimension of racism that exists in our nation," Bishop Harry Jackson of Hope Christian Church in Beltsville, Maryland, said during a press conference at the Cannon House Office Building.
"But there is an attempt by some to demonize people [they disagree with] and call them racists when there is actually no proof for it," he continued. "So let me say clearly, Sen. Sessions is not a racist."
Some civil rights leaders have come out against the attorney general nominee and specified the reasons for their protest.
"A nominee with a record of refusing to acknowledge the reality of voter suppression across American and in the home state of the Voting Rights Act, Alabama, can't be trusted to protect voting rights in particular or civil rights in general. Indeed, a nominee with a record of voicing support for the discriminatory voter ID laws that are the very means of voter suppression cannot be relied upon prosecute cases of voter suppression," said NAACP President and CEO Cornell William Brooks on Sunday.
Jackson, however, listed the number of accomplishments achieved by Sessions throughout his career as a lawyer and prosecutor that suggest he's far from being a racist.
"Sessions helped desegregate schools in Alabama. That's a huge issue," Jackson explained, adding that as former U.S. attorney for Alabama, Sessions worked with the state to make sure that Klansman Henry Francis Hays would be tried for capital punishment for the lynching 19-year-old African-American Michael Donald.
Years later, when Sessions was the attorney general of Alabama, he also made sure that the death penalty was imposed on Hays. Additionally, Sessions brought federal charges against Hays' accomplice, which led to James Knowles being sentenced to life in prison.
"I think that would qualify you as someone who is eliminating racism, not one who is perpetrating it on anyone," Jackson said, adding that the murder trial also led to a $7 million judgment that forced the KKK in Alabama to bankruptcy.
"Does that sound like he is with that side at all, does it?" Jackson asked.
"What we need is someone with a proven record of fighting racism, a proven record of integrity and has a desire to see the best American values come forward," Jackson added. "Whenever I hear that some group is trying to bully the little people and trying to impugn someone's character and attack them and marginalize them, something rises up in me that says that if I can stop it, I will."
Also, Sessions has had a number of African-American staffers including his chief legal counsel on the Senate Judiciary Committee, William Smith, who became the first African-American legal counsel in the committee's history.
Smith, who is now the chief of staff for Rep. Gary Palmer, R-Ala., has also come out in defense of Sessions in the midst of the accusations.
"Even the Democrats know that – this is all a big charade because they object to Sen. Session's policy views and don't want to debate the issues in public," Smith recently told CNS News. "They are afraid he might actually take the politicalization out of the Department of Justice and actually enforce the laws on the books, such as the immigration and marijuana laws."
Bishop Kyle Searcy, senior pastor of the multi-racial Fresh Anointing House of Worship in Montgomery, Alabama, said that the notion that Sessions is a racist might stem from the distrust that many throughout the country have regarding Alabama's questionable history with racial issues.
"I think what often happens is sometimes people often fear Alabama itself and maybe fear what comes out of Alabama. I get it," Searcy, who had similar feelings when he first moved from New York to Alabama over 35 years ago, said. "In Alabama we are becoming a different Alabama than the stigma says. In Alabama, Democrats and Republicans are learning to work together. In Alabama, black folks and white folks are coming together like never before and Jeff Sessions is the kind of politician who embraces those values."
"The definition of a racist is one who believes that one race is superior to another. The question we need to ask is can we tell what another person believes? In fact, sometimes we don't know what we believe," Searcy added. "The best way to adjudicate is by their actions, by what they say and by what they do. If you look honestly at the track record of Jeff Sessions, honestly not biasedly, you will find him to be a kind and decent man, one that many Democrats — black Democrats and whites alike — have supported and deserves to lead this nation as its top lawyer."
The Rev. Troy Towns, a pastor at Rivers Edge Church in Montgomery, Alabama, also pointed out that Sessions has shown the ability in the past to work with Democrats to pass much needed reforms.
"In 2003, Sessions worked beside the late Ted Kennedy and the two led the effort to pass the Prison Rape Elimination Act signed into law by President George W. Bush. In 2010, Jeff Sessions and Democrat Sen. Dick Durbin worked together to pass the Crack-Cocaine Fair Sentencing Act," Towns explained. "It was Sen. Sessions who first introduced the bill in 2001 and continued to fight for it for nine years until it finally became law. In 2011, Sen. Sessions and Democrat Sen. Richard Blumenthal led the drive to pass the Finding Fugitive Sex Offender Act. It was President Obama's pen that signed that bill."
As advocates for criminal justice reform have reservations about the nomination of Sessions since he has been a critic of certain criminal justice reform measures, the pastors, many of whom are advocates for criminal justice reform, expressed optimism that Sessions will give them an ear on this issue.
"We have every confidence that he will listen to advocacy groups and he will respond to the need that is very clear in all of our urban areas. Folks that have done time, 80 percent of them go back to prison," Jackson said. "That has become a blight on our community and that has got to change."
Nelson added that the topic of criminal justice reform did come up when the pastors met with Sessions' staff on Monday.
"It is something that most of us here are champions for and they gave us their word and their promise that he would commit to working with us to advance that in a way that he would see fit as the chief justice officer in our country," Nelson explained.