Bobby Schuller, Choir Director and Former Congregants Return to Crystal Cathedral
Calif. Megachurch to See Revival With the Return of Schuller Family Member, Popular Choir Director?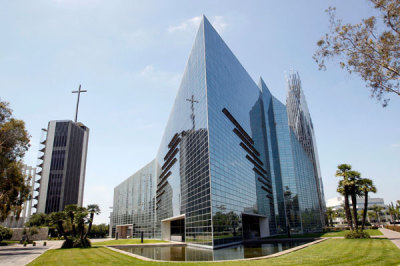 Less than two months after founding pastor Robert H. Schuller and his family left Crystal Cathedral Ministries over financial and leadership disputes, the Rev. Bobby Schuller, the elder Schuller's grandson, returned to the California megachurch on Sunday and was announced as a new regular guest speaker.
"I'm excited to be back," Schuller, 30, told congregants during Sunday's service, which also featured Kay Warren, the wife of Saddleback Church founder the Rev. Rick Warren, as a guest speaker.
"There are a lot of positive things going on at the Crystal Cathedral these days," Steve Yount, spokesperson for Crystal Cathedral Ministries, told The Christian Post via email Monday. Yount confirmed that Bobby Schuller has entered a guest-speaking arrangement with the church, and will be appearing behind the pulpit on a regular basis.
The young pastor, who previously led Crystal Cathedral's Gathering Community ministry, is currently a pastor and teacher at Tree of Life Community church, also in Orange County. It was not immediately clear when or why Bobby Schuller had departed the ministry his grandfather founded.
On Tree of Life Community's website, Pastor Schuller's biography states that "[although] he parts with his grandfather on many issues philosophically, [he] continues to have theological conversation with his grandfather to this day."
In addition the Rev. Bobby Schuller's return, the Crystal Cathedral congregation also saw the return of its traditional choir and previous choir director, as well as a number of congregants who had left the church in the wake of internal disputes.
Former choir director Don Neuen, who quit in 2010, said he will once again lead the church's music program.
"I'm sure you're as thrilled with the resurgence and revitalization of this Crystal Cathedral congregation as I am," Neuen addressed congregants who assembled for the Sunday service at the signature glass building in Garden Grove. He added that the congregation is experiencing a "Crystal Cathedral miracle."
Neuen thanked John Tebay for his work as an intermittent choir conductor. He also called for financial support to back the "not inexpensive" music program.
Crystal Cathedral is still searching for a new senior pastor, after Sheila Schuller Coleman left mid-March to found her own church, Hope Center of Christ. The role has been temporarily filled by Lawrence Wilkes, an old friend to the ministry. Yet local media have already hailed the return of a Schuller family member to the pulpit as an upswing in the church's morbid recent history.
Since its founding circa 1955, the church's popularity surged in connection to the ministries' televised worship program, "The Hour of Power." In recent times, however, the megachurch started experiencing financial difficulties, which, worsened by the 2008 financial collapse, culminated in 2010 with the church -- led until recently by the Schuller family -- being forced to file for Chapter 11 bankruptcy. In Feb. 2012, Crystal Cathedral Ministries' signature glass property was sold to the Roman Catholic Diocese of Orange for $57 million. The current congregation is allowed to lease the Crystal Cathedral campus until 2015, when they must find a new home.
Crystal Cathedral underwent major staff changes after its founder, the Rev. Robert H. Schuller, quit the board of directors and left the church mid-March, followed by other family members who all held top positions within the ministry. The current president and CEO of Crystal Cathedral Ministries is John Charles.