Boko Haram Militants Behead 7 People in Revenge Attacks in Nigeria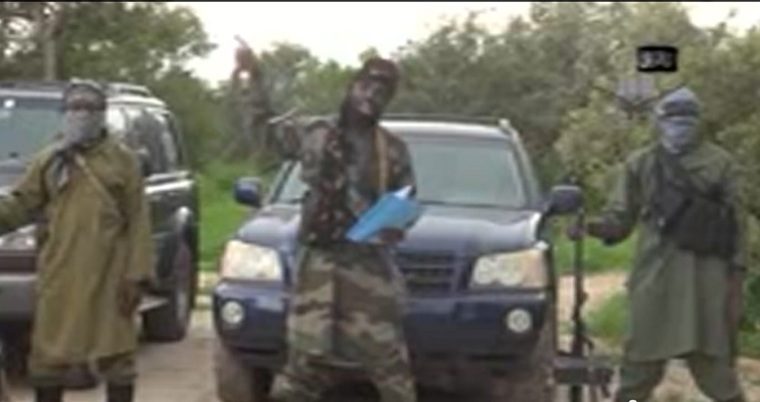 Militants from terror group Boko Haram reportedly beheaded seven people in revenge attacks on Monday in the remote northeast town of Ngamdu in Nigeria.
Resident Musa Abor said that when Ngamdu locals awoke they found seven people that had been brutally killed. The gunmen "slit their (victims) throats just the way people slaughter goats," the resident added.
The terror group is apparently carrying out revenge attacks against locals who have aided Nigeria's military and have formed vigilante groups that have fought back against Boko Haram's raids.
Close to 15 Boko Haram fighters were reportedly killed in battles in Ngamdu two weeks ago, prompting the terror group to vow revenge against the community.
The Islamic militants, which have been waging a war on the Nigerian government for over five years and have heavily focused their activities in Borno state, have killed over 10,000 people since 2009, AFP News Agency reported.
Boko Haram leader Abubakar Shekau appeared in a video last week, dismissing claims from the army that he had been killed. Shekau also said that he is implementing strict Sharia law on towns in Nigeria that have been captured.
"Nothing will kill me until my days are over. ... I'm still alive. Some people asked you if Shekau has two souls. No, I have one soul, by Allah," the leader said in the video.
"We are running our caliphate, our Islamic caliphate. We follow the Quran. ... We now practice the injunctions of the Quran in the land of Allah," he said.
Boko Haram is believed to have captured over two dozen towns and villages across the northeast, despite the efforts from President Goodluck Jonathan's government.
The terror group has targeted Christians and any Muslims that stand in its way in its mission to establish Islamic rule over the country. It has also aligned itself with ISIS, the Islamic militant group that is active in Syria and Iraq.
The Christian Association of Nigerian-Americans, which has been warning about the dangers of Boko Haram for years, has written a letter to U.S. President Barack Obama urging the government to include the Nigerian militant group in its global anti-terror efforts.
"Obama will need to include other terrorist groups like Boko Haram, Hamas and Hezbollah" in the anti-terror strategy, CANAN executive director Pastor Laolu Akande told The Christian Post in an interview in September.
"This group is targeting Americans, as they are targeting Nigerians, as they are targeting any westerner they can find. So it is important for us, as Americans, to insist that the U.S. president must include Boko Haram in his global strategy against ISIS."