Former Topless Feminist Apologizes to Christians for Kissing Woman on Cross in Front of Church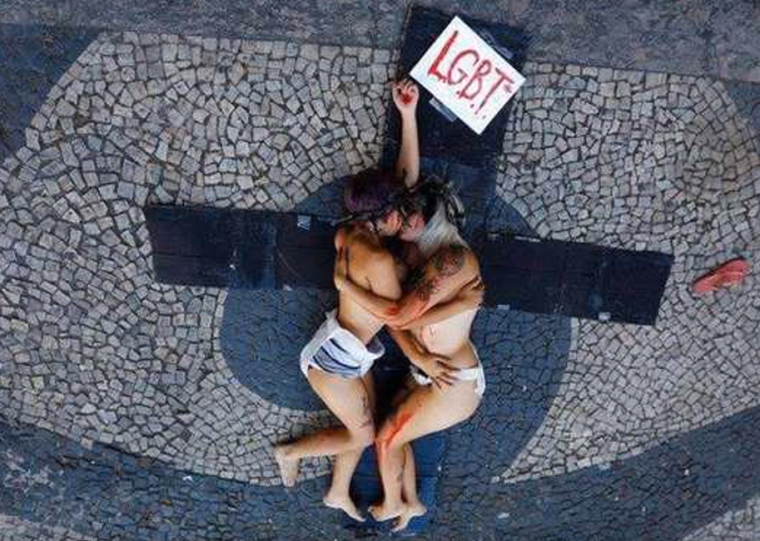 A former Brazilian feminist turned pro-life activist has apologized to Christians for kissing a woman on top of a cross during a topless protest in front of a Rio De Janeiro church in 2014 and has expressed a desire to return to church for the first time since she was 14.
Sara Fernanda Giromin, who was previously known by the alias "Sara Winter," founded the feminist group Femen Brazil in 2012 and helped lead countless topless feminist protests in the country that called for LGBT rights and the legalization of elective abortion, which is still illegal in Brazil.
One of the protests organized by Giromin included a rally in front of the Church of Our Lady of Candelária located in Rio De Janeiro in January of 2014. During the protest, a mostly naked Giromin was photographed kissing another mostly naked woman while they were laying on top of a cross that was laid on the ground in front of the church. The photo was shared widely on social media.
Despite her feminist past, Giromin now decries the feminist and abortion movements. She separated herself from the feminist movement after deeply regretting aborting her first child and realizing the beauty of motherhood when she gave birth to her second child last year.
After Giromin released her book, Bitch, No! Seven times I was betrayed by Feminism last month, Giromin posted a video on YouTube on Dec. 15, asking Christians to forgive her for her offensive actions.
"Asking for forgiveness is certainly not an easy thing to do," Giromin said in Portugese. "We went way too far and ended up offending many religious and non-religious people."
In a Monday interview with The Christian Post, Giromin explained that her issues with the feminist movement began when it became apparent that feminists in Brazil only cared about one thing — abortion.
Although Giromin said she joined the feminist movement to be a voice for women who are victims of domestic abuse and rape, those issues were not on the agenda of the leading feminist groups that solely focused on pushing abortion-inducing drugs into the hands of scared and desperate pregnant women.
"If you disagree with some part of their agenda, you will be persecuted, totally persecuted, and will be exposed and humiliated," Giromin stated.
When Giromin became pregnant for the first time, she also turned to her feminist friends who pressured her to take abortion-inducing pills.
"I asked for help in our feminist group and a feminist friend offered me abortion medicines," Giromin said. "I was really desperate and more than 50 feminists were saying to me 'If you do it, it will empower your body. If you make an abortion, you will have more experience to speak like a feminist.'"
Giromin took the pills but her feminist friends neglected to tell her of the health risks that could arise from taking such pills. After taking the abortion-inducing drugs, Giromin suffered from life-threatening complications. When she called on her feminist friends to help her get to the hospital, she said they were nowhere to be found.
"I was bleeding so much, I was really, really scared," she explained. "I called for a feminist friend. I was so desperate in asking for help. I asked for help because I needed to go to hospital but no one helped me."
Although she had grown to hate men as a feminist, it was a male friend of Giromin's who ended up taking her to the hospital, where she ended up staying for over a week. Giromin said the male friend also paid her medical expenses.
"God was there for me and a man," Giromin said. "This experience helped me to realize that abortion is never a solution, it's only one more problem. I am against abortion in all situations. This is the biggest regret in my whole life and I cannot cover this huge hole in my heart."
In explaining why she felt the need to apologize to Christians for her offensive lesbianesque behavior in front of the church, Giromin said she began to understand how offensive her actions were when she began teaching English to poor children while she was pregnant. When Giromin offered a prayer to the class one day, she was interrupted by a child who made a joke of the prayer.
"I realized that this situation reminds me of the same but worse when I did that protest in the front of church in Rio De Janeiro. I realized that I was a hypocrite because I was angry because a child make fun in the middle of praying, but I was doing blasphemy in front of a church and must have offended so many people who are Christians," Giromin reasoned. "I was waiting to apologize and I am really glad that I did it because I feel so good. I never expected forgiveness but I am really glad that it happened."
Giromin stated that many young girls and women who join the Brazilian feminist movement are pressured by leading feminists to do drugs, engage in sex with strangers and even become bisexual or lesbian.
"If you are straight or religious, you will be compared by a lesbian or a bisexual feminist group always as less of a feminist," Giromin said. "Some girls, new girls who went to feminism looking for help, looking for friends, they feel this wish to become lesbian or a bisexual because they need to have attention from the other feminists because they want to be a real feminist."
Giromin, who grew up in the Catholic Church, said she hasn't been back to church since she left it when she was 14. Though she told CP that she is too "embarrassed" to go back to church, she hopes one day she can find the strength to return.
"For sure, I am Christian. I always was a Christian," Giromin asserted. "I want to come back to the church but for now I am really embarrassed for my feminist past. But if someone could help me to come back, I will love it."
Contact: <ahref="mailto:samuel.smith@christianpost.com">samuel.smith@christianpost.com,
@IamSamSmith
(Twitter)