Brazil President Dilma Rousseff Re-Elected in Narrow Victory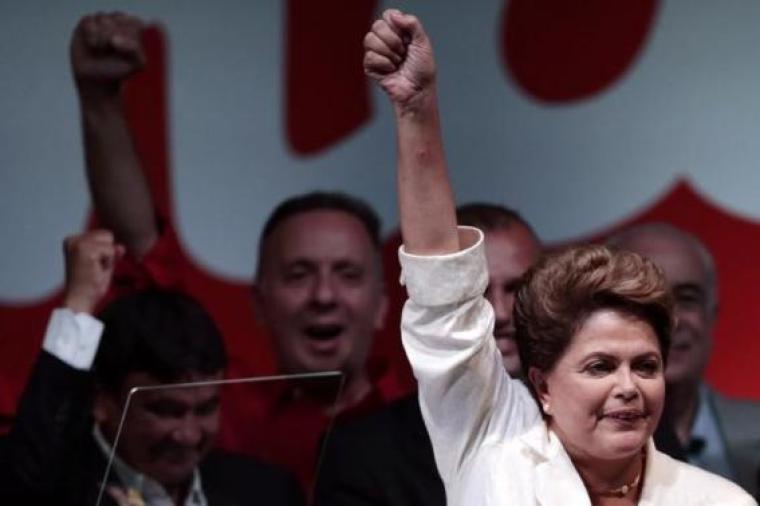 Brazilian President Dilma Rousseff has been re-elected to her position following a very narrow victory on Sunday, earning 51.6 percent of the votes against challenger Aécio Neves.
"Instead of increasing differences and creating gaps, I strongly hope that we create the conditions to unite," Rousseff told supporters in Brasilia following news of her victory, The Guardian reported. "I want to be a much better president than I have been until now."
The runoff election was forced after Rousseff was unable to secure the majority of voices during the Oct. 5 vote, where she received 42 percent of the support, Neves 34 percent, and evangelical hopeful Marina Silva finished third with 21 percent.
Sunday's results mean that the largest Latin American nation will remain under the Workers party government for at least another four years. Rouseff's supporters celebrated in major Brazilian cities, including Rio de Janeiro, where more than a thousand people waved flags, danced and chanted, "Olé, olé, olé, olé, Dilma, Dilma!"
Rousseff has promised to tackle poverty and invest in state development projects, which won her significant support in the poorer north and north-east areas of the country.
Reuters noted that the prolonged campaign had pitted poorer Brazilians against those in the middle class who criticized the stalled economy, but Rousseff's task now will be to find a way to unite the country's citizens.
"I know that I am being sent back to the presidency to make the big changes that Brazilian society demands," Rousseff added.
The president acknowledged that regardless of the results, Brazilians have indicated that they want to see positive change and reform.
"Sometimes in history, close outcomes trigger results more quickly than ample victories," Rousseff continued, according to BBC News.
"It is my hope, or even better, my certainty that the clash of ideas can create room for consensus, and my first words are going to be a call for peace and unity," she said.
Neves has meanwhile admitted defeat, and thanked the "more than 50 million Brazilians who voted for the path to change." He added that the "overriding priority is to unite Brazil around an honourable programme worthy of all Brazilians."
BBC analyst Wyre Davies argued that Rousseff faces big challenges in the next four years.
"International markets are nervous about the high level of government intervention in the economy. Many of those Brazilians whose lives have improved in recent years want more — especially services including better health education and a reduction in Brazil's chronic levels of crime," Davies said.