Kavanaugh Calls Roe v. Wade an 'Important Precedent,' That's Been 'Reaffirmed Many Times'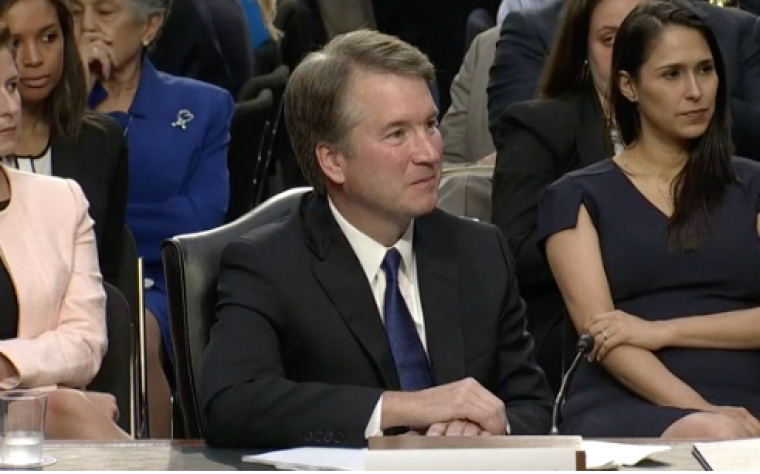 United States Supreme Court nominee Judge Brett Kavanaugh has stated that he considers the controversial high court decision Roe v. Wade to be an "important precedent" that has been "reaffirmed many times."
During the second day of the Senate Committee hearing on Judge Kavanaugh, Sen. Dianne Feinstein, D-California, asked the nominee his views on Roe.
"I think knowing going into it, how you make a judgment on these issues is really important to our vote as whether to support you or not," said Sen. Feinstein.
Kavanaugh responded that he "understands the importance of the issue," adding that he considers Roe to be an "important precedent" that has been "reaffirmed many times."
Kavanaugh then referenced the 1992 Supreme Court decision Planned Parenthood v. Casey, a 5-4 decision which, while affirming Roe, also upheld multiple provisions of a Pennsylvania law that restricted abortion access.
"It is an important precedent of the Supreme Court, by it I mean Roe v. Wade and Planned Parenthood v. Casey," explained Kavanaugh.
"Casey is precedent on precedent, which itself is an important factor to remember. And I understand the significance of the issue, the jurisprudential issue, and I understand ... the real-world effects of that decision."
Nominated by President Donald Trump in July to replace a retiring Justice Anthony Kennedy, many have speculated that if Kavanaugh is confirmed to the Supreme Court, Roe will soon be overturned.
Last month, Sen. Susan Collins, R-Maine, held a one-on-one meeting with Kavanaugh in which they discussed a "wide range of issues," including gun laws and executive power.
When asked what came up when they talked about abortion and its legality, Collins responded that Kavanaugh said he considers the 1973 decision "settled law."
"We talked about whether he considered Roe to be settled law. He said that he agreed with what [Chief Justice John Roberts] said at his nomination hearing, in which he said that it was settled law," Collins told the press in August.
Some, including conservative commentator and journalist Ramesh Ponnuru, took to social media to express doubts about how Collins' "settled law" words could be interpreted.
"This statement leaves us with no greater certainty about how Kavanaugh would vote in an abortion case," tweeted Ponnuru. "Not sure whether Collins genuinely thinks 'settled law' precludes overturning/narrowing or just wants cover."