Brian Houston Responds to Criticism Over Hillsong Youth Pastor Dressing as 'Naked Cowboy' at NYC Church Event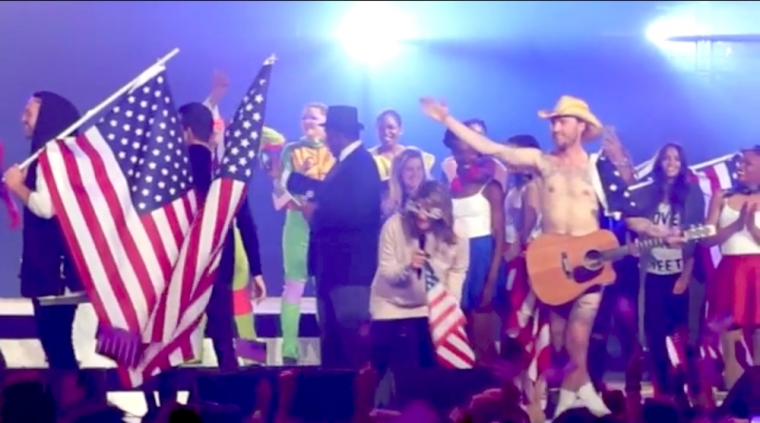 Hillsong Senior Pastor Brian C. Houston had responded to reports that his megachurch's youth pastor went on stage dressed up as the "Naked Cowboy" during last month's Colour Conference in New York City. He wasn't naked but still it "won't happen again," he said.
"Bobbie – my wife – who was convener of the conference was clearly unaware that this was going to happen and was taken back by it," Houston wrote on his blog Friday, referring to the conference held May 6 and 7, where a Hillsong youth pastor imitated Times Square's street performer "Naked Cowboy," or Robert John Burck, who wears only cowboy boots, a hat and briefs, with a guitar placed strategically to give the illusion of nudity.
ChurchWatch Central, a website that says it monitors "various sects and movements that claim to be Christian," posted a video of the NYC event and criticized Houston and his church, which has locations in Sydney and other cities in Australia and also in London, Cape Town, Kiev, Germany, Paris, Moscow, Stockholm, New York City and Copenhagen.
The Naked Cowboy's spokesperson Todd Rubenstein, also issued a statement, saying, "I represent Naked Cowboy and own Naked cowboy Enterprises, LLC. I am the sole administrator of the Naked Cowboy® registered trademarks. I am the only person who can provide license of use of anything associated with Naked Cowboy and Hillsong has never requested any right to use our registered trademarks or Naked Cowboy's likeness. Mr. Burck is an Ordained Minister & would NEVER attend church in the house of the Lord in his Trade Dress and is EXTREMELY offended by this activity due to his deep Christian beliefs and respect for the process of gathering in the name of Jesus Christ and in the presence of God to worship and praise the Holy Father."
"She (Bobbie) was at the dress rehearsal and there was no sign of a cowboy there," Houston wrote. "Carl and Laura Lentz (lead pastors at Hillsong NYC) were also not part of the decision. I can only guess at this point, that some one thought it would be funny and sent him out there without thinking about the ramifications."
Michael Brown, the host of daily talk radio show "The Line of Fire," criticized the Naked Cowboy and also said it was not proper for Hillsong to allow their youth pastor to come on stage imitating him. "A deeply devoted gospel minister would not want to show up in a church service in his underwear any more than he would want to perform on a street corner in his underwear," Brown wrote in an op-ed in The Christian Post.
But the youth pastor was "wearing proper shorts, not underwear, and he had a flag draped over him – bare-chested and perhaps inappropriate, certainly unexpected and unauthorised; but not naked," Houston wrote, adding, "Some well-meaning person just made a silly decision. It won't happen again."