'Bringing Up Bates' Exclusive Sneak Peek at Season 2 Premiere: Bates Family Holds Special 'I Love You Day' Celebration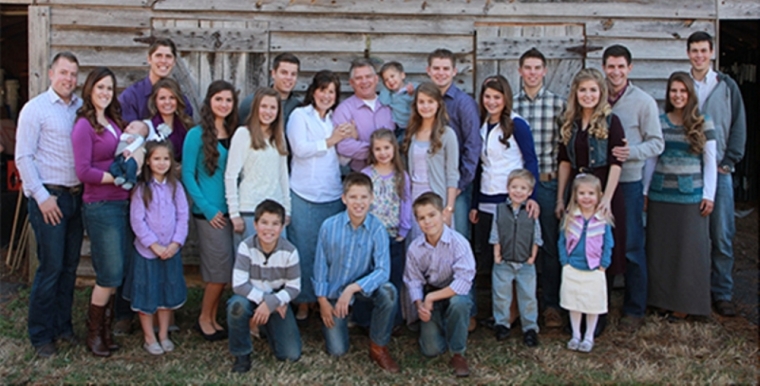 A sneak peek at Thursday night's season two premiere of UP network's original series "Bringing Up Bates" reveals a fresh look at the charming dynamics between Gil and Kelly Jo Bates and their 19 kids as they celebrate a special tradition, "I Love You Day."
The hit reality series returns with 14 all-new episodes beginning on Thursday, and during the highly-anticipated season premiere, the Bates family gathers to celebrate "I Love You Day" with surprise gifts as well as surprise guests for the whole clan. While the unique celebration is underway, Gil is tasked with watching his rambunctious young son, Jeb, in what was thought to be an easy job. Gil struggles, however, to keep an eye on Jeb who's constantly on the move.
"I only had one job, it was watching Jeb, and it was the hardest job there," Gil explained in a clip from season two.
Other Bates family members also weigh in on the impossible chore of keeping an eye on the active 3 year old before Gil laughingly laments the demands of parenthood.
"I'll tell you, training children is not something you do just one time and they get it; it's every time we go anywhere, every day, multiple times a day," said the father of 19.
"Bringing Up Bates" became the highest-rated series in UP's history after its premiere on New Year's Day last year. The Tennessee family has captured the hearts of people everywhere with their joyful chaos as well as poignant moments in their lives. The second season of the reality series will reveal major milestones for the Bates family, including Michaella and Brandon's engagement in Washington, D.C. and the couple's plans leading into their just-announced Aug. 15 wedding in Knoxville, Tennessee.
It will also highlight Erin's challenging first pregnancy as well as the joyful birth of baby Carson. The Bates will also head to Dolly Parton's theme park, Dollywood, where they will make their singing debut during the season finale.
The season two premiere of "Bringing Up Bates" will air at 9 p.m. ET on Thursday, June 4 on UP. Watch the sneak peek below.