British Missionary Was Shot Dead in Nigeria After Singing 'Amazing Grace'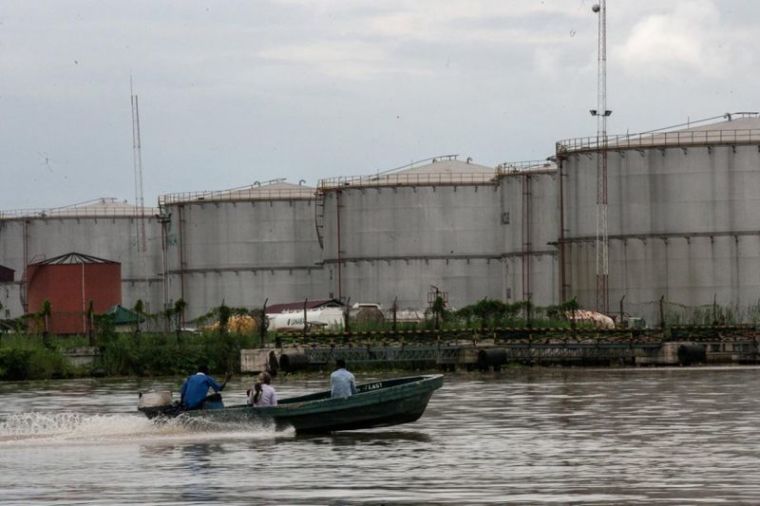 A Christian missionary was shot dead in Nigeria after playing "Amazing Grace" on his guitar, two of the British survivors who were rescued earlier in November revealed.
Previous reports suggested that 57-year-old Ian Squire had died from asthma while held by kidnappers in Nigeria's southern Delta region. But new accounts from rescued hostages David and Shirley Donovan reveal that he was killed.
"Ian was a man of faith, humor, music and invention," David Donovan told The Telegraph on Friday.
The Donovans and Alanna Carson, another Christian missionary, were flown home to Britain earlier this month after their three-week kidnapping ordeal, where they were hidden in a bamboo hut in a swamp.
The kidnappers took the Donovans and the other two hostages at gunpoint, ignoring their pleas that they were missionary medics. The missionaries explained that the men who took them belonged to the "Egbesu Boys," a cult-like gang named after an ancient war god in local Ijaw tribal culture.
After taking the four hostages to the hut, the kidnappers decided to hand back some of their belongings, which included Squire's acoustic guitar.
The British optician decided to try and raise the spirits of the other captives by playing and singing "Amazing Grace," which happened to be the only song he could play without using music sheets.
"It was the perfect song, and at that point things began to look not quite as bad," David Donovan recalled, stating that it reminded the other missionaries about their decision to serve the Gospel and follow their calling.
"But then, after Ian finished playing, he stood up, and a salvo of gunshots killed him instantly. We didn't see who did it, but it was obvious that someone in the gang had shot him. It was terrifying to see," he explained.
"We jumped out of the shack and into the water as we thought they were coming for us next, but a member of the gang came and put us back in there with Ian for the rest of the day," he continued.
It remains unclear why exactly the gunmen decided to kill Squire, though David Donovan speculates that the drug and alcohol intoxicated militants may have become paranoid and feared that the music could give them away.
The Donovans talked in the interview about their own decision to leave behind their comfortable lives — the husband working as a doctor and the wife as a teacher — in order to follow the Gospel.
"We had good jobs, our two sons in private schools, and a big house in Cambridge, and pretty much everything we wanted," David Donovan said. "But we realized it didn't satisfy us, and that to be true to the Gospel, we had to realign our lives."
Shirley Donovan explained that in 2003 the couple decided to sell their house for a smaller one, move their children to a state school, and start their own medical charity, New Foundations.
"The children were fine as they wanted to move schools anyway, but our friends did think we were completely crazy," she described.
Later, the Donovans decided to bring their missionary work to the dangerous Delta region in Nigeria after a talk they heard by a local pastor there about the high infant mortality rate.
The missionaries set up a clinic in Enekorogha, a poor Delta community, and for years trained locals to help them provide medical needs, which put them in good standing with the community.
The Donovans noted that they had not heard about the Egbesu cult before they were kidnapped, though the militants, who hold ritual scarring ceremonies that they believe make them bulletproof, have been sparking fear among civilians in the region.
Shirley Donovan said that the missionaries found inspiration by reading a Bible previously stolen by the kidnappers in one of their raids, and tried to explain to them that many of their workers came from impoverished backgrounds as well.
"There was a bit of a silence about that at first, but by the end two of them were asking for lessons on the Bible," David Donovan stated, noting that he offered his kidnappers medical help.
Shirley Donovan added: "We told them about one of our clinic workers, Jerusalem, who had been a troubled man but had become a Christian and a transformed character. He'd been trained by Ian and could even do the maths for lens refraction. Then one of the guards said 'stop this conversation now.' I said 'why?' He said 'because you are speaking to my soul.' Jerusalem could have been one of them."
After surviving three weeks in rough conditions, and witnessing the death of their friend, the British hostages were eventually freed. The kidnappers told them the Nigerian government had paid a ransom.
David Donovan said that they will not forget Squire.
"Ian was hungry to know more of God and lived his life with that purpose. He wasn't afraid of going anywhere, including being in the Delta. As well as his expertise as an optician, he also brought a sense of fun — the people loved and appreciated him," he said.
Archbishop of Canterbury Justin Welby also commented on the news earlier this month, sending thoughts and prayers to Squire's family.
"We pray for his family and friends as they come to terms with his death, and for the three other hostages who will have to deal with the mental and physical scars they suffered while in captivity," Welby wrote on Facebook.
"We pray for the areas in the Niger Delta area of Nigeria where there are high levels of crime and tension — for peace, restoration and reconciliation and God's Kingdom to come in those communities and across all of Africa."