Brussels Terror Attacks Leaves 34 Dead: 'Blood Everywhere, War Scene;' Arabic Shouting Reported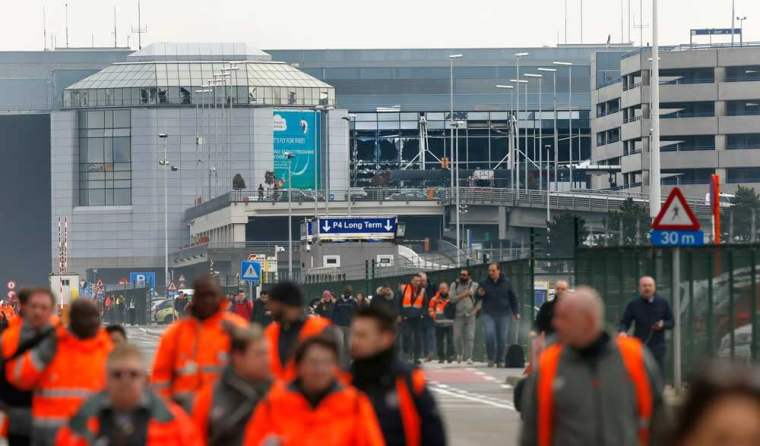 Update March 22, 2016, 9:30 a.m. ET: The death toll of the Brussels explosions has increased to 34, with 20 killed in the subway explosion and 14 in the airport blasts, according to Belgian media reports. Another 170 people were reportedly injured.

Mass suicide attacks have hit the Zaventem Airport in Brussels, Belgium, along with a city metro station, with at least 28 people reported to have been killed so far.
Sky News reported that Brussels has been locked down, while several cities across Europe, including in the U.K., Netherlands, France and Germany, have been put on high alert, with security personnel sent to key locations and transport hubs.
Belgian news agency Belga reported that Arabic shouting and gunfire was heard at Zaventem Airport, right before it was hit by two suicide blasts, with news agencies saying that 13 people were killed at the scene.
At least another 15 were killed and 55 were injured at the separate explosion at the Maalbeek metro station, which was targeted during morning rush hour.
Belgian Prime Minister Charles Michel called the attacks "violent" and "cowardly," calling it a "black day" for the nation.
"What we feared has happened, we were hit by blind attacks," Michel said.
"This is a dark moment for our nation. We need calm and solidarity," he added.
BBC News noted that the suicide blasts occured four days after Salah Abdeslam, the main suspect in the Paris terror attacks in November, was arrested in Brussels.
Images and video clips have been flooding social media, showing scenes of chaos and people in panic as they fled the airport.
Emergency measures have led to all flights being diverted, and Eurostar trains stopping service to and from Brussels.
One witness, Zach Mouzoun, arriving on a flight from Geneva, told France's BFM television:
"It was atrocious. The ceilings collapsed. There was blood everywhere, injured people, bags everywhere. We were walking in the debris. It was a war scene."
Officials are still confirming details about the Maelbeek station rush hour blast, though witness Alexandre Brans told the Associated Press: "The metro was leaving Maelbeek station when there was a really loud explosion. It was panic everywhere. There were a lot of people in the metro."
CBS News reported that the Paris attacks, where 130 people were killed, are believed to have been largely planned in Brussels, where a number of the attackers lived or had links. Beside Abdelsam, one man that authorities are still looking for is Najim Laachraoui, believed to be the terror cell's bomb-maker, as Belgian authorities found his DNA on the explosives used in Paris.
American law enforcement authorities told CBS that they are "exercising an abundance of caution," but so far there is no new information about a credible threat to the U.S. homeland.
A Washington D.C. Metro spokesman similarly said that while there were no credible threats to report, commuters can expect to see 'a higher level of visibility from police around the transit system,' which is standard procedure in the event of major terror attacks elsewhere.