Candace Cameron Bure Celebrates Daughter's 18th Birthday by Sharing Family Photo With Fans
Candace Cameron Bure Celebrates Daughter's 18th Birthday by Sharing Family Photo With Fans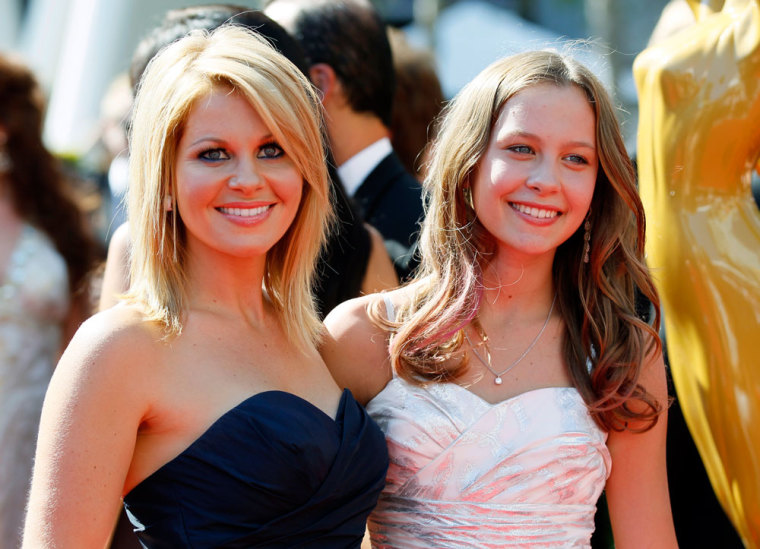 When it comes to her family, actress and TV personality Candace Cameron Bure keeps things fairly private. But in a social media post earlier this week, the "Fuller House" star shared the family's celebration of her daughter Natasha's 18th birthday.
In a message posted to Instagram Tuesday, Bure allowed followers to join in on the birthday celebration with the message: "My little pumpkin turned 18 today!! Happy birthday @natashabure."
Bure also included a picture of her daughter when she was a toddler. "I wish you could stay this little forever, but you'll always be my baby girl."
"The View" co-host then posted a present day photo of a glamorous Natasha. "It's hard to believe this one is mine," she wrote. "Happy 18th birthday @natashabure !! Mama loves you."
On Monday, the actress posted another Instagram pic wondering how her children had grown up so fast.
"How did my kids get so big?! Last weekend of summer before school starts for the boys and life at 18 starts for @natashabure."
According to "Entertainment Tonight," Bure indicated that she didn't know what her daughter's future plans would be now that she has graduated high school.
One week prior to her mother's heartfelt birthday tributes, Natasha Bure showed some love of her own with a photo of her and her mother clad in jeans exposed at the knee and white blouses. The message inscribed was short and sweet: "I looooveee uuuu mama."
In celebration of Natasha's 18th birthday the family went to Disneyland where they snapped a photo with Disney cartoon legend Tinkerbell.
Bure humorously wrote, "We ran into the adorably spunky Tinkerbell today @disneyland ! And I just realized we kinda look alike. Maybe we were separated at birth? I've always felt a tingle of pixie dust now and again."
Although Bure isn't sure about what her daughter's future career plans will be she did say that Natasha is an aspiring singer and that she loves the camera.
It is rumored that Natasha may appear on the upcoming season of "The Voice," but Bure has remained tight lipped about that prospect.
"I can't confirm that, but you'll have to tune in to find out if that's true or not true," she said, according to "ET." "She sang on 'The View' for my 40th birthday and I'm very proud of her." Bure had to fight back tears as her daughter performed on the show.