Carl Lentz Defends John Gray's Meeting With Donald Trump After Major Backlash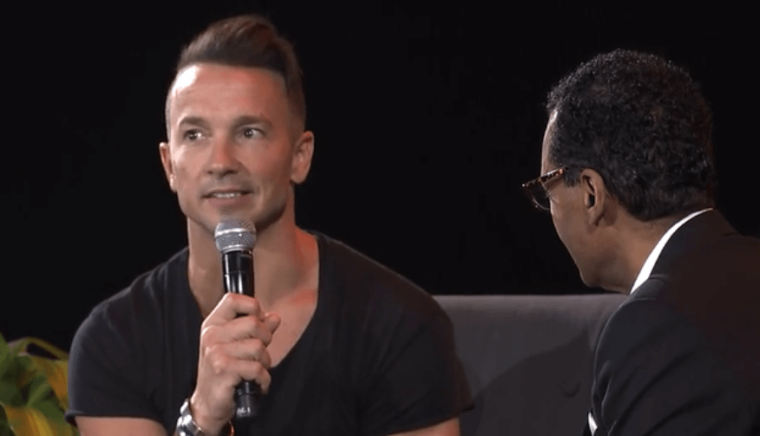 Hillsong NYC Pastor Carl Lentz has come to the defense of his friend, John Gray, who was highly criticized for being among about 20 black pastors and Christian leaders who met with President Donald Trump at the White House last Wednesday.
Gray attended the roundtable event, dubbed the president's "Meeting With Inner City Pastors," and discussed a number of topics, including urban workforce development, prison reform and possible public-private partnerships with the faith community. The minister served at Joel Osteen's Lakewood Church in Houston, Texas, before taking the helm at the 21,000-member multi-campus Redemption Church in Greenville, South Carolina, in June of this year. The church is now called Relentless.
Photos of the discussion showed the pastor seated to the right of Trump, and reports revealed that Gray was asked by the president to open the meeting up in prayer. After the event, he received a great deal of backlash for his participation, with some arguing he was uncle tomming" for Trump.
Lentz pushed back against the criticism and explained that pastors have to be obedient to whatever God instructs them to do.
"I am baffled at times, at the responses from people when we see prayers answered. I don't know a single person who hasn't prayed 'God help our President see what we see, see the hurting, help him live and lead with compassion and empathy,'" Lentz wrote on Instagram Monday underneath a photo of himself praying over Gray. 
He then publicly addressed Gray. "Yet, when a man like YOU gets an invitation to GIVE YOUR POINT OF VIEW on how we as a nation can help REFORM AND CHANGE OUR FAILING AND POORLY CONSTRUCTED PRISON SYSTEM, people are somehow objecting to this."
The Hillsong pastor explained that he understands somebody's choice to decline such an invitation to the White House. However, he made it clear that he would never bash anyone for following God's direction. He was upset that people painted Gray as a prop for his attendance.
"John please remember, we are not allowed to pick and choose who we lead, who we love, who we influence. It doesn't matter if the person is hated, or universally loved. It doesn't matter if the person is homeless, or internationally famous. It does not matter if people will impugn your motives, or the motives of a person in this case, inviting you to HIS TABLE. We are under orders to do what's right. Especially in the face of what is wrong," Lentz continued.
The New York pastor then drew a comparison with the flak that he receives for mentoring some Hollywood celebrities such as Justin Bieber.
"Trust me John, I've heard so many people say 'Let's go reach the world!' And then when you start doing it? [They say] 'You have changed. How could you be associated with such a person.' The idea, is always easier than the reality. I love the reality of who you are. Keep on shinin' my man," he maintained.
On Thursday, Gray responded to the naysayers on Instagram. He clarified that he didn't participate in the meeting to show support for the president.
"I did the one thing I can't shake: I prayed again and asked God. Do you want me in that room? My attendance gives the answer. My heart was pure as was my motive and intention. But the pain of those who have been hurt is real. And I would be a dishonorable man not to acknowledge that. But I will honor what I believe was the mandate on my life to be there and available to God should He choose to give me voice."
Gray asserted that he went to the meeting to listen and to "pray for comprehensive prison reform so people can have the second chance they need."
Follow Jeannie Law on Twitter:
@jlawcp