Carl Lentz on Hillsong Church's Humble Past, Meaning of 'Chasing the Shepherd'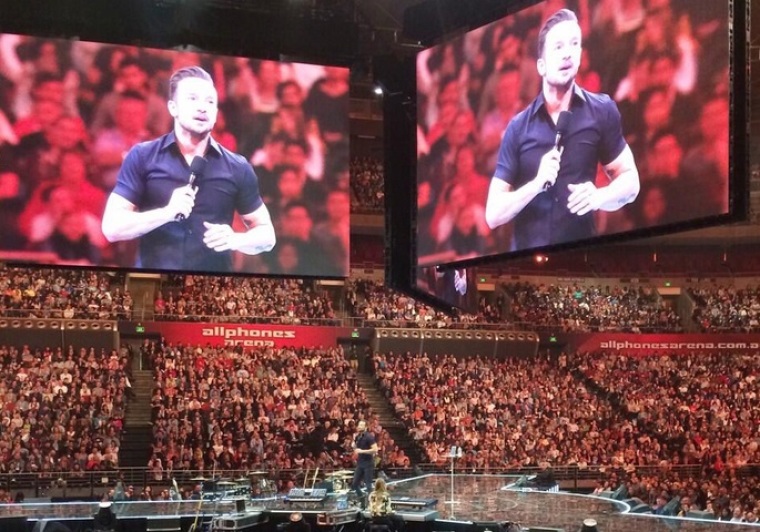 Hillsong Church's global success and notoriety is due to lead pastors Brian and Bobby Houston maintaining their focus on God as their shepherd throughout their nearly 30 years in ministry, says Hillsong New York City pastor Carl Lentz.
During the megachurch's annual conference in Sydney, Australia, Wednesday night, Lentz delivered a message about the church's humble beginnings and the importance of remaining close to God through life's highs and lows.
"The story of Hillsong Church has never been about chasing a movie, or chasing the spotlight, it's always been about chasing the Shepherd! Sometimes when you don't know the journey, people can look at certain moments and say that they want that but they don't understand that our pastors, all they've done their whole lives is chase the shepherd," said Lentz.
His message was given days after Hillsong announced a new film "Let Hope Rise," which will document the international rise of the church's Hillsong UNITED worship band, is currently in the works.
Lentz's message was solely focused on Psalm 23 but he also addressed the speculation that people oftentimes make when pastors and their churches reach the pinnacle of success.
"Someone said to me, 'are you a prosperity church?' Yeah, prosperity means to know Jesus, you lack nothing. You might think you don't have anything but if you know Jesus, He is everything," said Lentz.
In speaking about God as the shepherd, Lentz noted that many Christians tend to want more than they have but are not willing to follow Him through the "dark and shaky days," and instead they take matters into their own hands.
"Sheep don't strive. Rest assured that the Shepherd knows what He is doing and what is happening with your life and you can rest easy and not strive a day in your life," said Lentz. "If Jesus is your shepherd, you no longer have to chase the right situation, the right identity from the world, the right set up. All you have to do is simply chase the shepherd."
He also emphasized the importance of embracing correction in order to reach new heights of success whether in ministry or life in general.
"If you know that God loves you, He is going to correct you like a good Shepherd does. We have to change the way we view correction. Some people, especially my generation, you can't tell them anything because if you remotely disagree with them, you're a hater or if you confront them, they immediately think you're against them," said Lentz.
He added, "God is so good that He can use hardship or a direct word from somebody or even your own sin to correct you to keep you closer to the Shepherd … maybe He's trying to correct you in the little so He can save you from the disaster "
An important aspect of chasing the shepherd is the ability to fight over-sensitivity, Lentz noted. To illustrate his point, Lentz recounted a time when pastor Houston pulled him aside before he began leading the church's New York City location. He said Houston admitted to him that he wanted to help Lentz in various ways, however, his attitude about being defensive hindered that opportunity.
In the same manner, Lentz urged conference participants to embrace introspection and learn to stand corrected, all the while holding on to God.
"You need to fight over-sensitivity that leads to spiritual inactivity. God exalts the humble and there will come a point if you continually reject correction, His hand will be on you but the opportunity to influence and reach people will be hindered," said Lentz.