Carman Announces 60-City Tour After Raising More Than $200K on Kickstarter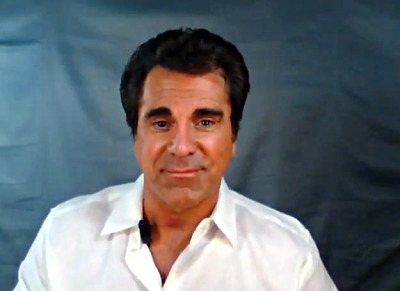 Carman Domenic Licciardello, the popular recording artist and Christian evangelist who revealed a cancer diagnosis earlier this year, shared with fans that he has surpassed the $200,000 goal for his Kickstarter campaign to launch a new record, music video and tour.
"Christian music pioneer Carman launched a Kickstarter campaign April 19 with the goal to raise $200,000 for his first new album and music video in over 10 years. Remarkably, Carman not only reached his goal in 25 days, but also exceeded that goal, raising over $233,000 so far," reads a statement from his media team.
The statement went on to claim that Carman's fundraising campaign was "the second most funded music project ever on Kickstarter," although a member of Kickstarter's communications team was unable to verify the apparent feat. Kickstarter is a funding platform for creative projects.
Carman's campaign, which still has 32 days to go before the project is considered funded, has attracted more than 2,500 backers.
Fans from all over the U.S. have expressed excitement over seeing their cities on the list of the 60-city tour, with many of them leaving comments like: "Bless you, Carman, I'm so proud of you and thanking God for what He is doing through you. Victory is yours. So glad to see Pensacola on your list. My family and I will be there. You are in my daily prayers!"
"We are excited by what God is already doing ... can't wait 'til He brings it all to fruition. Looking forward to the concert in Dayton, Ohio!" wrote another fan.
As shared in a press statement, "The process that led to the launch of this Kickstarter campaign began in March of this year as singer, songwriter and television/film actor/writer Carman was diagnosed with terminal, multiple myeloma cancer, a cancer of the blood that affects the body's bone marrow."
Carman, buoyed by his faith in God and expressions of love and prayers from supporters, has said that he is determined to fight the disease and plans to keep working as much as he is able despite doctors telling him he has only three to five years left to live.
"I'm actually feeling better, I'm feeling stronger, not getting sick as much, so I'm like, 'I gotta take this and do something with it. Might as well write some songs and make some music.' And that's what this is all about, so you're literally kick-starting a ministry that's going to touch many lives so I want to thank you," he told fans earlier this month.
The 14 donation levels on Carman's Kickstarter Campaign range from a minimum of $1 to $10,000, an amount that at least three backers have pledged to contribute. Supporters who donate across various levels can expect special gifts. In this case, some supporters can expect a personal phone call from Carman or a personal visit at their church on a Sunday where the popular artist will "minister, speak and even perform some of the new songs."
It was recently announced that 500 tickets would be made available for backers from each city in the 60-stop lineup who pledge $100. Other rewards include two VIP concert tickets and backstage passes to meet Carman after the concert of their choice and other items, such as a CD and t-shirt.
The 57-year-old recording artist and actor, who views himself as part evangelist and part Vegas showman, has sold over 10 million contemporary music albums and won several GMA Dove Awards and Grammy nominations throughout his career, which began in 1982.
A full list of stops on the 60-city tour can be found at Carman's Kickstarter page.