Carman Suffers 'Close Call' Relapse Amid Cancer Battle
Christian Musician and Evangelist Recovering After ER Visit Ahead of Nationwide Tour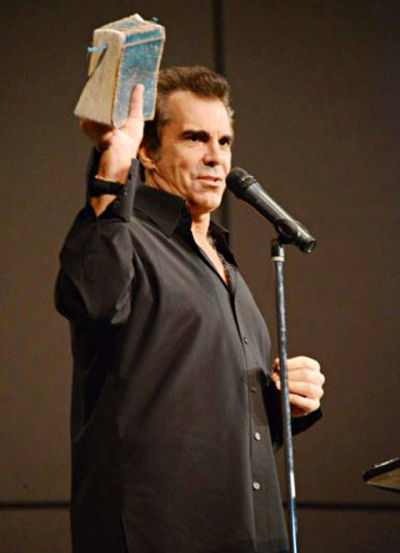 Popular Christian recording artist Carman Licciardello was recently admitted to the emergency room after a nasty bout with a stomach virus that, coupled with his low blood cell count from multiple myeloma cancer, could have had fatal results.
"This is a war I'm fighting on a daily basis and I might be trying too hard," Carman told supporters this week on Facebook, referencing his cancer diagnosis revealed in February as well as a new workout routine he has undertaken to help get in shape for his nationwide tour.
He added on Thursday: "I guess I forget sometimes that I still have multiple myeloma cancer and nothing is the same. My red blood count was 9.6 on Feb 11th and dropping. 12.5 is normal. Meaning it has stopped dropping and holding fast. But I'm still very anemic and catch (viruses) and colds pretty quick. Somehow I caught a stomach virus and after 12 hours of the most brutal sickness ever, was extremely dehydrated. They had to be put me on an IV to replenish fluids for almost 4 hours. Nurses said that had I waited any longer it could have been fatal. So it was a close call. I'm going to have to not push my body so hard, retool my diet again and be satisfied with long term results."
In addition to thanking fans for their prayers, the award-winning singer admitted that his journey to wellness would be "a long bumpy ride before I walk on stage 100% again."
By Friday morning, however, Carman was refocused on his upcoming 60-city tour and new album recording, reminding supporters of his successful Kickstarter campaign that has collected an excess of $300,000, well ahead of its $200,000 goal and June 18 deadline.
Fans from across the U.S. have expressed excitement over seeing their cities on the list of the 60-city tour, which will mark Carman's first time back on the road in nearly 13 years. However, some fans have grown concerned with the 57-year-old recording artist's push to get back on stage only months after revealing his cancer diagnosis, which he has said leaves him with three to five years to live.
"Carman, in order to maybe relieve some pressure, just know that you don't owe anything to me and hopefully all who pledge," wrote Martha Jumonville on the Kickstarter campaign page. "Our pledges are a statement of love for you and your ministry and music. I want to relieve you of the idea that you owe us. You stated in one of your videos recently that you think you owe us. As Christians we love you and as Christians we receive from you what the Lord has done in your life and will continue to do. No debt owed, but to love. Take it easy. Don't try so hard."
Carman, who considers himself part Vegas showman and part evangelist, shared in February that despite his new battle with cancer that he would "continue to minister and win souls until I can't do it any longer."
He added, "My life has always been about ministry. I have a call of God to touch lives with the gospel of Jesus Christ and that's what I will do until the Lord calls me home."
The New Jersey native, who came to faith in Christ in his 20s, has sold over 10 million contemporary music albums and won several GMA Dove Awards for his popular work. Additionally, Carman has garnered at least three Grammy nominations throughout his long career, which began in 1982. He has also appeared on film, is a published author and writes and produces his own movies.
He has shared, however, that his passion remains evangelism, and he personally ministers to those who attend his concerts seeking prayer and counseling.
The National Cancer Institute estimates that, in this year alone, more than 22,000 Americans will be diagnosed with the myeloma cancer, which affects bone marrow cells.