Carrie Underwood Celebrates 10th Anniversary of 'American Idol' Win, Says She Is 'Blessed'
Carrie Underwood Celebrates 10th Anniversary of 'American Idol' Win, Says She Is 'Blessed'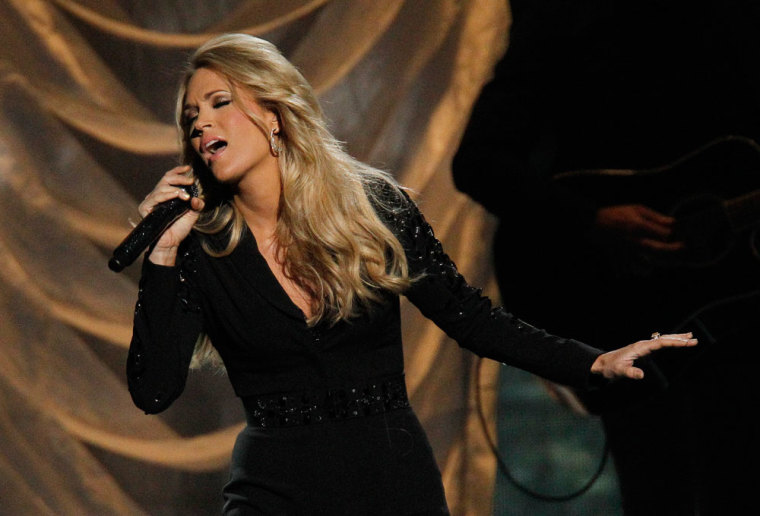 Carrie Underwood is celebrating the tenth anniversary of her career-making "American Idol" win, saying she's "blessed" and is "forever grateful" to the show that changed her life.
The multi-award-winning singer first rose to fame after winning the fourth season of the reality television series in 2005. Shortly thereafter, Underwood's debut album Some Hearts was released, becoming the fastest-selling debut country album in Nielsen SoundScan history with huge crossover success of the singer's hit song "Jesus, Take the Wheel." Today, as Underwood continues to ride the wave of success, the singer reflected on her initial feat on social media.
"So hard to believe it's been 10 years," wrote the 32-year-old along with a photo from her "American Idol" run.
Underwood added: "I'm forever grateful to 'American Idol' for changing my life. #blessed."
The singer is one of the most successful artists to arise through "American Idol," which will enter its final season next year. After winning the singing competition series, Underwood went on to set and break several records over the course of her career, and the singer has since been inducted into both the Grand Ole Opry and the Oklahoma Hall of Fame. Further, the "Before He Cheats" singer has won 11 Academy of Country Music awards, eight American Music awards, and seven Grammy awards.
Just last week, Underwood accepted the Billboard Music Award for Top Christian Song with her hit "Something in the Water." The faith-filled ballad incorporates strong themes of Christianity such as conversion, baptism and keeping the faith, and the win marked Underwood's 17th Billboard Award.
In addition to recognizing her 10-year "American Idol" anniversary over the weekend, Underwood shared a message about Memorial Day and honored the families of U.S. veterans who died in combat.
"I hope you all are enjoying #MemorialDay I am so thankful for those who have sacrificed their lives to keep us safe & free. #GodBlesstheUSA," the singer wrote on Twitter.