Carrie Underwood's 'Something in the Water' Scores Top Christian Song at Billboard Music Awards
Carrie Underwood's 'Something in the Water' Scores Top Christian Song at Billboard Music Awards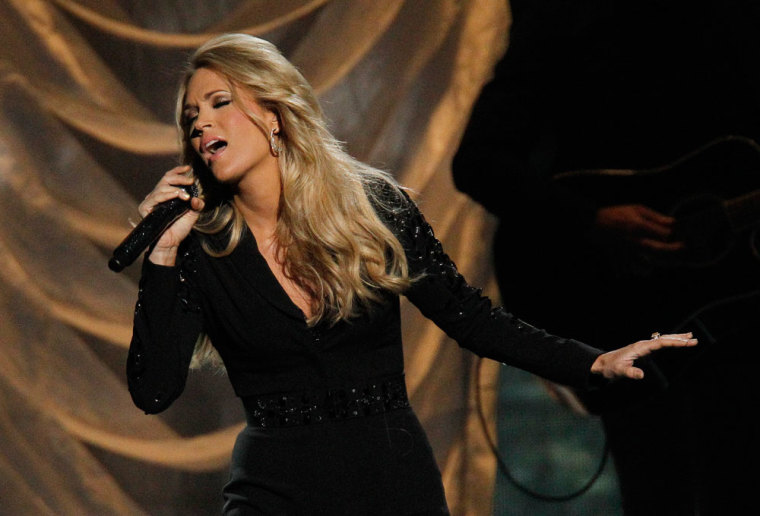 Carrie Underwood won the Billboard Music Award for Top Christian Song with her hit "Something in the Water" on Sunday night.
The faith-filled ballad incorporates strong themes of Christianity such as conversion, baptism and keeping the faith with lyrics that include: "Couldn't fight back the tears so I fell on my knees / Saying 'God if you're there come and rescue me.' Felt love pouring down from above / got washed in the water, washed in the blood and now I'm changed / now I'm stronger." Further, "Something in the Water" ends with an interpolation of "Amazing Grace" before Underwood belts out a portion of the hymn.
In a past interview, Underwood described recording "Something in the Water," recalling that the song, which became the singer's longest-running No. 1 hit on Billboard charts to date, was very special.
"I knew while we were writing 'Something in the Water' that we really had something special," explained the singer, according to ABC Radio. "This was one that, as it was happening, I was recording stuff on my phone. Like, 'Oh my gosh.' Like, 'Let's do it again. I can make that better. We can do this better.'"
When the final version of "Something in the Water" was ready, Underwood said the writers' room felt "electric."
"We knew it was special, for sure," the singer added.
During a different interview, Underwood said the Grammy Award-winning song attracts listeners with its "good vibes."
"I think people just enjoy the happiness that comes through," the singer told Country Music Television. "I think people just enjoy having good vibes comin' at 'em."
Meanwhile, other winners at the Billboard Music Awards on Sunday included Lecrae who took home the Top Christian Album award and Top Christian Artist award winners, Hillsong United. Despite winning the award for Top Christian Song, Underwood did not attend the Billboard Music Awards ceremony in Las Vegas, Nevada, and her award was not presented during the broadcast.