CAR's Death Toll Reaches 50 As Violence Between Christians and Muslims Continues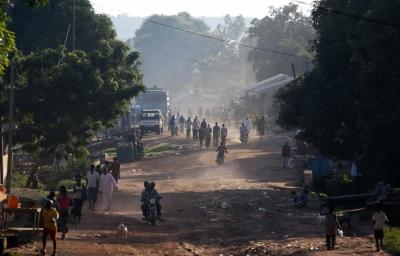 Ongoing fighting in the city of Bambari, Central African Republic over the past few days has resulted in 50 casualties, mainly among Christian and Muslim militia members.
The recent death toll began to escalate Monday, when a mainly-Christian militia group attacked Bambari, located about 236 miles northwest of the CAR capital of Bangui. According to the Associated Press, 18 members of the predominately Muslim village were killed in the attack. Subsequent backlash from Muslim youth in the town have contributed to the growing death toll count of 50.
Ibrahim Alawad witnessed Monday's gruesome attack by the Christian militia, also known as the "anti-Balaka." He described that violence and the reprisals that took place afterward. "Some had been cut to pieces, some had their hearts cut out. I saw about five children and six women."
"After that the youth of the Muslim area went there. They killed about 10 anti-Balaka."
A member of the African Union Force added to Press TV that he too witnessed bodies that had been "mutilated and burnt by the assailants."
The ongoing, vengeful attacks between Christians and Muslims in the country could be symbolic of a possible genocide, similar to the genocide that took place in Bosnia in the 1990's, the International Federation for Human Rights said in a recent report.
The report, released this week, said that stricter legal and penal systems must be established to stop the continued violence that began last year, when the mostly Muslim Seleka rebel group took control of the country's capital and began committing several atrocities. In response, Christians in the country created their own militia group to counter the violence, and although the Seleka has since stepped down from power, political instability has led to continued fighting between the two groups.
A French peacekeeping force in the country has reportedly failed to control the ongoing crisis, Reuters reports.
 "Seleka and anti-Balaka forces mirror one another in the horror of the acts that they have perpetrated in the context of a conflict that has become so vile that more people are killed than injured," the human rights report warned.
Florent Geel, the director of the International Federation for Human Rights' Africa branch, added that the leaders of the Muslim and Christian militias responsible for the violence must be brought to justice.
"The leaders of the violence and its perpetrators of mass human rights violations are known, we have proof and the government and international community have to take this opportunity and arrest them and end the organized violence," she said.