Catalyst West Conference: Christian Leaders Look to Be Change Makers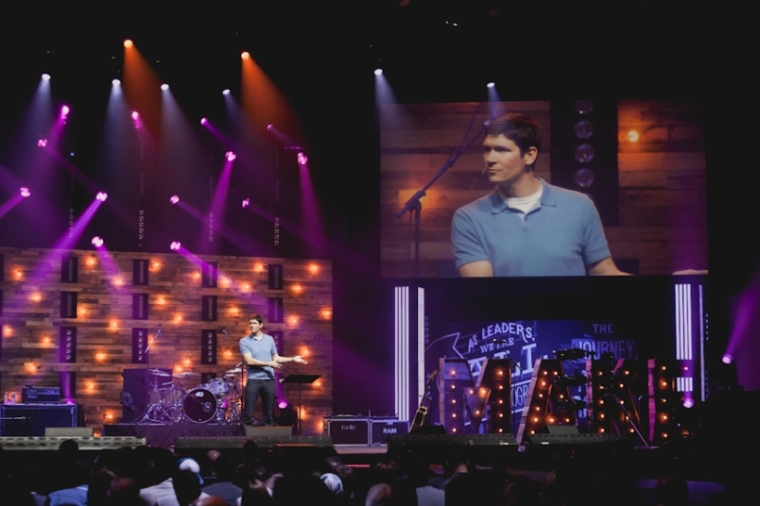 IRVINE, Calif. – More than 4,000 Christians interested in becoming better leaders packed out the Catalyst West conference held at Mariner's Church in Orange County beginning last Wednesday and ending Friday.
"We were praying that for every leader here this would be a bench mark for them or a marker on the road of leadership for them," Catalyst President Brad Lomenick told The Christian Post backstage at the event. He said that he hopes leaders would be able to look back at the conference and say that it was a significant turning point in their lives.
"We pray that with a fearless sense and an aggressive belief that it is going to happen for leaders individually," Lomenick said. "I feel like that it is happening [at Catalyst West]. The unity, the fun, and the energy are here. It's always here [at Catalyst conferences], but we feel like we dialed it up a bit."
Given the recent spate of tragic events in the U.S. this week, the Catalyst West conference was a chance to shine the hope of the Gospel, he explained.
"There's so much hope we can still have in the present regardless of circumstances," Lomenick said. "We love this idea that we should be hopeful leaders, encouraging and more excited about tomorrow, but equally present in today. Part of the reason that we created an environment at Catalyst that is fun and is hopeful is to give people permission to enjoy and find joy in the present."
Lomenick, 40, who has been at the helm of Catalyst for the last ten years, released his first book this week, The Catalyst Leader: 8 Essentials for Becoming a Change Maker. He is on a mission to reach the millennial generation and said he feels like he is a translator or bridge builder between generations.
In the ministry's own words, the Catalyst stage is renowned for some powerful moments, beginning with hosting "an eclectic mix of seasoned sages, leadership experts, and passionate young upstarts." Catalyst introduces social entrepreneurs "who are shaping culture and creative minds whose fringe thinking and audacious ideas challenge us all to redefine the playing field."
At an afternoon session on Thursday, Matt Chandler, who is the lead teaching pastor at The Village Church in the Dallas-Fort Worth area, tackled the question, "What is meant when we say God is holy and majestic, and perfect in His nature?"
"Here's why I want you to read the Bible," Chandler told those in attendance from the stage. "Disaster, suffering, and loss should never surprise us. The Bible is full of it. People die, there's rape, incest, plagues, natural disasters. It shouldn't surprise us because God didn't try to paint some different reality of what you are seeing here and now, and all around you.
"That doesn't mean we don't enter into the sorrow of this world as representatives of God's love and compassion," he continued. "If you read the Bible you will see that God works in the mess. God takes what's broken and busted and begins to redeem and begins to put pieces together like only a sovereign God can."
Other speakers at Catalyst West included Andy Stanley, Jim Collins, Louis Giglio, Jud Wilhite and Tom Shadyac.