Catholic Archbishop: America Is Facing 'Faith Crisis,' We Must Pray for a 'Great Awakening'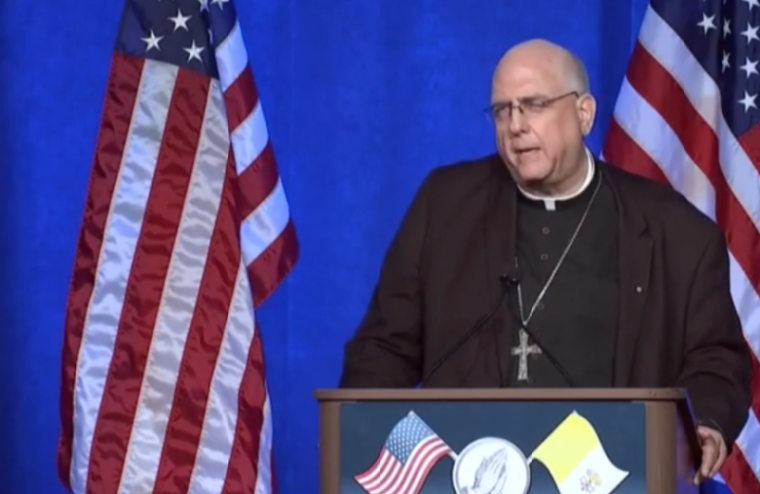 WASHINGTON — A prominent Catholic leader believes America is facing a "God-crisis," given the visible social pathologies in society but has hope and is asking Christians to pray for a "great awakening."
Speaking before hundreds at the National Catholic Prayer Breakfast Thursday at the Marriott Marquis Hotel, Archbishop Joseph Naumann of Kansas City noted that the United States is, while materially prosperous, facing social breakdown and increasing hostility to Christian teaching.
"In Massachusetts, Illinois, and the District of Columbia, Catholic Charities is no longer able to place children for adoption. Our nation continues to give legal protection to doctors and organizations that profit from the killing of more than 1 million unborn children each year," and efforts in some courts are trying to coerce Catholic hospitals to perform abortions, he said. Naumann also mentioned the most recent school shooting in Texas and the plight of illegal immigrants and their children.
But none of those ills present the most serious crisis for America, the archbishop opined.
"It is rather a God crisis, a crisis of faith."
He went on explain how the question "Is God Dead?" — a quandary infamously explored in an April 1966 edition of Time magazine — caused him to think about Rod Dreher's latest book, The Benedict Option, in which the author argues that Christians need a new Saint Benedict and form vibrant Christian communities to preserve the truth of the Gospel. This is necessary, Dreher contends, in light of the "new dark age" of the present day, especially given how religious faith is declining among millennials, and the emergence of a self-centered spirituality that is essentially a form of paganism.
"Our culture is indeed experiencing a crisis of faith that leads to the denial of truth," Naumann said.
"One, the relationship between man and God is severed. Man becomes just a highly developed organism. Human life becomes just another thing in a world of things. Materialism reigns and brings utilitarianism; our value is determined by our usefulness. We no longer possess inalienable rights that are God-given from which no human being can deprive us. The pursuit of pleasure becomes the highest goal. This hedonism is a futile seeking of greater and more intense pleasures that in the end leave us more and more empty."
When we lose sight of God, we lose sight of the value of every human being, he said, and without an encounter with God, Christian teaching makes no sense.
Thursday marked the 43rd anniversary of Naumann's ordination to priesthood.
"We believe in a God who died but is far from dead. The triumphant, risen Lord is still animating the lives of those who open their hearts to encounter His love. Thus, for the Christian, we are never without hope," the Kansas bishop continued.
He urged all in attendance to pray for religious revival in our nation, "another Great Awakening."
"For those of us who have encountered he risen Jesus, we have a responsibility to bring his love and mercy to others."
"We are called to renew our nation not primarily by enacting laws but by announcing the joy and the hope of the Gospel to individuals in desperate need of this Good News."
The National Catholic Prayer Breakfast also featured Speaker of the House Paul Ryan, and Ambassador-at-Large for Religious Freedom Sam Brownback, both of whom are Roman Catholic public officials.
At the conclusion of the event, those gathered in the room prayed a special intention for the people of Ireland, who voted Friday on whether to repeal the Eighth Amendment of their constitution which forbids abortion in that country.
Rep. Chris Smith, R-N.J., told The Christian Post in an interview that he found Naumann's remarks "profound" and "prophetic."
"And there is a God problem [in America]," the congressman concurred, recalling the Time magazine cover story Naumann mentioned in his speech, "but God is not dead."
"He's working aggressively and lovingly. But as it says in the Scriptures: He stands at the door of our hearts and knocks," Smith said, referencing Revelation 3:20, "and it's up to us to open that door."
He believes that at present in the United States the church and elsewhere is "under siege" as rights of conscience are being eroded but remains hopeful.
"We need to keep doubling down on our petitions [prayers]. And I believe there need to be a call for prayer, coupled with fasting, Esther-like, to pray three-day fasts, bread and water fasts as never before, call[ing] forth the power of God," he said, in order to see renewal, reconciliation and respect for true human rights in the United States.
Naumann has been the archbishop in Kansas City, Kansas, since 2005. Smith has served in Congress since 1981.