Catholic League Calls Jay-Z Video Where He Confesses Sin to 'Priestess' Beyoncé 'Exploitative'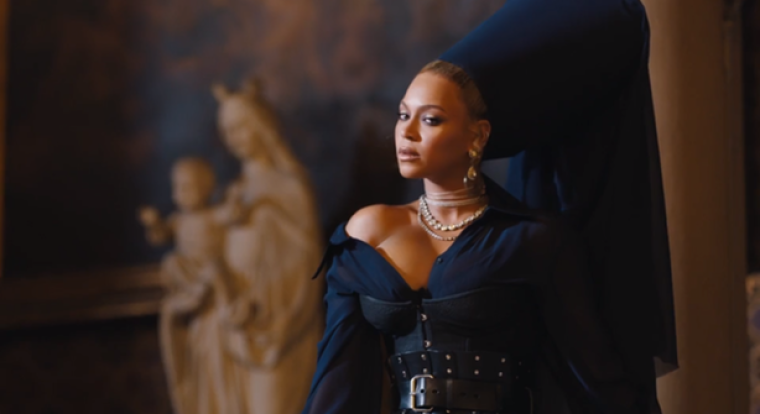 The Catholic League for Religious and Civil Rights isn't happy about Jay-Z confessing his sins to wife Beyoncé in a Catholic church for the new music video "Family Feud."
Music mogul Shawn "Jay-Z" Carter released the visuals to his song "Family Feud" on Tidal last week where he confesses his sins to singer wife Beyoncé, whose vocals are featured on the track. The eight-minute star-studded video, directed by Primetime Emmy Award winner Ava Duvernay, features actors Michael B. Jordan, Thandie Newton, America Ferrera, Brie Larson, Niecy Nash, Rosario Dawson, Omari Hardwick and more.
While the video reimagines a futuristic world ruled by his daughter, Blue Ivy, a flashback to the present day shows Jay-Z joined by Beyoncé, who appears on the other side of a confessional in the video. In the song from Jay-Z's Grammy-nominated 4:44 studio album, Beyoncé is also pictured in a black garb that resembles those worn by Russian Orthodox priests.
Bill Donahue, founder and president of the Catholic League, shared his thoughts about the video this week. Donahue said he was unimpressed with the video, interpreting the visuals in a statement featured on the Catholic League website.
"Jay-Z's recently released Family Feud video shows him walking into a Catholic church with his real-life daughter, rapping away — 'Nobody wins when the family feuds' — as he struts. This is followed by a flashback scene where he is shown kissing a gal in her undergarments," he said. "Then Beyonce appears, standing at the pulpit, wearing a navy blue outfit, dressed like a queen. She is a priestess: she hears Jay-Z's confession, apparently a statement on his real-life infidelities."
While Donahue said the video is not anti-Catholic, he did call it exploitative.
"Is it anti-Catholic? No, it is not a bigoted assault," he said. "Indeed, it pales next to Jay-Z's relentlessly racist (and anti-black) lyrics. But it is nonetheless gratuitous as well as exploitative, just the kind of thing we would expect from this genius couple."
Jay-Z previously spoke about his religious beliefs to New York City radio personality Angie Martinez in a 2010 interview. While the rap mogul said he does not believe in Christians, Muslims or hell, he did say he believed in one God.
"If people must know my religious beliefs, I believe in one God. I don't believe in religion," he said in the Hot 97 interview which has since been featured on the Rap Radar website. "I don't believe in Christians or Muslims. I think all that separates people."
He went on to add, "I think it's all the same God, and I don't believe in hell. But as far as God, of course I believe in God."
Unlike her husband, Beyoncé has kept close ties to her home church, St. John's United Methodist Church in Houston, Texas. In September, she visited the church to help victims devastated by Hurricane Harvey.
"This church is my home," she said, according to the Houston Chronicle. "I was maybe 9 or 10 years old the first time I sat there where my daughter is sitting (now). I sang my first solo here."