Catholic senior center accused of censorship denies barring residents from saying 'Merry Christmas'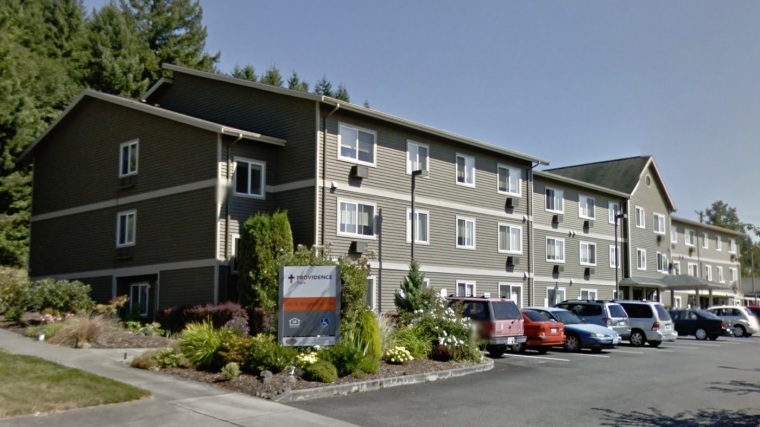 A Catholic senior center in Washington state is refuting claims that it has barred residents from saying "Merry Christmas" and singing Christmas carols but is "doubling down" on a policy prohibiting residents from decorating the exterior of their apartment doors.
Providence Health Services, a nonprofit Catholic health care provider, received a letter Monday from one of the nation's leading conservative religious freedom law firms relaying concerns made by a resident of its independent-living senior apartment complex in Chehalis, Washington.
Aided by funding from the Department of Housing and Urban Development to provide affordable housing to low-income elderly individuals, Providence Place has been accused by Alliance Defending Freedom of "banning any Christian religious reference in any Christmas decoration, celebration, or Christmas card."
The letter from ADF attorney Blake Meadows states that the unnamed resident wanted to express her Christian beliefs during the holiday season by saying "Merry Christmas" to other residents and singing Christmas carols in the public common areas of the complex.
According to the organization, the resident also sought to place religious messages and secular Christmas cards on the outside of the door to her apartment. Additionally, the resident wants to replace a mezuzah on her door frame. She claims she was told to remove the mezuzah by building manager Katrina Newman.
"As Christmas approached, Ms. Newman informed the residents that the Fair Housing Act prohibited residents from saying Merry Christmas, singing Christmas carols that reference Christ, or displaying any decorations referencing the Christian religion during the holiday season," the letter claims. "Interestingly, Ms. Newman permitted a menorah in the public space "because it was cultural
Expression."
Newman is also accused of informing residents who wanted to display their Christmas cards on their apartment doors that "no cards with any religious reference could be displayed."
"The resident is concerned that she will be punished or even evicted from Providence Place for engaging in private religious expression and celebration," Meadows' letter reads.
On Dec. 3, Newman sent a note to residents stating that when they decorate the common areas of the facility, they should "think festive, not religious."
Newman deemed things like greenery, colored lights, and snowflakes to be appropriate, adding that Christmas trees, Santa Clause and a menorah were also deemed "nonreligious" by the HUD Office of Fair Housing and Equal Opportunity. Newman warned that items such as the Star of David, Nativity scenes and a crucifix shouldn't be used in common areas.
ADF, which has won nine U.S. Supreme Court cases in the last seven years, states that such "censorship" is not required by the Fair Housing Act to receive funding from the Department of Housing and Urban Development.
Meadows' letter added that HUD does not prohibit the discussion of religion in facilities its funds and points out that HUD Secretary Mel Martinez assured over 17 years ago that HUD's policy is not "to discriminate against people of faith by barring the use of religious symbols to celebrate faith-based events." 
"Because Providence Place is a private, nonprofit corporation — not a government controlled entity — it is not bound by the Establishment Clause's prohibition on the government endorsement of religion," Meadow's letter contends. "Indeed, Providence Place is free to allow the residents to engage in religious discussion and prayer."
Leslie Leber, compliance and quality director for Providence Supportive Housing, told The Christian Post that reports that Providence Place barred residents from saying Merry Christmas or singing Christmas carols are "erroneous." She argued that the contents of the ADF letter are "factually inaccurate."
"Our residents may express themselves freely, including by wishing others a Merry Christmas and singing Christmas carols," she wrote in an email. "We do not limit religious speech in any way."
Leber added that each resident is free to decorate their housing units "as they choose." However, the "exteriors of apartment doors are reserved by the facility's landlord for their exclusive use."
According to Leber, the exterior door rule is "applied consistently, irrespective of a resident's religious tradition." She noted that Providence Place has not been contacted by any resident in regard to such issue.
"Providence Place welcomes feedback from our residents and we maintain a tenant-grievance process that would allow a resident to raise an issue of this sort," she concluded. "The contents of the letter sent by the Alliance Defending Freedom are factually inaccurate and do not reflect the mission and values of Providence Place, which is a place of peace and healing for our community."
ADF senior counsel Matt Sharp told CP in a statement that Leber's response indicates that Providence Place is "doubling-down" on "religious censorship." 
"On Dec. 3, Providence Place told its resident that if they wanted to decorate the doors to their own apartments, Santa Clause and a Christmas tree are OK, but a Nativity scene or Star of David are 'religious symbols and should not be used,'" Sharp wrote. "Providence is now doubling-down on their religious censorship, claiming that they have the exclusive right to determine what decorations can be displayed by residents on their doorways and in other public places."
"More than 15 years ago, then-HUD Secretary Mel Martinez publicly affirmed that HUD's policy allows 'religious displays as well as nonreligious symbols […] in common areas of public housing sites….' HUD has not changed this policy," Sharp added. "Yet Providence Place insists on banning residents from decorating their doorways with religious Christmas cards or even a Nativity scene. We sincerely hope that Providence Place fixes this error so that all Providence Place residents can freely celebrate the holiday of their choice."
Sharp recently declared on radio outlet KTTH that ADF is "looking at all potential legal options" if Providence doesn't do the right thing."
"We've seen this pop up a lot, this over sensitivity to the celebration and expression of Christmas and a complete misunderstanding what federal law is," Sharp said.
On Dec. 12, Providence Place Director of Housing Timothy Zaricznyj sent a letter [obtained by The Federalist] to residents addressing what he said were "mistruths."
"I also want to address those residents at Providence Place who feel that as Christians, they are somehow being attacked," Zaricznyj wrote. "It is tremendously difficult for our team members to uphold these values [of acting in the spirit of kindness, grace, and generosity of spirit] when their efforts toward bringing Providence Place into compliance without standards is misrepresented by some residents and their personal integrity and intentions are slandered."