Charges dropped against preacher arrested at pride event; police 'inundated' with complaints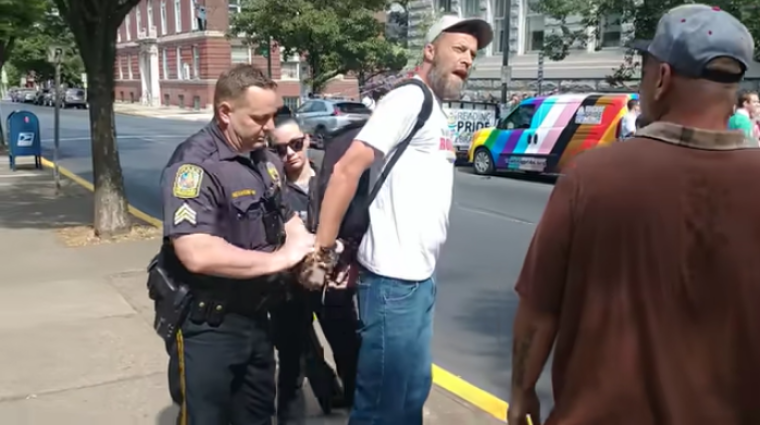 Prosecutors have dropped charges against a Pennsylvanian street preacher after he was arrested while reading from the Bible across from an LGBT pride event.
After a review of the arrest of Damon Atkins on June 3 in the city of Reading, located about 60 miles northwest of Philadelphia, the Berks County District Attorney's Office said Wednesday that charges of disorderly conduct filed against Atkins were withdrawn.
"The charges were withdrawn after the District Attorney's Office reviewed the videos of the incident along with applicable case law," prosecutors said in a statement.
Video of the arrest went viral after Atkins, 41, was taken into custody on charges of disorderly conduct after he was involved in a conversation with Reading Police Officer Bradley McClure, according to court documents.
The now-viral video shows Atkins holding a sign which reads, "Jesus said go and sin no more" while telling McClure, "This is public property." Atkins responds, "It is public property … let them have their day," in an apparent reference to the marchers.
"This is public property," Atkins repeats.
"Okay, well, then, respect it," responds McClure. "Let them have their day."
"Know who's cheering for us? The people who are in Hell," Atkins replies. "So you do you, and I'm going to do me."
He then begins preaching from 1 Corinthians 14:33 — which reads in part, "God is not the author of confusion" — and immediately McClure is seen in the video saying, "That's it, you're done," and starts to handcuff Atkins. In the video, the crowd involved in the pride march is heard clapping as McClure takes Atkins into custody.
Off camera, a man is heard saying, "I can't believe this is in Reading," as police put Atkins against a wall to secure his handcuffs. 
"What an incredible providence that the Lord is allowing me to film this," Reading resident Matthew Wear, who took the video, is heard saying.
Reading Police Chief Richard Tornielli told local affiliate WFMZ-TV that Atkins' arrest was not connected to the content of his speech but rather because he was being disorderly.
"Our officers gave him warnings to cease that behavior as it was disrupting the event that was taking place," Tornielli was quoted as saying.
Since Atkins' arrest, the Reading Police Department communications center has been "inundated with phone calls from individuals voicing complaints about the arrest," Tornielli said in a statement shared with the news outlet Thursday, 
Tornielli told the station the police department's Communications Center received "hundreds of calls on phone lines that are used for emergency and non-emergency requests for police assistance" and that these "harassing phone calls" distracted staff from fielding incoming calls to the center, which in turn "potentially creates a dangerous situation causing delays in police responses." 
Many of the calls included "threats to police personnel" and "contained inappropriate and vile language," he said, adding that the department and other law enforcement agencies are investigating any threatening calls and may "pursue charges where appropriate."
The Christian Post has contacted a Reading Police Department spokesperson for comment. This story will be updated if a response is received.
As part of its pride recognition, the city of Reading raised a transgender flag at its City Hall building earlier this month. The pride festivities were reportedly the first-ever for the city.
Attendees at the event were encouraged by the local LGBT Center to "wear or display something supporting the Drag, BIPOC, and Trans community," including wigs, high heels and gowns.
Reading police also has an LGBT "Equality & Fairness" commission which works with the community "in helping to make Reading an inclusive, diverse, and fair city" and make Reading more LGBT "friendly."
In 2017, Reading was recognized by the Washington-based Human Rights Campaign, a prominent gay rights organization, for unanimously passing a measure to ban so-called "conversion therapy," which has traditionally been linked to Christian evangelism among homosexuals.