Charles Stanley's grandson apologizes for auctioning off late pastor's items on eBay: 'My family was pretty upset'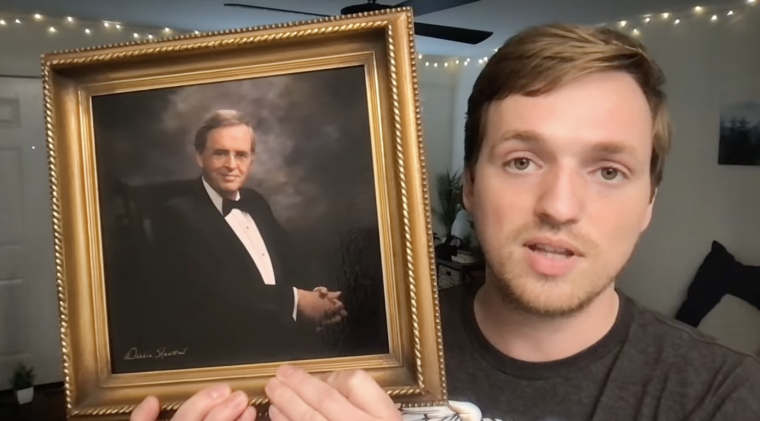 After sparking backlash over listing Charles Stanley's personal items on eBay less than two weeks after he died, the late pastor's grandson, Matt Brodersen, has issued a public apology and admitted his behavior was "disrespectful."
In a YouTube video posted Sunday, Stanley's 29-year-old grandson addressed the criticism he faced after auctioning off his grandfather's pocket watch, engraved with the letters "CFS" for "Charles Frazier Stanley," and a framed portrait of the late pastor.
Brodersen said that after he posted the video on YouTube announcing he was selling his grandfather's items, members of his family — including his uncle, Andy Stanley — "weren't happy."
"My uncle Andy Stanley begged me to take that stuff off of eBay, begged me to take the auctions off of eBay," he said. "My mom called me and said, 'You take that stuff down right now.' My sister, she was mad at me as well. So yes, everybody in my family was pretty upset with me and disappointed with my actions."
Charles Stanley, the famous televangelist preacher, author and founder of In Touch Ministries, who twice served one-year terms as president of the Southern Baptist Convention, died at age 90 on April 18. 
In his video posted less than two weeks after Stanley's death, Brodersen revealed that the late pastor's family members, friends and employees "all got to go through his stuff and find things that we would keep." At the time, he said he was auctioning off a few of his grandfather's belongings to pay his bills. 
"So, I don't really have shame in selling some of his stuff," he said last week.
In his video Sunday, Brodersen said the way he "worded things" in his initial video was "disrespectful."
"I would like to apologize," he said. "This is just how crazy and a whack job I am. I did not even realize that this was going to make people upset. I have some issues, some mental health problems; I'm a little disconnected from reality. When I put my grandpa's stuff on eBay, I was just thinking about myself. I was thinking about bills I had to pay, and I kind of rushed and had an adrenaline rush and just decided to throw these items on eBay as fast as possible because I was thinking about me, me, me, and, 'can I get some money please so that I can pay my bills.'"
"A lot of people I love, a lot of people I care about, a lot of people who are very close to me have pointed out that this is disgusting behavior. And there are a lot of people on YouTube who have said, 'This is crazy. You should have just waited.' So, I just want to go on the record to say I admit I shouldn't have done that."
Still, Brodersen said he doesn't plan to remove the items from eBay, adding: "People already started bidding on the items and I don't want to take that opportunity away from them to get those items. So yes, I'm gonna leave the auction up. There's like a day remaining of time. So, if you want to get those items, you better hurry."
On eBay, the current bid price on the pocket watch is $1,225 with  31 bids, while the bid for the framed and signed picture is $2,275 with 28 bids. 
The aspiring YouTuber also admitted his mother made him give up the passport he had grabbed from Charles Stanley's desk following his death.
"I had I grabbed my grandpa's passport out of his desk because I saw it and I was like, 'How has no one else noticed this?'" he recalled. 
"I took it. I said to my mom, 'Can I have this?' And she hesitated and said, 'Yes,' but my mom knew it was wrong to say yes. And she later said, 'Matthew, I should not have told you that you can have his passport.' And so, my uncle and my aunt called me, and they were pretty disappointed that I had his passport. So I shipped it to them and I mailed it to them and now Andy Stanley has his passport, not me."
Brodersen said he agreed with several commenters suggesting his grandfather "wouldn't be proud" of his behavior. 
"I will say, I just want to admit that I need help. I don't claim to be perfect," he said. "Just because you get saved by Jesus doesn't mean you are perfect. We actually have to keep growing after that. It's not like you get saved by Jesus and all of a sudden you never sin again. It's like we have to recognize where we screwed up, and then we have to keep growing. And so, here I am to do that in front of all of you. I'd like to be a good example if I can."
Brodersen ended his video with a prayer asking God to cover him with the armor of God: "I pray that I could get past this and everyone else would too," he said. 
In an interview with The Christian Post shortly after his grandfather's death, Brodersen shared how much his grandfather meant to him, especially as he struggled with drug and alcohol addiction and "blew" all of his inheritance money.
"I was suicidal. I called my mom, and I said, 'I'm not doing well. I've failed.' I was thinking about killing myself," he recalled. 
"He said, 'I don't want to talk to you very long on the phone. I just want to ask you one question: Why don't you give Jesus another try?'" he recalled. "I don't remember exactly what happened after that, but it meant the world to me. I just started crying and crying and crying after that phone call, and I decided I didn't want to die."