Charles Stanley's grandson sparks backlash for selling famed preacher's items on eBay: 'I have bills to pay'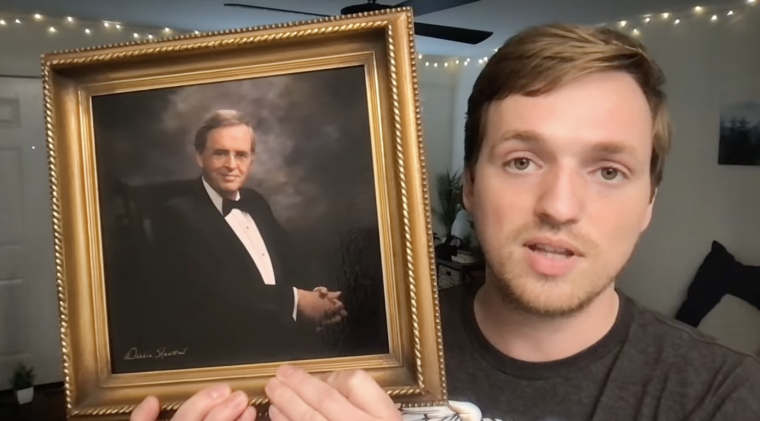 The grandson of Charles Stanley has garnered backlash after selling some of his grandfather's personal items online less than two weeks after the pastor's death. 
In a video posted to his YouTube channel, Matt Brodersen, who is the youngest child of Stanley's daughter, Becky, revealed that following Stanley's death, the late pastor's family members, friends and employees "all got to go through his stuff and find things that we would keep."
The aspiring YouTuber said that while he will keep many of the items he found, including his grandfather's clothes, passport and other things, he's going to auction off Stanley's pocket watch, engraved with the letters "CFS" for "Charles Frazier Stanley," and a framed portrait signed by the late pastor. 
"I'm a human being who has bills to pay, and you know how the economy is," the 29-year-old said. "So, I don't really have shame in selling some of his stuff. I'm actually really happy that two of his fans are going to get to have a collection of some of his very personal items that were found in his office and in his desk that were there when he passed away. I think that's really special or sweet to be able to pass that on. And whoever wins is going to help me pay my bills, which I desperately need right now. I'm not afraid to admit that."
On eBay, the current bid price on the pocket watch is $499.99, while the bid for the framed and signed picture is $615 with nine bids. The frame includes "bonus gifts," including a coin with Jesus on one side and the Last Supper on the other, and another coin imprinted with a photo of George H. W. Bush, among several other collector coins. "Bonus gifts" with the pocket watch include "other watches" Brodersen found in his grandfather's desk.
"This is a treasure for one of Dr. Charles Stanley's fans to buy and get to hold whenever they want to feel closer to Jesus. It was my grandpa's pocket watch and now it can be yours," reads the watch description. 
The description for the picture reads, "A treasure for a true fan out there that wants to celebrate his passing and have a signed picture of the holy pastor on their wall at home."
Brodersen's video garnered backlash, with many accusing the content creator of exploiting his grandfather's death and operating in "poor taste." Others urge Brodersen to keep his grandfather's things in memory of the late pastor. 
But to those criticizing his decision to sell the items, Brodersen said: "I promise you, I have a bunch of my grandpa's stuff that you don't see that I'm going to keep and cherish and hold on to forever. Why not let my grandpa's fans have a chance at winning his items that were in his office, the very office that he was actually sleeping in when he passed away?"

Stanley, the popular televangelist preacher, author and founder of In Touch Ministries, who twice served one-year terms as president of the Southern Baptist Convention, died at age 90 on April 18. 
Following his death, Stanley was remembered as a "warrior of faith" by other prominent ministry leaders including Pastors Tony Evans and Chuck Swindoll, as well as former President Donald Trump.
In an interview with The Christian Post shortly after his grandfather's death, Brodersen shared how Stanley's consistency and grace supported him during dark times in his life.
"A few years ago, while living in Los Angeles, I was struggling with drugs and alcohol and deep depression; I blew all of my inheritance money," he reflected. "I was suicidal. I called my mom, and I said, 'I'm not doing well. I've failed.' I was thinking about killing myself."
"He said, 'I don't want to talk to you very long on the phone. I just want to ask you one question: Why don't you give Jesus another try?'" he recalled. "I don't remember exactly what happened after that, but it meant the world to me. I just started crying and crying and crying after that phone call, and I decided I didn't want to die."
Brodersen said that the last time he saw his grandfather, Stanley told him, "Matthew, I want you to always remember, the most important thing in life is to obey God and leave all the consequences to Him."
"My grandpa claims that that motto is what made him so successful, so he wanted to pass that down to me," he said.