Charles Stanley's pocket watch, portrait fetch over $6K on eBay after grandson lists items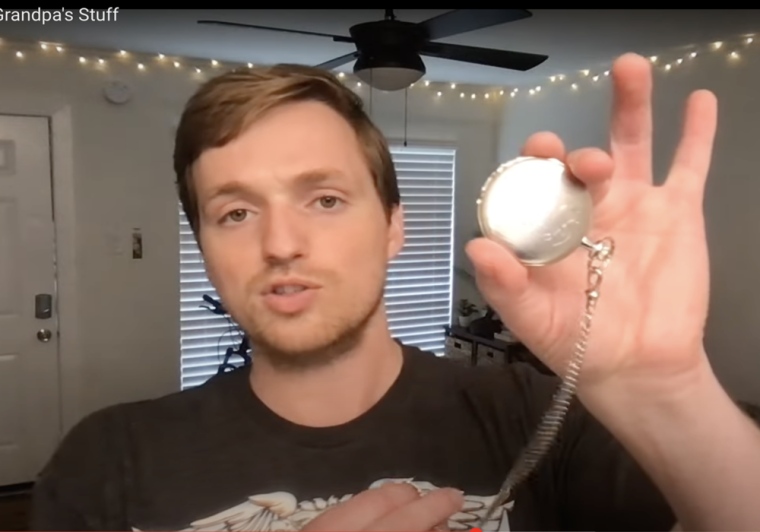 Two personal items owned by Charles Stanley — a pocket watch and a signed portrait — have fetched over $6,000 on eBay one week after the late pastor's grandson put them up for sale. 
Stanley's engraved pocket watch sold for $2,375 with 63 bids, while a 13x13" square picture of the pastor closed at $3,650 with 40 bids. 
The items were listed by Stanley's grandson, Matt Brodersen, less than two weeks after the In Touch Ministries founder died at 90. Brodersen is the youngest child of Stanley's daughter, Becky.
"I'm a human being who has bills to pay, and you know how the economy is," the 29-year-old said at the time. "So, I don't really have shame in selling some of his stuff. I'm actually really happy that two of his fans are going to get to have a collection of some of his very personal items that were found in his office and in his desk that were there when he passed away. I think that's really special or sweet to be able to pass that on. And whoever wins is going to help me pay my bills, which I desperately need right now. I'm not afraid to admit that.
The items included "bonus gifts," Brodersen said, including Stanley's coin collection adorned with Jesus, George H. W. Bush and former President Donald Trump. After an item sells, eBay keeps a portion of the sale. The final value fee for most categories is 13.25% of the sale price or lower, plus $0.30 per order, according to the website. 

Brodersen, an aspiring YouTube content creator, faced widespread criticism after listing his grandfather's items, with some accusing him of "profiting" off Stanley's death. In response, Brodersen made a YouTube video apologizing for being "disrespectful" and revealed his family, including his uncle, Pastor Andy Stanley, "weren't happy" with his behavior. 
"I would like to apologize," he said. "This is just how crazy and a whack job I am. I did not even realize that this was going to make people upset. I have some issues, some mental health problems; I'm a little disconnected from reality."
He added, "When I put my grandpa's stuff on eBay, I was just thinking about myself. I was thinking about bills I had to pay. And I kind of rushed and had an adrenaline rush and just decided to throw these items on eBay as fast as possible because I was thinking about me, me, me, and, 'can I get some money please so that I can pay my bills.'"
"A lot of people I love, a lot of people I care about, a lot of people who are very close to me have pointed out that this is disgusting behavior. And there are a lot of people on YouTube who have said, 'This is crazy. You should have just waited.' So, I just want to go on the record to say, I admit I shouldn't have done that.

However, Brodersen said he didn't plan to remove the items from eBay and urged people to place bids, adding: "People already started bidding on the items and I don't want to take that opportunity away from them to get those items. So yes, I'm gonna leave the auction up. There's like a day remaining of time. So, if you want to get those items, you better hurry."
In an interview with The Christian Post shortly after his grandfather's death, Brodersen shared how much his grandfather meant to him, especially as he struggled with drug and alcohol addiction and "blew" all of his inheritance money.
"I was suicidal. I called my mom, and I said, 'I'm not doing well. I've failed.' I was thinking about killing myself," he recalled. 
"He said, 'I don't want to talk to you very long on the phone. I just want to ask you one question: Why don't you give Jesus another try?'" he recalled. "I don't remember exactly what happened after that, but it meant the world to me. I just started crying and crying and crying after that phone call, and I decided I didn't want to die."
In another video on his YouTube page, Brodersen opened up about his turbulent work history, revealing that he was fired from multiple jobs, including working on a cruise line and driving a truck due to an Adderall addiction. 
"Getting fired that much, you get to the point where failing is not scary anymore," he said. "I've already experienced failing and having to announce to my friends and family and all the people in my little community in my world that I've failed once again. … I want you to know, if you are also failing at your dreams and passions, it's OK. You just have to stay alive and get through it."