Charlie Rose Cut From CBS, PBS Amid Sexual Harassment Allegations, 'Deeply Apologizes for Behavior'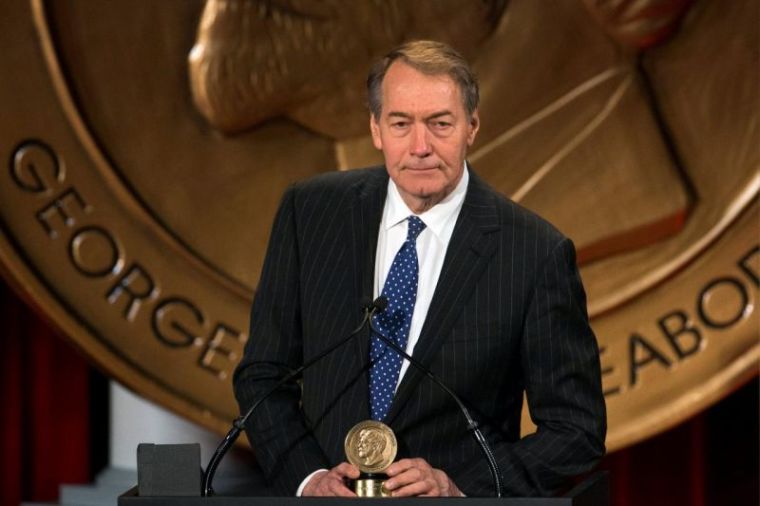 CBS and other networks on Monday suspended Charlie Rose, one of the most prominent American interviewers, after eight women told The Washington Post he sexually harassed them and prompted Rose to apologize for his "inappropriate behavior."
PBS and Bloomberg said in statements they were suspending Rose's signature interview show, distributed on both outlets, citing the allegations in the newspaper story.
"These allegations are extremely disturbing and we take them very seriously," CBS News said in a statement. Rose is a co-host on the morning show "CBS This Morning" and a correspondent for its long-running Sunday night news magazine "60 Minutes."
Rose, 75, questioned the accuracy of the allegations in The Washington Post.
"I deeply apologize for my inappropriate behavior," he said in a statement. "I am greatly embarrassed. I have behaved insensitively at times and I accept responsibility for that, though I do not believe that all of these allegations are accurate."
"I always felt that I was pursuing shared feelings, even though I now realize I was mistaken," he added.
Eight women, who worked at Charlie Rose Inc or aspired to a job there, have accused Rose of making unwanted sexual advances toward them, The Washington Post reported on Monday, the latest in a wave of sexual harassment allegations against prominent men in the entertainment and media industries and American politics.
"All of us, including me, are coming to a newer and deeper recognition of the pain caused by conduct in the past, and have come to a profound new respect for women and their lives," Rose said.
Charlie Rose became the top U.S. trending topic on Twitter late Monday, with more than 98,000 tweets discussing the host.
Rose routinely landed the biggest names in international politics, entertainment and letters for his interview show "Charlie Rose," which was broadcast on PBS and Bloomberg TV.
An acute listener, Rose employed an engaging yet serious style in contrast to the bitter partisan arguments, cross-talk and raised voices on cable television. True to the show's sober tone, the set was simply a table and chairs with an all-black background.
His persona on "CBS This Morning" was a little more whimsical, given the lighter subject matter of morning news shows in the United States.
The eight women, who were employees or aspired to work for Rose at the "Charlie Rose" show from the late 1990s to as recently as 2011, told the newspaper he made unwanted sexual advances toward them, walked in the nude around them and groped their breasts, buttocks and genital areas.
STORIES SHOWED 'STRIKING COMMONALITIES'
PBS, in announcing its suspension, said it does not fund the "Charlie Rose" show or supervise its production, but expects its producers to provide a safe work place. Bloomberg said it was "deeply disturbed" by the allegations.
The networks had little choice as the allegations against Rose would have likely overshadowed the subjects of his stories, said Quinnipiac University journalism professor Ben Bogardus.
"It will be a long time, if ever, before viewers see Charlie Rose in the anchor chair again," Bogardus predicted.
The Post said it had multiple interviews with the eight women, who ranged in age from 21 to 37 at the time of the alleged encounters and their stories had "striking commonalities."
Three of the eight women spoke on the record to the newspaper and the other five spoke on condition of anonymity fearing retribution that could affect their careers, the Post said.
Reah Bravo was an intern and then associate producer for Rose's PBS show beginning in 2007, and told the newspaper Rose was "a sexual predator" and she was his victim.
She told the Post there were unwanted sexual advances while working for Rose at his private waterfront estate in Bellport, New York, and while traveling with him in cars, in a hotel suite and on a private plane.
Bravo could not be reached by Reuters for comment.
Kyle Godfrey-Ryan, one of Rose's assistants in the mid-2000s, recalled at least a dozen instances where Rose walked nude in front of her while she worked in one of his New York City homes, the newspaper said.
Godfrey-Ryan declined to comment to Reuters, referring questions to her spokeswoman Heather Wilson, who said Godfrey-Ryan stood by the story in the Post.
Reporting by Piya Sinha-Roy, Daniel Trotta; Additional reporting by Jon Herskovitz; Writing by Ben Klayman; Editing by Mary Milliken