Chelsea Clinton, World Vision Look to Save a Life an Hour By Providing Clean Drinking Water to Millions
Chelsea Clinton kicked off World Vision and Proctor and Gamble's clean water campaign yesterday at the Clinton Global Initiative.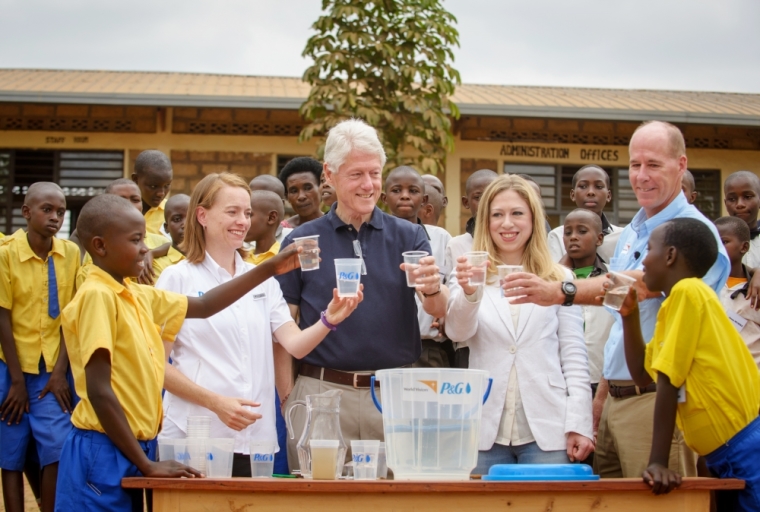 "In 2010, Proctor and Gamble committed to saving one life every hour by the year 2020 through providing 2 billion liters of drinking water every year," said Clinton. "Hopefully we will reach truly hundreds of millions of people through social media with our collective message about what Proctor and Gamble and World Vision are doing together and how we can help increase the impact of their work when we all indeed mobilize.
"The water purification packets that you saw in the video truly are incredible solution for millions living in emergency situations. The technology saves lives and it's not difficult to use," added Clinton, who visited Rwanda and Myanmar earlier this year, two of the sites where World Vision will implement the water initiative.
Flash Flood for Good (FFG), the 72-hour social media campaign, is the culmination of a partnership between World Vision, and Proctor and Gamble, who created the product responsible for sanitizing the water, social media strategy group Cause Swarm, and the Clinton Foundation.
Greg Allgood, the Vice President of World Vision Water and the founder of P&G Children's Safe Drinking Water Program, explained that one of the biggest impediments to increasing developing countries' access to clean water has actually been related to a lack of awareness of the severity of the issue in the developed world. More children die daily from diseases connected to contaminated water than malaria and HIV combined, he said.
"For 25 years we've had the solution," he said. "But we didn't have awareness. Most Americans just didn't know or we would be able to solve this problem."
Launching at the Clinton Global Initiative, a high-profile event which attracts heads of state, corporate executives and non-profit thought leaders, was one of the ways that the group sought to cut into ignorance of the problem. The other part of their strategy was to spread its message through social media.
As part of the FFG camapign, a number of celebrities including Justin Bieber, Psy, and Scarlett Johansson committed to spreading its message through their Facebook and Twitter accounts twice during the three day campaign.
Campaign organizers hope that online activity will result in the stars' followers to donate just $10 to the campaign, which will provide clean, drinking water to a child for a year.
"Our goal is to send two billion liters of clean drinking water to children and to those in the world who really need it," said David Clark Cause, the CEO of Cause Swarm, the organization fueling the social media component of the event.
P&G, the name Proctor and Gamble has given to its water purifying product, costs 10 cents to make per packet. Individuals pour the substance into their water, which pulls bacteria and other contaminates to the bottom of the jar or bucket, allowing the pollutants to be easily strained out. The process takes 30 minutes and the substance generates enough clean water for a family for a day or a child for a week.
While Proctor and Gamble works with dozens of implementation partners worldwide, including Save the Children and CARE, they chose World Vision because it had existing water programs in the three countries they wanted to launch — Myanmar, Ethiopia, and Rwanda — and because the organization has already experienced strong success in its other water programs.
Its website states that the organization reaches a new person with clean water every 30 seconds and that 1.8 million people have gained access to clean drinking water through their programming in the past three years.
Marc Pritchard, the CMO at Procter and Gamble, said recipients of P&G should not worry that any potential future economic woes of the company would prevent them from clean water, pointing to the company's 175-year history.
"We've had the program for a decade—and we made through a recession," he said, also noting that the company recently built a factory to create P&G in Singapore.
For actress, Alysia Reiner, who currently stars in Netflix's "Orange Is the New Black," P&G isn't a long-term solution but meets an immediate need for clean water.
"This is something we have right here, right now. It's a bridge. Until we can solve much bigger problems we have a very simple bridge here," she said.
To support the campaign please share this news and donate to the cause by clicking here.