Chick-fil-A Offering Free Ice Cream to Diners Who Put Away Their Cell Phones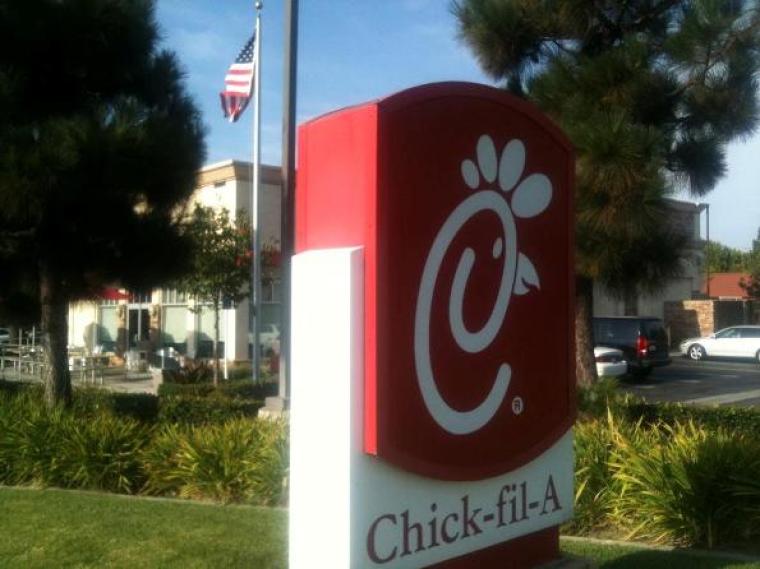 The Chick-fil-A restaurant chain has announced that it will be rewarding free ice cream to customers who can enjoy their meal without looking at their cell phones.
The new initiative, Cell Phone Coop Challenge, invites customers to place their mobile phones in a small white box, representing a chicken coop, at their table so they may eat their meal without being tempted to check their devices.
If customers are able to eat their entire meal without looking at their phones, they are then rewarded free ice cream.
As Fox News reports, 150 Chick-fil-A locations are already participating in the event.
Brad Williams, who oversees a Chick-fil-A in Suwanee, Georgia, told the media outlet that his restaurant wants to "provide a sense of community for our customers, where family and friends can come together and share quality time with one another."
"But as we all know, technology increasingly demands more of our time and can be a big distraction, even while we're eating. This got me thinking about what we could do to reduce this distraction during meals," Williams, who came up with the "Cell Phone Coop Challenge," explained.
Williams told Inside Chick-fil-A that he is surprised by how much attention his challenge has gained.
"The challenge has completely taken off. We have families who aren't successful the first time and come back to try again. We even have people asking to take the boxes home with them," the restaurant operator said.
"I had no idea this challenge would get so big – we didn't even publicize it outside our restaurant," the business owner continued. "I just want to see if we can play a small part in helping the families within our community reconnect. It's what we're all about."
Chick-fil-A, which was founded by S. Truett Cathy, a Southern Baptist, has a long history of Christian values that include giving back to the community.
As The Christian Post reported in December 2015, a Chick-fil-A in Tennessee partnered with a local church to provide a van to a single mother who recently lost her car in a fire.
Todd Hunley, owner of Chick-fil-A in Madison, Tennessee, joined forces with Kevin Cook, a pastor from the local Crosspoint Community Church, to purchase a reliable vehicle for single mother Morgan Carter, whose car caught fire as she was ordering from the restaurant's drive-thru window.
Hunley told CP in an interview last year that he believes any Chick-fil-A restaurant in the country would have done the same if faced with a similar situation thanks to its charitable culture.
"The big thing is that whether this happened at my store or at any Chick-fil-A in the United States, I would bet almost 100 percent there would have been the same response because that is just how we are," Hunley said. "It's the coolest thing in the world when God gives you these opportunities. It was really neat just to be part of it."
In January, Joshua Stout, manager of a Chick-fil-A in Murfreesboro, Tennessee, was caught in an act of kindness when he bought a full meal for a homeless customer and offered to say a prayer with him.
"I was thankful to see so many people cared and so many people wanted to share it. We are a people business. We serve food, but we also serve kindness and compassion," Stout told News 2 of his act, which went viral on the internet.