Chick-fil-A opens Sunday to fulfill birthday wish of boy with autism, cerebral palsy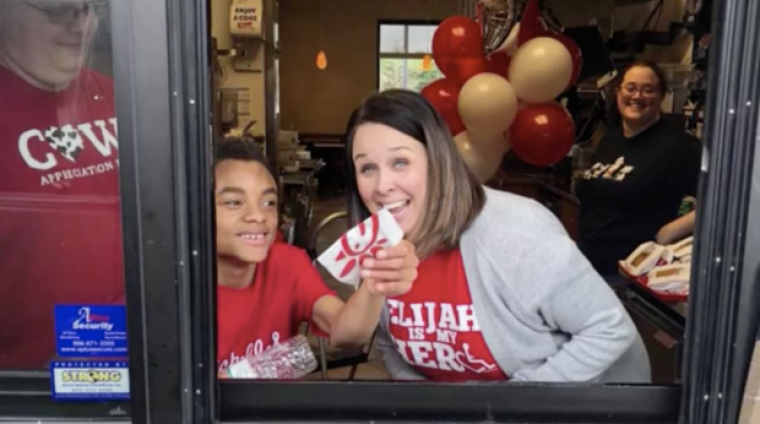 A Chick-fil-A in Alabama fulfilled the birthday wish of a 14-year-old boy with autism and cerebral palsy by opening on Sunday — a day the restaurant is normally closed — so the teen could work the drive-thru.
For his birthday, Elijah Sprague had one wish: He wanted to work the drive-thru at the local Chick-fil-A.
Though Chick-fil-A is typically closed on Sundays, manager Walt Gilstrap, uncle to Elijah, and owner Mr. Glen opened the doors and drive-thru window so Elijah's birthday wish could come true, WKRG reports. Elijah passed out cookies to about 40 cars through the drive-thru window before participants went inside the store to finish celebrating the teen's birthday with a cookie cake.
Rene Sprague, Elijah's mother, reflected on the special day in a Facebook post: "The way people love this kid amazes me," she wrote. "It has truly changed the way I live my life. Loving people with your whole heart, [judgments] aside and with no anticipation of rewards. Thank you to every single person that loves our Elijah."
When the story was first reported by local news outlets, she wrote: "When the Lord's restaurant opens for your birthday party, it makes the news."
Elijah was born 18 weeks premature and has limited speech, Rene Sprague told CBS News. Sprague, a nurse who worked at the NICU where Elijah was treated as a newborn, adopted Elijah with her husband when he was 6 months old. While they were told he would only live about a year, he has far exceeded his life expectancy.
"This is super special to us," Sprague said. "Elijah's not going to graduate like our other kids. He's not going to get married or have kids. So this is just a really cool experience to us for him to have this level of attention ... it's neat for people to recognize he's a really cool kid."
She hopes Elijah's story can help inspire others with special needs. "The community needs to realize this is a really special population of kids," she said. "They do have special needs, but they have so much to offer."
Chick-fil-A has been closed on Sundays since 1946, a practice established by the fast food chain's Christian founder Truett Cathy to allow employees a day of rest and worship. His son, Dan Cathy, continues the practice today.
While Chick-fil-A believes employees should have Sundays off to "strengthen communities, both close to home and throughout the cities its restaurants serve," locations sometimes make exceptions when their communities are in need, notes the restaurant website.
In the wake of the Pulse nightclub shootings in Orlando in 2016, team members at Chick-fil-A Lee Vista volunteered on Sunday to feed first responders and blood donors.
Additionally, on Christmas Day in 2015, after tornadoes ripped through Rowlett and Garland, Texas, team members at several restaurants spent their Sunday preparing and distributing free food to first responders and families whose homes were destroyed by tornadoes.
Trudy Cathy White, the only daughter of Truett Cathy and his wife, Jeanette, recently explained that her family doesn't operate as if they're in the "chicken business." Rather, they view themselves as being "in the people business."
"We want to involve ourselves in the lives of others," she told The Gospel Herald. "Our purpose is to glorify God and be a positive influence on all who come into contact with Chick-fil-A. Our priority in the business world is to glorify God in how we steward what He gives us and our influence on others."
White explained that throughout her father's life, he exemplified Jesus' words in Acts 20:35 — "It is more blessed to give than to receive" — and Proverbs 22:1: "A good name is more desirable than great riches; to be esteemed is better than silver or gold."
"My dad really instilled in his kids the idea of learning how to be generous," she said. "That's why we're all about serving our customers and taking care of their needs. We try to create an environment that focuses on generous giving. We try to honor God with all that we have, and serving others well is a great way to do that."