Children of ISIS Sex Slave 'Treated Like Livestock,' Tied Down and Tortured in Scorching Heat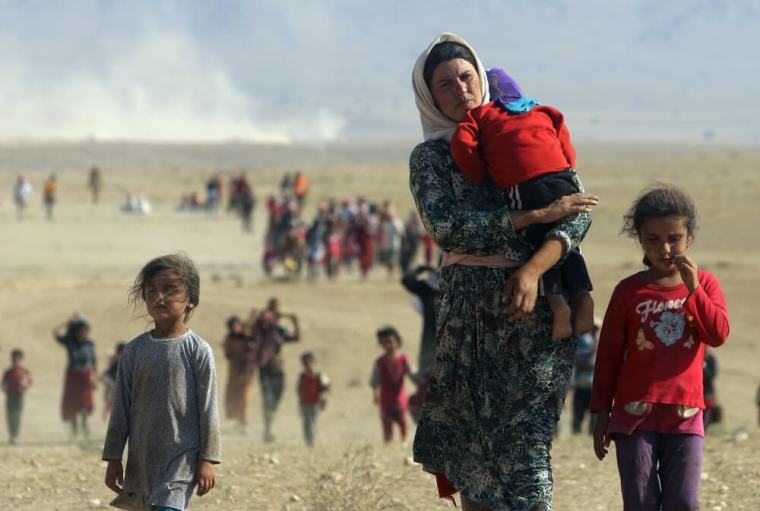 An escaped Islamic State sex slave has revealed the horrifying details of how she and her children were dreadfully abused and tortured by jihadi militants and their family members.
A 49-year-old Yazidi mother, who was captured by IS (also known as ISIS or ISIL) when the organization conquered her home village in Northern Iraq in August 2014, opened up about her months-long captivity in an interview with the Kurdish news outlet Bas News.
The mother, who is known only as Sevi, explained that she and her children were captured by IS on Aug. 3, 2014, after IS fighters overran the Telbenat compound.
After the militants took control of the area, Sevi recalled how the militants proceeded to separate the women and children from the Yazidi men, who were all likely executed by the militants.
"They later separated women and children and took them inside the village, while men were kept out. No one knows what happened to men after that day," Sevi said. "We were later transported to Sinjar, where the terrorists had rounded up thousands of Yazidi women, young girls and children."
After being taken to Sinjar, the women were loaded into a truck around midnight and driven to the the town of Tal Afar, which is located just west of the group's Iraqi stronghold of Mosul.
After arriving to Tal Afar, the women were locked in a local hospital for three days before they were eventually moved to Badoush prison, where they were held for a month and a half.
Sevi said that the women and girls were vastly underfed during their stay at the prison.
Although the militants provided them with two meals per day, Sevi added that the meals consisted of small pieces of bread. If the captives were lucky, the militants would sometimes provide cheese with their bread.
It was at the prison that IS attempted to separate young girls from their mothers.
"They attempted to take my 11-year-old daughter but I resisted [by] saying that she is ill," Sevi explained.
After spending about 40 days detained in the prison, Sevi said that she and her children were taken to the group's Syrian stronghold of Raqqa.
In Raqqa, Sevi said that she and other Yazidi captives asked the local residents why they were being abused and imprisoned. Sevi said she was told by a resident that "Yazidis are unbelievers and should convert to Islam."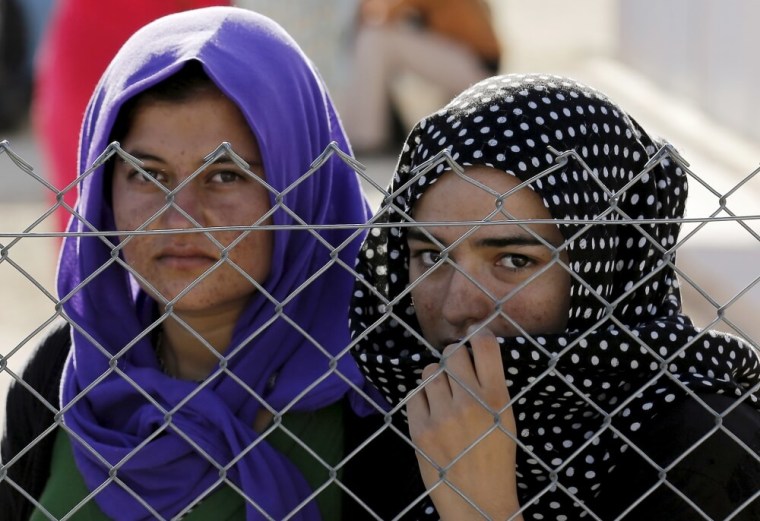 It was in Raqqa that Sevi and other Yazidi women became the property of IS militants, who distributed the women and girls amongst themselves and forced them into Islamic marriages. Sevi added that the militants would buy and sell Yazidi women and girls as sex slaves for as little as $10.
Sevi recalls being sold to a militant from Tunisia named Abu Saif. She said that Abu Saif treated her and her children as if they were farm animals. During the two-month stay as property of Abu Saif, Sevi recalls how she and her children were frequently tortured.
"[Abu Saif] treated me and my children just like livestocks, and kept us for almost two months," she explained. "During our stay with Abu Saif and his original family, he and his wife and mother-in-law tortured us countless times both physically and psychologically."
Along with being tortured, Sevi said that she and her kids were so severely underfed by the militant that she had to sneak into the kitchen every night after Abu Saif and his family went to bed so that she could feed her children appropriately.
After two months under the control of Abu Saif, Sevi and her children were sold to another Tunisian jihadi, who tortured them even more relentlessly than Abu Saif and his family had.
Sevi said that the militant, who she did not identify by name, would tie her and her kids up outside and leave them exposed to the extremely intense sun and heat. According to Sevi, the militant would beat her and her kids for no reason while they were trapped in the hot sun.
Sevi and her kids were eventually sold for a third time to a militant named Mohamad from Aleppo.
"[He] was pushing me to send my very young son to fight for the terrorist group, saying that 'these young men are the lions of the Caliphate,'" she recalled.
Sevi was sold many more times before she finally seized an opportunity to escape from the caliphate. She took advantage of the opportunity and risked her life to escape to Kurdistan.
In the interview, Sevi called on the international community to help save Yazidi women currently living in "unimaginable" conditions, as they are being systematically raped, tortured and humiliated by IS fighters.
As IS has been known to kill Yazidi women and girls who refuse to be sex slaves, it was reported Tuesday that IS burned alive 19 Yazidi girls inside of an iron cage, after they refused to have sex with IS militants.