Children Placed in Cage Mimicking Burning of Jordanian Pilot as Anti-Assad Activists Ask Why West Has Forgotten Syrian Victims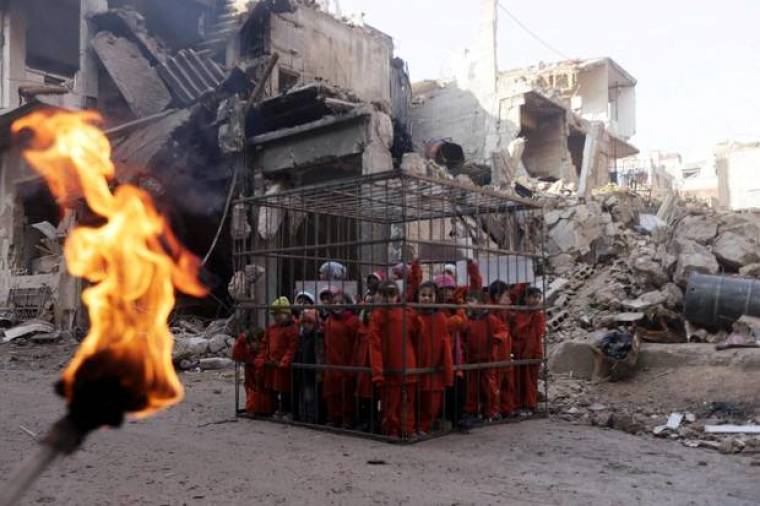 Activists in Syria protesting against the government of President Bashar al Assad have released photos of young children inside a cage, mimicking the burning of Jordanian pilot Muath al-Kasasbeh at the hands of terror group ISIS. The demonstration is aimed at asking Westerners why they're outraged at ISIS but have forgotten the fate of Syria's children.
"We saw your media about the burning Jordanian pilot but we didn't see it when Douma children were burnt," one sign in Arabic at the demonstration read, according to The Independent.
The young children are dressed in orange jumpsuits, and hold banners condemning Assad's actions. The cage is placed in the ruins of the city of Douma, located northeast of the capital Damascus.
Anti-Assad activists have blamed the Syrian regime of bombing its own people in the ongoing civil war, and have accused the government of using chemical weapons on children in August 2013. The claim, which has been backed by the U.S., is denied by Assad.
The demonstration mimics the burning of al-Kasasbeh, which was recorded in a video by ISIS and sent out on social media. The incident prompted outrage around the world, and Jordan responded by declaring "relentless war" on ISIS and bombing the terror group's targets.
The Syrian Observatory for Human Rights has reported on the heavy fighting in Douma between anti-government rebel groups and the government of Assad, which left at least 183 people dead in the first 10 days in February.
Several Islamic groups are fighting Assad's government in Syria, including the Syrian National Coalition and the Free Syrian Army. Neither are aligned with ISIS, which has managed to capture a number of cities across both Syria and Iraq.
The civil war has left over 220,000 people dead according to the U.N., and close to half the country's population has been displaced.
Assad's regime has been accused of committing mass murder by human rights groups. In December, a display featuring graphic photos of murder and torture for which Assad is said to be responsible for was put up at the United States Holocaust Memorial Museum in Washington, D.C.
"They show a side of the Syrian regime that hasn't really been seen. You might have heard about it, read about it, but when you're confronted with these images, they're impossible to ignore," said Cameron Hudson, director of the museum's Center for the Prevention of Genocide.