China's Christians Facing 'Harsh Religious Winter' as Gov't Crackdown Intensifies, Activists Warn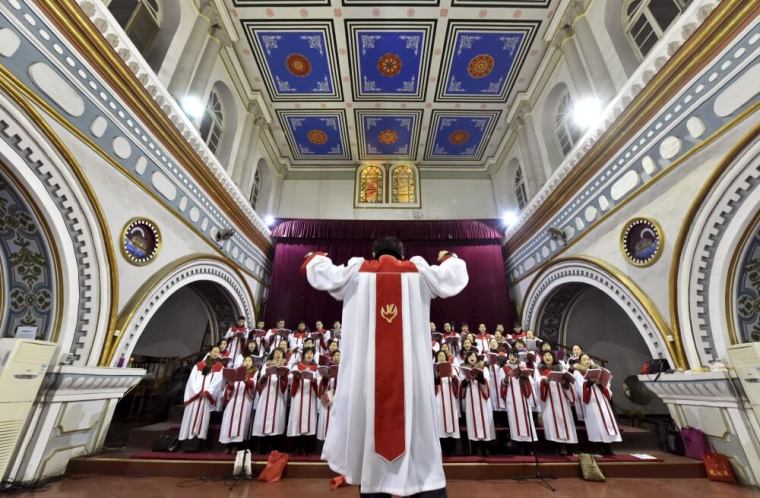 The Communist Party of China has intensified its ongoing crackdown of Christianity and other faiths with the publication of new rules and regulations that tighten the government's grip on underground churches, persecution watchdog groups have said.
China Aid, which reports on religious freedom issues in China, said late last week that the new restrictions are aimed at dispersing Christian house churches and silencing Tibetan and Xinjiang separatists.
The Revised Draft of Regulations on Religious Affairs is expected to formally come into effect early in October, and includes prohibitions on "organizing citizens to attend religious training, conferences and activities abroad," "preaching, organizing religious activities, and establishing religious institutions or religious sites at schools," and "providing religious services through the internet."
In order to combat what the government describes as terrorism and the influence of foreign powers, the new restrictions will also make it harder to accept teaching posts in foreign countries, or for house churches to gather for worship services.
"The government wants to control everything, even the smallest aspects. One characteristic of this draft is the empowerment of local government bodies all the way down to the communities," one pastor, identified as Zhou, told China Aid.
"This revision will further reduce the possibility of loosening religious control in China. It is becoming impossible."
Pastor Gao Baosheng of a U.S.-based Chinese church added that the laws "are becoming more and more specific and detailed when suppressing Christian family churches, Catholicism, and all other underground religions."
Gao warned that the regulations will serve as a legal base for future suppression.
"This draft will bring upon a religious winter so harsh that we must seek guidance from God," he added.
"Overall, the Revised Draft of Regulations on Religious Affairs is Xi Jinping's attempt to further manage and suppress religions by taking advantage of the laws. By observing these changes in the draft, we can tell that the government is imposing more control on major religions," he added.
Hundreds of underground church members, priests, and other activists have been arrested by the Communist Party for protesting against the nationwide crackdown on churches, which has come in many forms.
Government workers have been forcefully removing church rooftop crosses, calling them building code violations, though groups like China Aid have said that Communist Party officials are seeking to purposefully stem the growth of Christianity.
The crackdown has manifested itself also in restrictions against Christians ministering to children, however.
Two Christian summer camp leaders in the northwestern Xinjiang Uyghur Autonomous Region were arrested back in August for allegedly trying to brainwash children.
Government officials accused them of "indoctrinating minors with superstitious beliefs," while Christian parents have been warned that allowing their children to participate in such Christian camps could bar the students from entering higher grade levels in schools.